Grab your Addi Knitting Machine and get ready to "crank" out these super fun, artsy, and Colorful Twist Knit Headbands a Free Knitting Machine Pattern here on the blog!
You can find a step-by-step video tutorial on my YouTube channel or scroll down for the written pattern. YouTube: Colorful Twist Knit Headband – Addi Knitting Machine Pattern + Tutorial.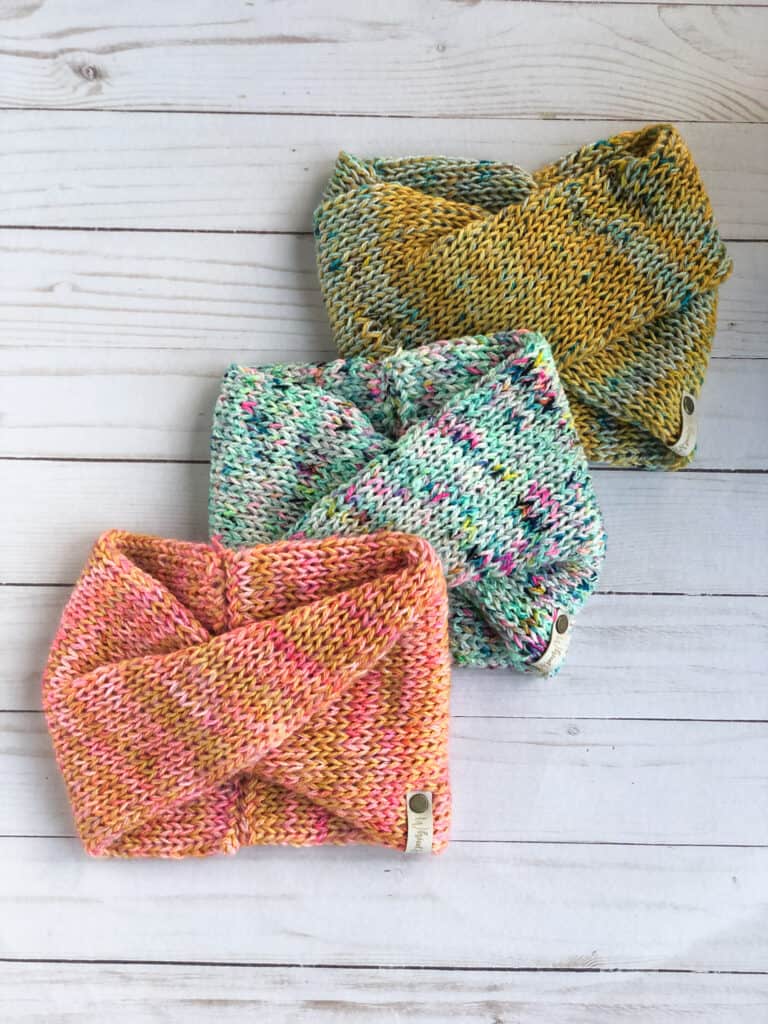 **This post may contain affiliate links. In the event of a sale, I get rewarded a small commission, at no extra cost for you. These funds help me keep my blog up and running to provide you with great content and free patterns so thank you!**
Addi Knitting Machine
If you aren't familiar with what the Addi Knitting Machine is I recommend reading this post: Is the Addi Knitting Machine a Good Gift for Kids? In it I talk about the different knitting machines and the pros and cons of each.
If you are looking for additional Addi Knitting Machine project ideas check out my other Knitting Machine Patterns.
Now onto my new favorite Colorful Twist Knit Headbands…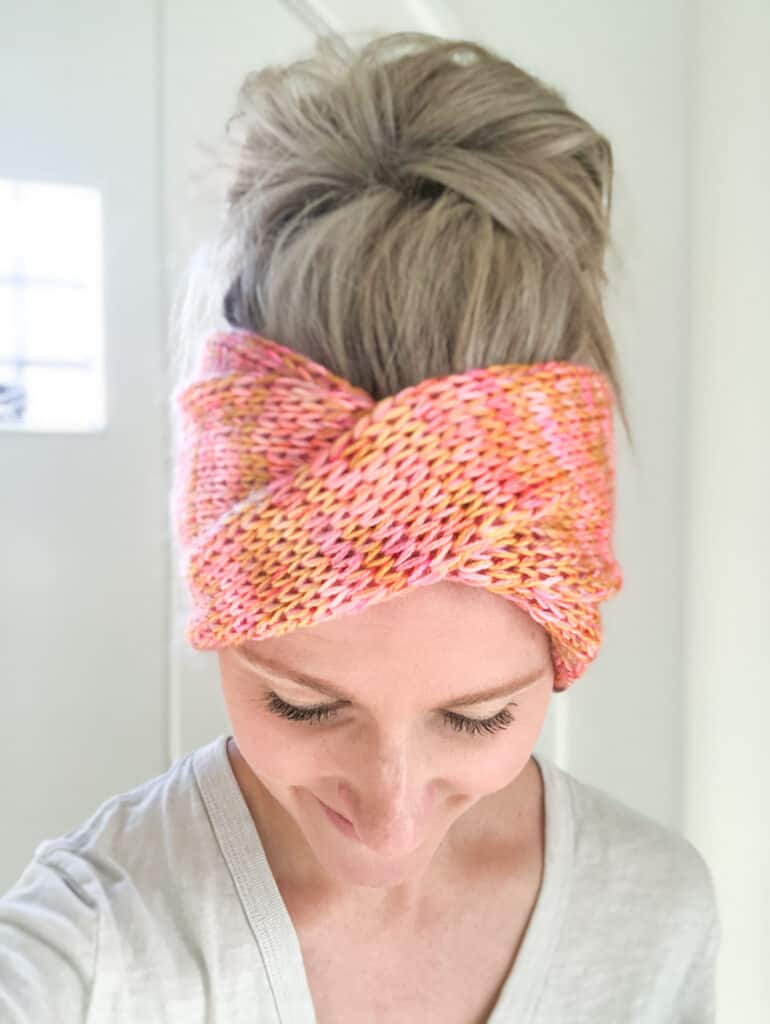 Colorful Twist Knit Headband – Addi Knitting Machine Pattern
Supplies Needed:
Get updates on new Free Patterns and Coupon Codes by signing up for my newsletter!
Gauge:
12sts x 22rounds
Finished Measurements:
8″ wide x 6″ tall – after seaming
Fit:
Fitted for adults. Loose fit for teens/child.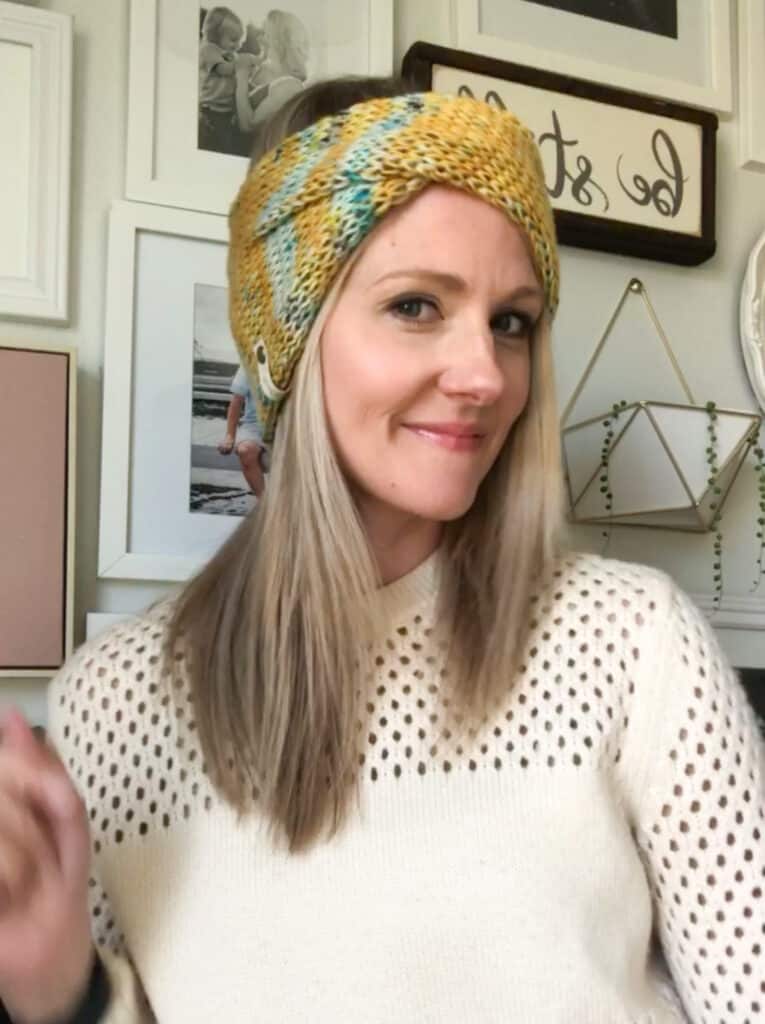 Addi Knitting Machine Headband Pattern:
Cast On: Using your waste yarn cast on all 46 stitches and set your machine to knitting in the round.
Waste Yarn: Knit 5-7 rounds using your waste yarn.
Headband: Switch to your headband colors. Leaving a 2 foot tail for seaming and holding both strands of fingering weight yarns at the same time begin knitting with your main colors. Remember to reset your counter to zero. Knit 77 total rounds using your headband colors.
Waste Yarn: Break your main color yarns leaving a 10″ tail and put your waste yarn back onto your machine. Knit 5-7 rounds using your waste yarn.
Cast Off: Cast off all stitches by simply turning your machine and letting the stitches fall off the needles.
Closing Up the Ends: Close each end using your crochet hook and starting at the side opposite your tail. Place your crochet hook through the first stitch of the main color and the stitch that's furthest away from the tail. Pull the first stitch to the right of that loop through the first loop. Go across to the left side and grab that first stitch and pull it through the current stitch on your hook. To see this in detail please see min 11:50 of the video tutorial. Continue down the side grabbing the next stitch/loop and pulling it through the current stitch on your hook. Once you have reached the end where your tail is pull the tail through your final stitch to secure and close it up.
Now pull off the waste yarn for that side by unraveling it or cutting it and pulling it out. Being careful not to cut the main headband.
Repeat this closure for the other end of the headband.
Seaming: Lay your headband flat on the table. Take one end and turn it over 180 degrees to create a twist in the middle of the headband. Now bring both ends together in the middle. Seam these ends together using the mattress stitch. See min 20:00 in the video tutorial for additional details.
Finishing: Weave ends in between both sides of the headband through the seam to secure.