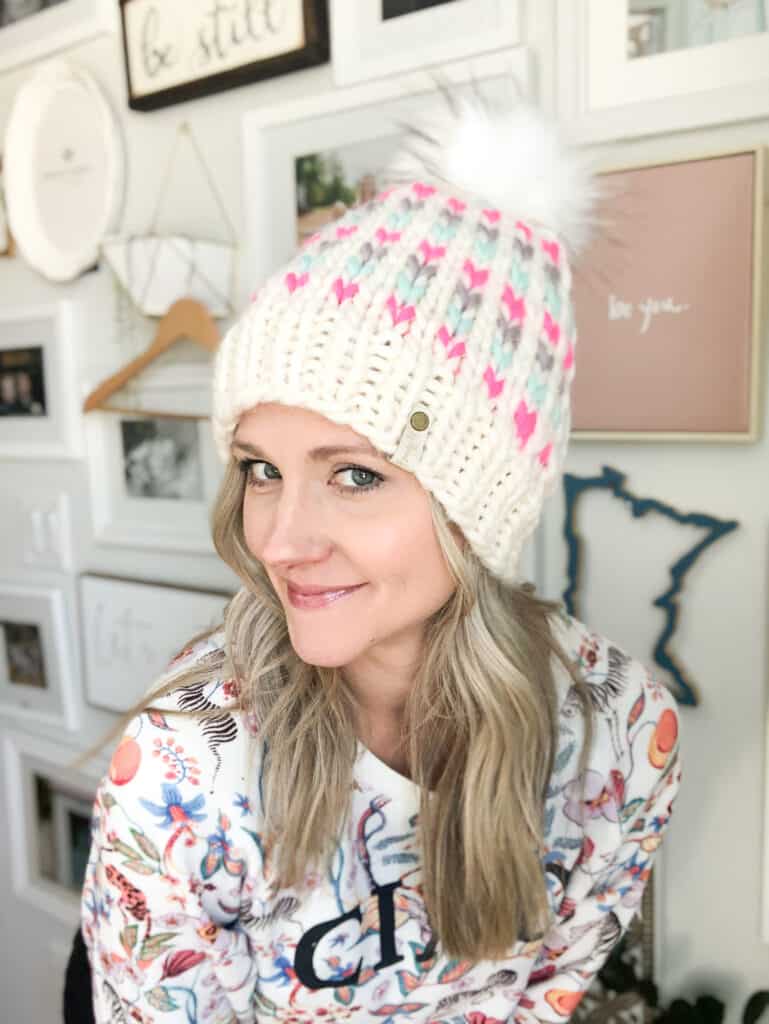 Easy beginner fair isle along with quick knitting super bulky yarn create the Anneli Hat, a cozy free beginner fair isle hat knitting pattern that comes in sizes for the whole family! Scroll down for the full free knitting pattern or purchase the ad-free PDF here.
This post may contain affiliate links. In the event of a sale, I get rewarded a small commission, at no extra cost for you. These funds help me keep my blog up and running to provide you with great content and free patterns so thank you!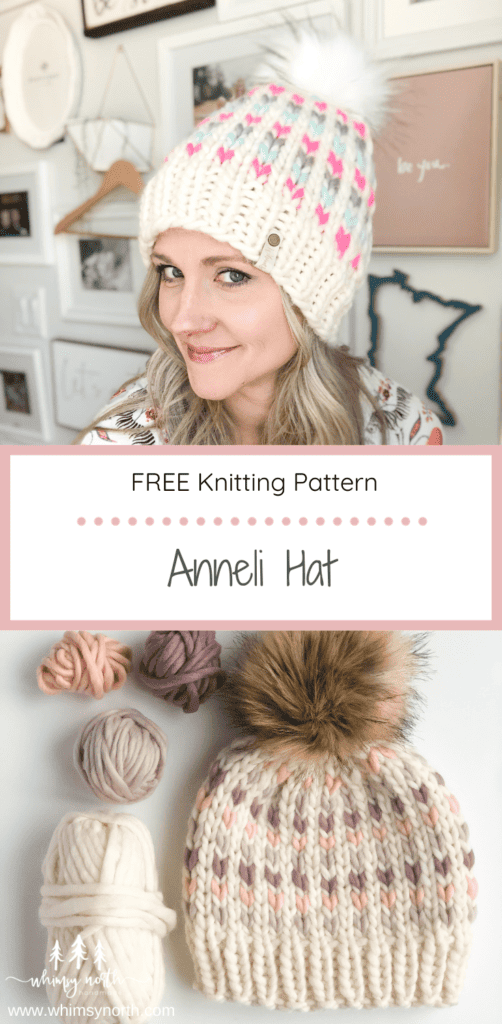 How to knit fair isle
Fair isle knitting is a form of colorwork knitting that stems from the island of Fair Isle off the coast of mainland Scotland. Technically if the knitting does not come from this island it's not really fair isle. However, many have began using fair isle as a term for stranded colorwork.
Stranded colorwork knitting uses multiple strands/colors of yarn at the same time to create colorful patterns and designs. These patterns and designs are shown on a colorwork chart.
Each box on the chart represents a different color that is to be knit in the pattern. The majority of stranded colorwork patterns are knit in the round not back and forth. Yarn is carried along in the back of the work until it is needed for the pattern. This carrying of the yarn creates what is called floats.
VIDEO: How to Catch Floats in Colorwork Knitting Without Twisting your Yarns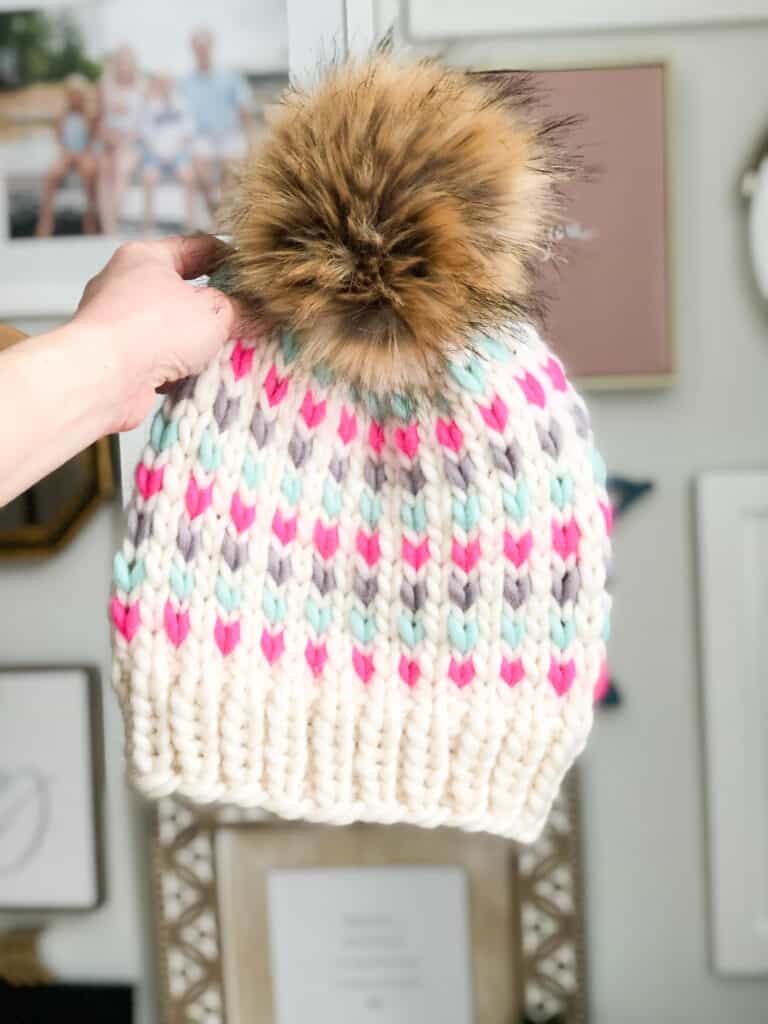 Find a printer-friendly PDF version of the Anneli Hat here in my Etsy shop. The PDF version includes the full ad-free pattern that's easy to print and stick in your project bag!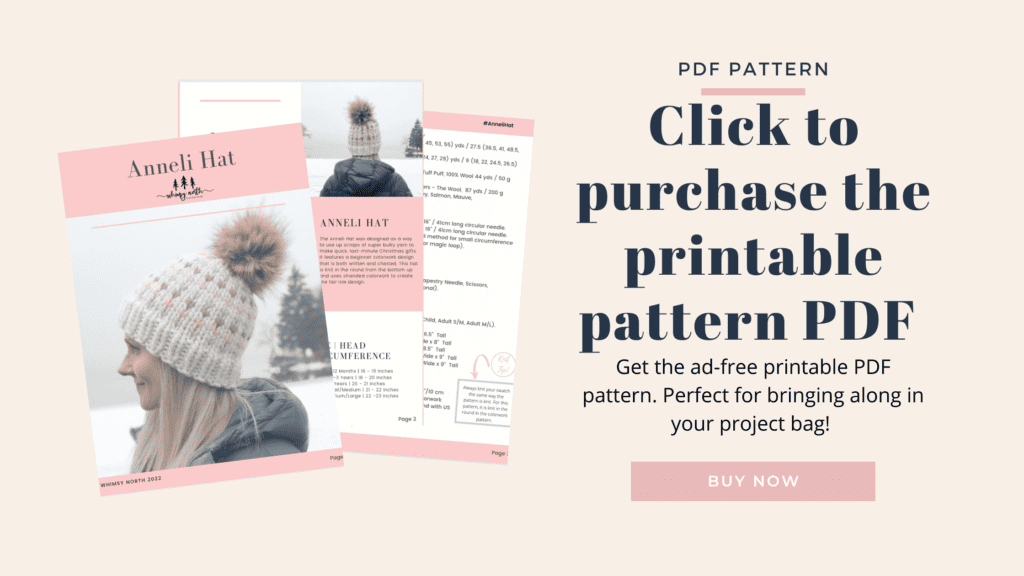 Keep scrolling for the FREE version of the Anneli Hat Knitting Pattern.
Best Super Bulky Yarn for Fair Isle Knitting
I find that using wool fiber yarn is best when knitting fair isle and colorwork because the structure makes each color pop. Also, depending on what type of look you are going for, a solid color may be better than variegated yarn.
Solid color yarns allow the design to stand out, whereas variegated yarns can sometimes get lost or muddy. If you want to use a variegated yarn I recommend making sure it is very different than the other colors you are using in regards to it's value. To understand this concept better I have a helpful video linked below.
VIDEO: Choosing Yarn for Colorwork Knitting
Understanding color value when selecting yarn for colorwork is very important to make sure the end result comes out how you want it to look.
I've included some of my favorite Super Bulky yarns to use for fair isle knitting below.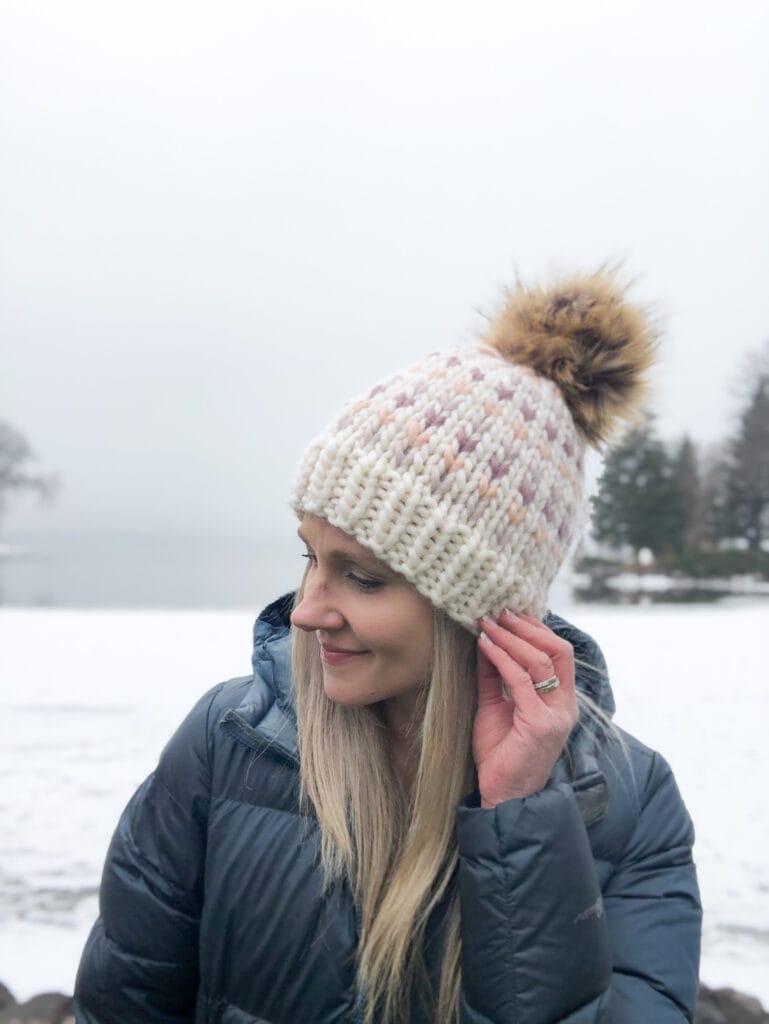 Budget friendly Super Bulky Yarn for Fair Isle Knitting
There is a wide variety of price points for super bulky yarn and sometimes it can get expensive. These are my favorite budget friendly super bulky yarn for hats.
Splurge worthy Super Bulky Yarn for Fair Isle Knitting
If you want something a little more on the luxury side here are my favorite splurge worthy super bulky yarns.
---
Anneli Hat – FREE Beginner Fair Isle Hat Knitting Pattern
Description:
The Anneli Hat was designed as a way to use up scraps of super bulky yarn to make quick, last-minute Christmas gifts. It features a beginner colorwork design that is both written and charted. This hat is knit in the round from the bottom up and uses stranded colorwork to create the fair isle design.
Helpful videos for knitting this hat
Note: Weaving in Ends
Depending on how many contrasting colors you choose, I found that weaving in the ends as I knit helped to make for a cleaner inside and less ends to weave in at the finish.
Sizes: Baby (Toddler, Child, Adult S/M, Adult M/L).
Materials:
Super Bulky yarn in the following yardages
MC: 30 (40, 45, 53, 55) yds / 27.5 (36.5, 41, 48.5, 50) m
CC: 10 (20, 24, 27, 29) yds / 9 (18, 22, 24.5, 26.5)
SUGGESTED YARN
OTHER TOOLS NEEDED
Finished Measurements:
Baby: 6″ Wide x 6.5″ Tall
Toddler: 7.5″ Wide x 8″ Tall
Child: 8″ Wide x 8.5″ Tall
Adult S/M: 8.5″ Wide x 9″ Tall
Adult M/L: 8.75″ Wide x 9″ Tall
Gauge:
9 sts & 12 rows = 4"/10 cm Measured over colorwork pattern in the round with US 15 / 10mm needles.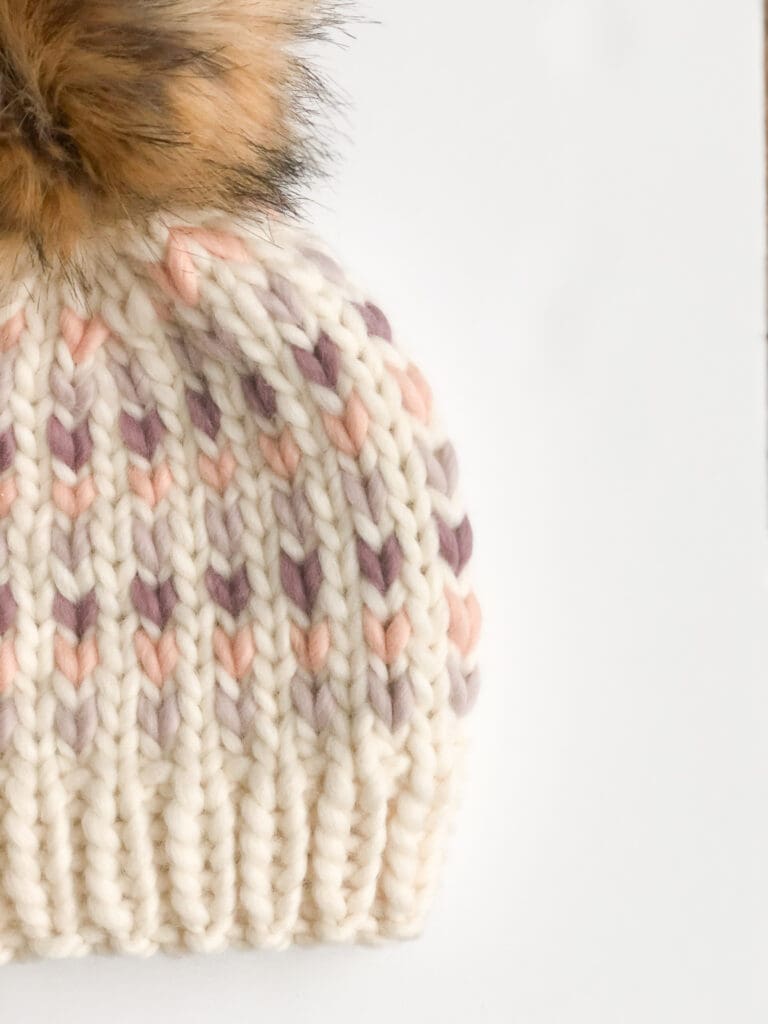 Glossary:
BOR – Beginning of Round

CO – Cast on

DPNs – Double Pointed Needles
K – Knit
k2tog – Knit the next two stitches together (1 st decrease) p – Purl

Rep – Repeat

Rnd(s) – Round(s)
st/s – Stitch/es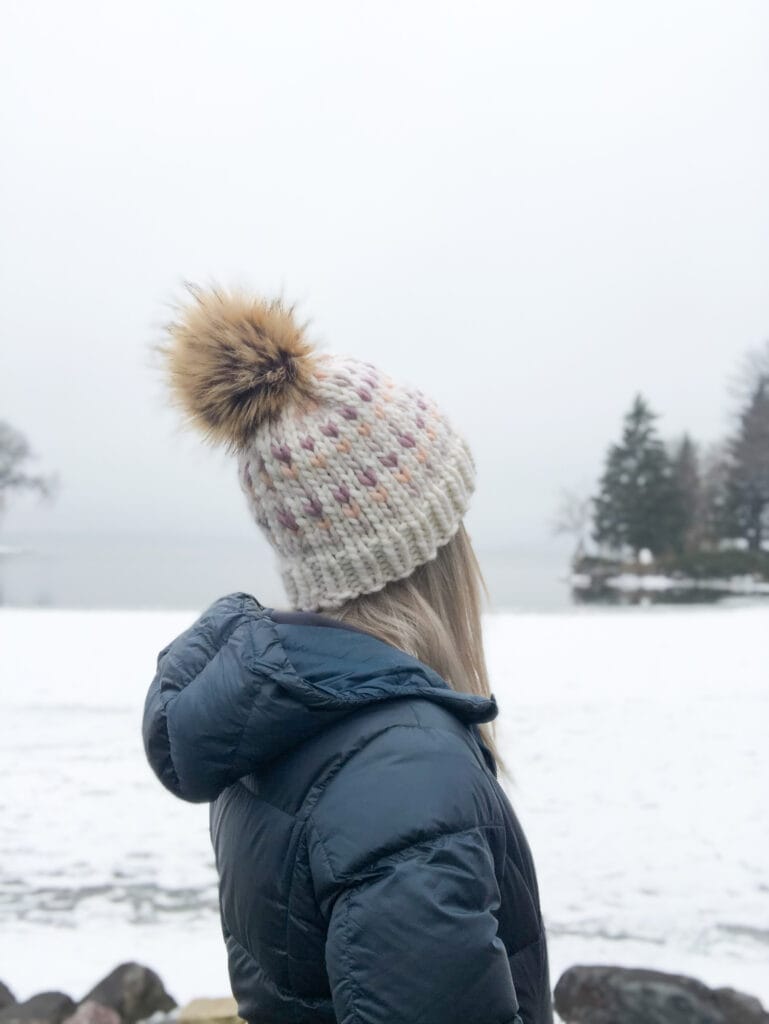 Anneli Hat Knitting Pattern Directions
Using US 13/ 9mm needles, CO 32 (36, 38, 42, 44) stitches with MC, place stitch marker, and join in the round.
BRIM
Round 1: *K1, p1; Rep from * to end of round. Repeat round one, 3 (4, 4, 5, 5) more times.
HAT
BABY SIZE ONLY – continue with US 13 / 9mm needles.
ALL OTHER SIZES: Switch to US 15 / 10mm needle.
Chart Instructions:
Work chart starting at rnd 1. Repeat rnds 1-2 of chart a total of 5 (7, 7, 8, 8) times. Knit additional rnds using MC until hat measures 1″ from desired height. Continue to decrease.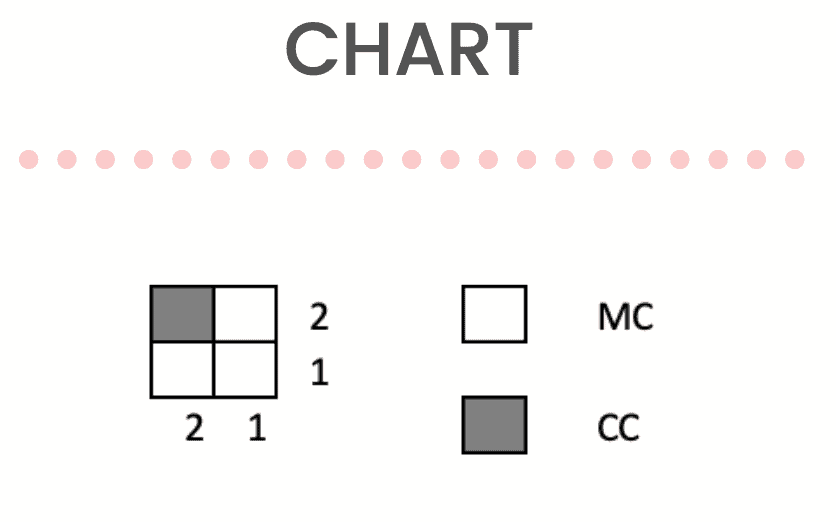 Written instructions:
Round 1: K all sts using MC.
Round 2: *K1 with MC, k1 with CC; Rep from * to end of round.
Repeat rounds 1-2, 4 (6, 6, 7, 7) more times. Knit additional rnds using MC until hat measures 1″ less than desired height. Continue to decrease.
DECREASE:
Switch to magic loop or DPNs if desired. Using MC.
Round 1: *K1, k2tog; Rep from * to end of round. (Baby, Child and Adult M/L will have 2 sts remaining, k those sts.)
10 (12, 12, 14, 14) sts decreased. 22 (24, 26, 28, 30) sts total.
Round 2: K to end of round.
Round 3: *K2tog; Rep from * to end of round.
11 (12, 13, 14, 15) sts decreased. 11 (12, 13, 14, 15) sts total.
FINISHING
Cut yarn, leaving an 8"/ 20cm tail. Using your tapestry needle, thread the tail through the remaining stitches and pull tightly to close the top of the hat. Weave in all the ends and use them to sew up any holes. Attach a pom pom if desired.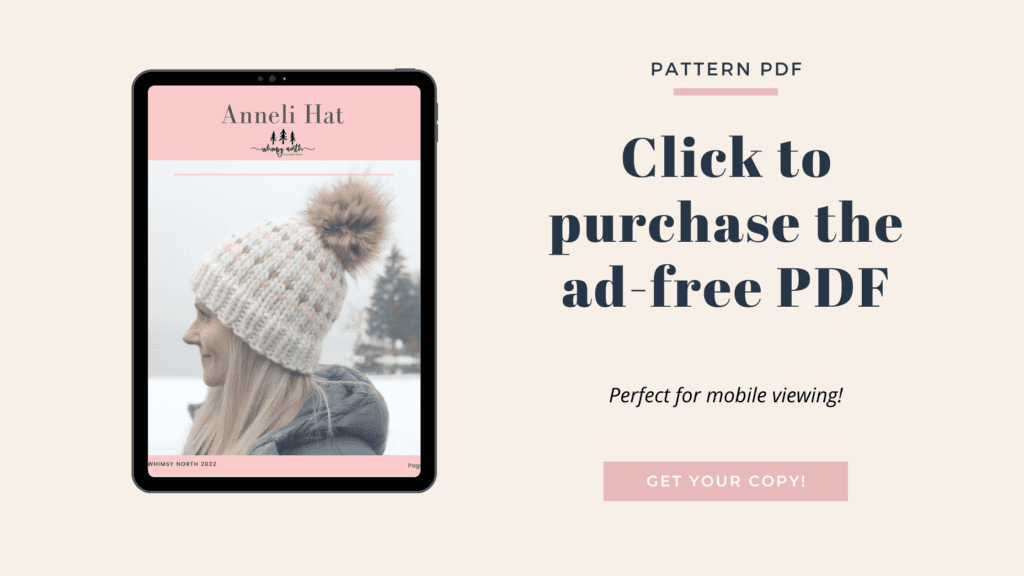 Now you have a warm and fun free beginner fair isle hat knitting pattern! Check out more of my FREE knitting patterns on the blog HERE.
---
I would love it if you took a moment to upload your projects to Ravelry or Pin this pattern to Pinterest so you can share it with friends! Also, don't forget to share your knit hat on Instagram so I can see what you make! Us the hashtag #annelihat and tag @whimsynorth