Have you seen people using an Addi Knitting Machine on Social Media or YouTube and wondered if it would be a good gift for the child, tween or teen in your life?
I recently had a friend reach out after I posted a video on Instagram of my 8-year-old daughter "knitting" a hat on my Addi Knitting Machine asking whether I would recommend it for her daughter for Christmas. I thought it would be helpful to break down my thoughts on whether the Addi Knitting Machine would be a good gift for kids and teens.
This post may contain affiliate links. In the event of a sale, I get rewarded a small commission, at no extra cost for you. These funds help me keep my blog up and running to provide you with great content and free patterns so thank you!
For a full video tutorial on how to make a Fold Up Brim Hat using your Addi Knitting Machine visit my YouTube channel!
What is an Addi Knitting Machine?
The Addi Knitting Machine is a circular knitting machine that you hand wind to create knit items. There are a few other knitting machines on the market. Addi is the most expensive, however, I have found that it is also the highest quality.
The other knitting machines are the Sentro and the Loops and Threads. I have not used either of those machines personally so I cannot offer a review at this time.
Addi Knitting Machines have the ability to knit circular and flat items. One of the limitations is due to the number of needles it has. The Addi King Size features 48 needles around, therefore, you can only knit something that big. It is possible to make larger items, however, that requires seeming pieces together.
Some of the most popular items to knit on the Addi are hats, headbands, and scarves. There are 3 different sizes of Addi Knitting Machines.
Addi King Size: The Addi King Knitting Machine is the one that I have. It's best for Adult/Teen/Child size Hats, headbands, scarves, and larger panels. You can find it here on Amazon.
Addi Express: The Addi Express is a smaller 22 needle machine that is great for baby hats, skinnier panels, and child-sized headbands. You can find it here on Amazon.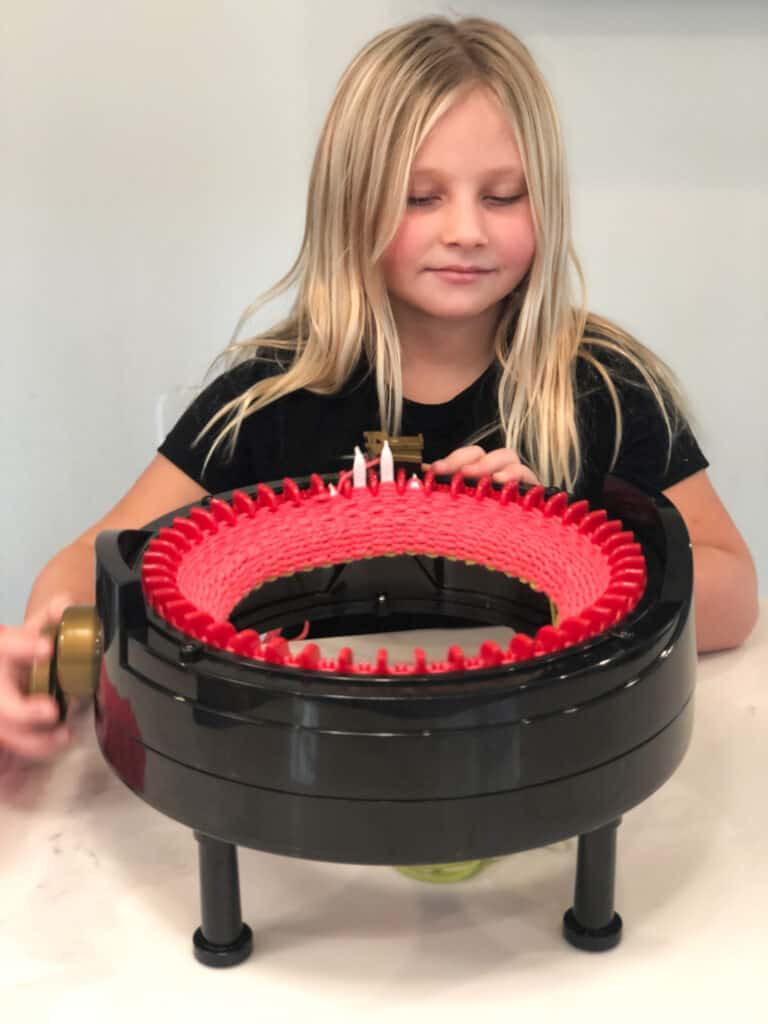 The story behind my Addi Knitting Machine.
I've been knitting since I was 6 years old and it wasn't until this past year that I learned there was such a thing as a knitting machine. At first I didn't think much of it because it seemed very limited in what it could do and I preferred to hand knit my items.
Then last fall I started thinking about possibly selling knit items at markets or online, instead of just knitting patterns as I do now. I thought a knitting machine might help me to create some quicker less expensive knits to sell so I put it on my Christmas list.
My mom was the one who gifted it to me and she purchased it on Amazon to be shipped directly to my house. This is the exact listing she got as she wanted me to have the additional accessories and books. If you are just looking for the Addi King Size Knitting Machine without the additional books and accessories this listing on Amazon is what to get.
My Addi Knitting Machine came all the way from Germany and I was very excited to learn how to use it! The very first day it got here I opened the box and started watching tutorials on YouTube.
After this initial excitement, I put it away in my closet and sadly didn't take it back out for 6 months. I had decided not to sell knit items and so wasn't exactly sure what I was going to do with it. Then one day this summer I realized that YouTube videos were so helpful in me learning how to use my Addi and that maybe I could create my own helpful YouTube videos.
I now have an Addi Knitting Machine playlist on my YouTube channel so make sure to check that out and subscribe! I will be adding more tutorial videos as I come up with new patterns and uses! You can find my channel here: Whimsy North – YouTube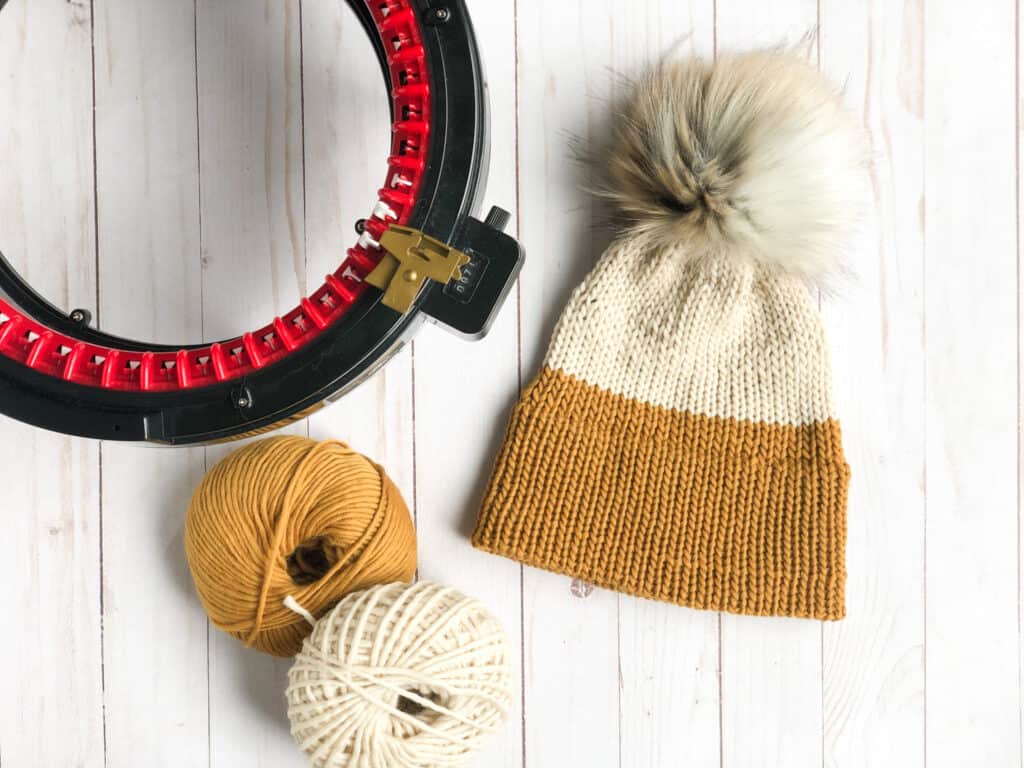 Can a child use an Addi Knitting Machine?
Of course once I got started using my new knitting machine my 8-year-old daughter thought it looked super fun! She wanted to try it to make herself a hat. I helped her to cast on the yarn and she got winding.
When it was time to cast off I noticed that her hat had a few dropped stitches in it and some places that the tension was a little off.
She didn't even notice or care and wanted to jump in to make another one right away! I helped her cast on the yarn and she got to winding. Then she stopped to take a break. When she went back to winding she accidentally started going backwards and that's when we realized it's not as easy as it looks.
Going backwards on the Addi Knitting Machine causes the stitches to fall off the needles and essentially if you can't catch them to put them back on in some way, you have to start over.
Tears were shed and she decided to take a break from the knitting machine. Flash forward a few months and she was ready to try again. This time she knew to take it slow and pay attention to the way she was cranking the wheel.
I'm happy to report that she has since knit almost 6 hats and has only had a few close calls in dropped stitches!
Below are two of the hats she has made. These are knit using I Love This Yarn from Hobby Lobby. Scroll down for my recommendations on what yarn to use with your Addi.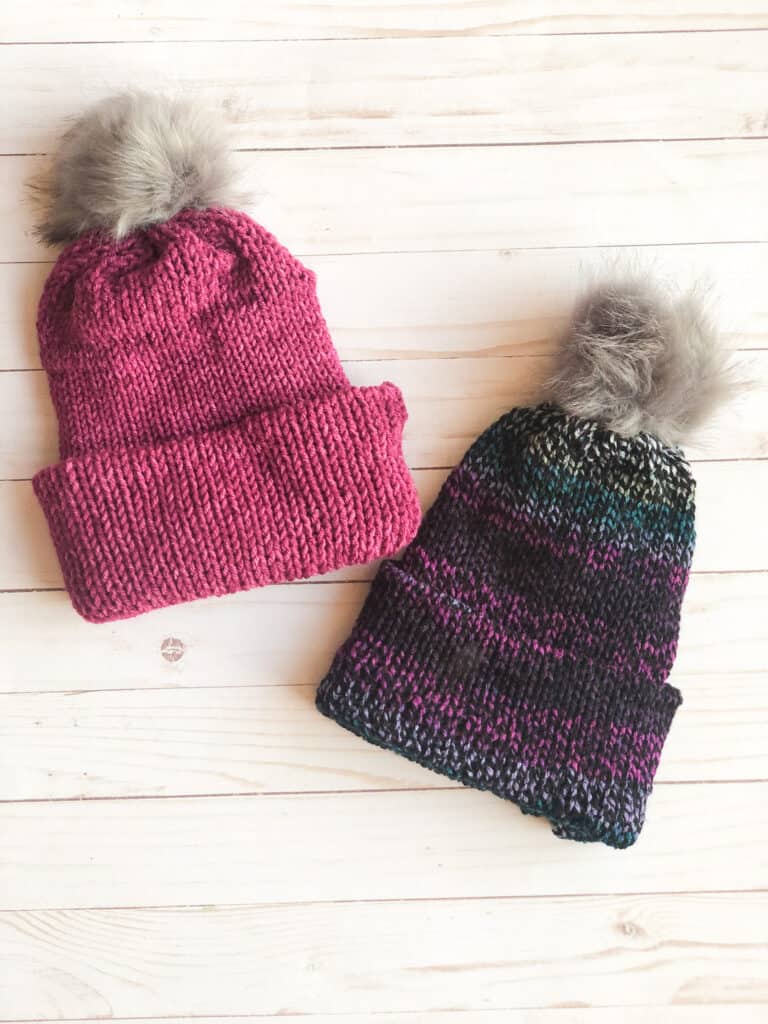 What are the pros and cons to getting an Addi Knitting Machine?
pros
Non-knitters can begin knitting without too much initial instruction.
Items can be made much faster than hand knitting.
It's fun for kids and teens!
You can use it to create items to sell or gift to others.
cons
There is a slight learning curve to getting started and making sure your items look nice.
Adults may need to help with certain parts like casting on, casting off, or fixing mistakes in the beginning.
It's not very portable so you can't exactly take it with you.
There are limited items you can create and design limitations.
It's limited in what yarns work best in terms of weight of the yarn and fiber structure.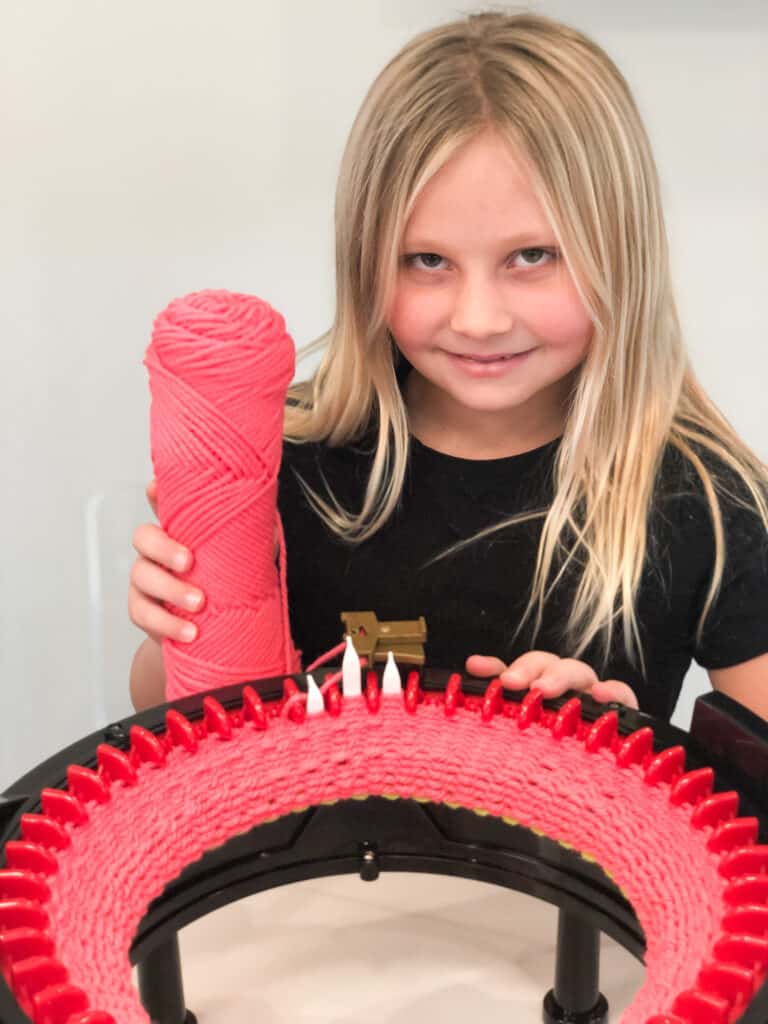 My Final Recommendation for the Addi Knitting Machine for kids and teens.
After using my machine for a year I can say that I would recommend it to anyone above the age of 8. There is a learning curve but much less of one than with hand knitting.
With most crafts the more you do it the better you get and this is one of those that every item my daughter makes is better than the one before that. Just recently she spent the entire weekend making hats for all her girl classmates and had so much fun doing it! We even created a YouTube tutorial on how she made these hats so head on over to my channel to check it out! YouTube – Fold Up Brim Hat – Addi Knitting Machine.
She's thinking she may want to make hats for charity next.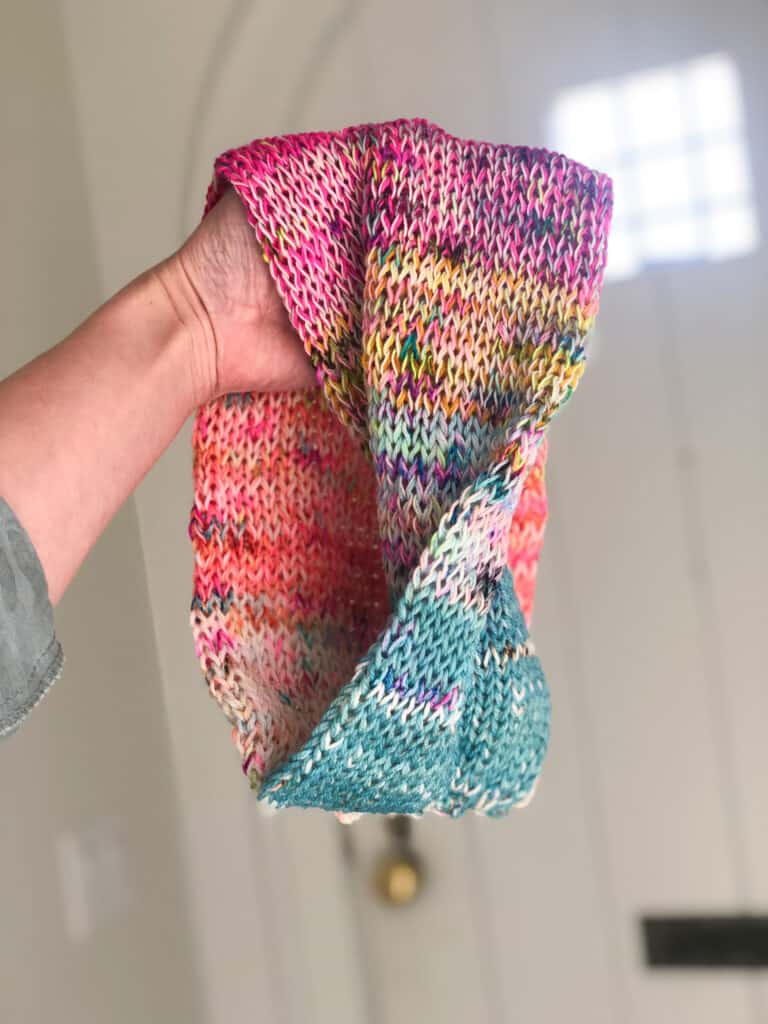 What Yarns should you use with your Addi Knitting Machine?
As you will see from our video, some yarns work better than others when it comes to knitting with your Addi. The yarn you select will determine whether your item turns out looking professional or possibly a little sloppy. It can also effect your machine long term.
I recommended using yarns that are anywhere from a DK weight 3 to a heavy Worsted weight 4. I've also held two strands of Fingering weight 2 yarn together.
You will want to choose a yarn that is slightly smoother in feel, has a high twist so that it doesn't get caught in the needles and isn't too fuzzy. The fuzzy fibers can clog your Addi so a low pill fiber works best.
I'm still working on an all encompassing list but here are some of my favorite yarns to use so far with my Addi Knitting Machine.
So will an Addi Knitting Machine be on your Christmas list for this year?
For Addi Knitting Machine videos click here.
For Addi Knitting Machine patterns click here.
To purchase the Addi Knitting Machine that I use click here.