It doesn't get any easier than this double brim hat knitting pattern using the Addi King Size Knitting Machine. Read about my inspiration for this hat or scroll down for the free pattern!
I received my Addi Knitting Machine as a Christmas gift this past year. When I asked my parents to get it for me I envisioned cranking out (literally!) headbands and hats to sell in my Etsy shop or at Markets.
Then at the start of the year I made the decision to no longer sell actual knit items and to focus more on designing knitting patterns and creating helpful knitting content on my blog and YouTube for other knitters.
**This post may contain affiliate links. In the event of a sale, I get rewarded a small commission, at no extra cost for you. These funds help me keep my blog up and running to provide you with great content and free patterns so thank you!**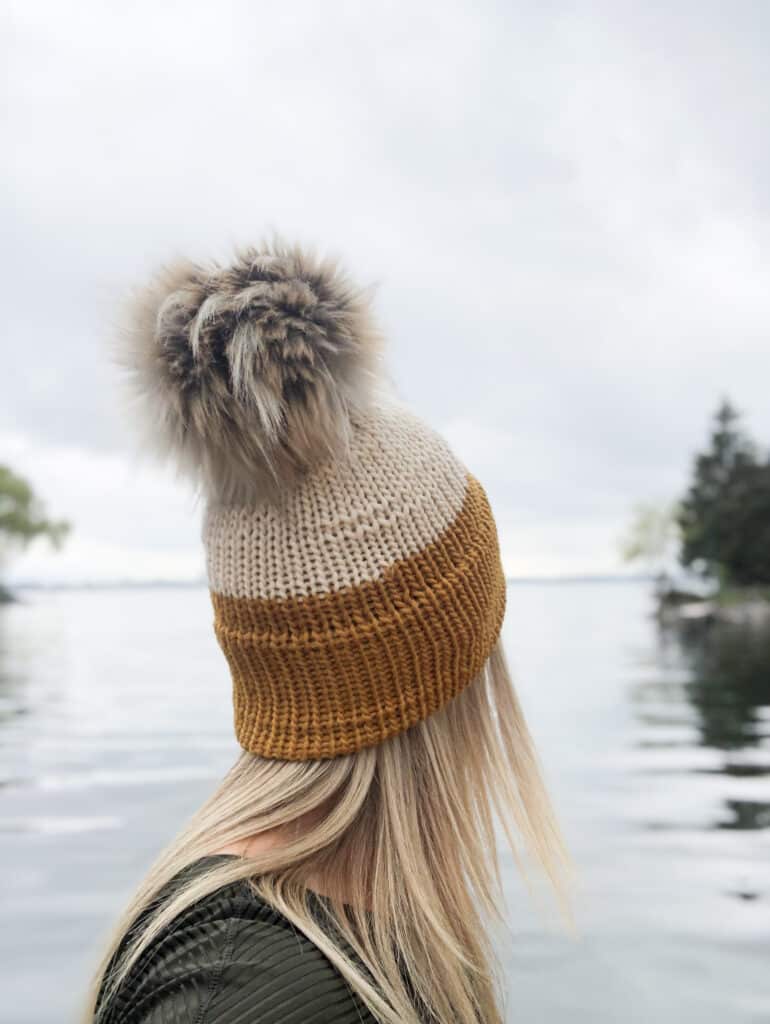 Can you only make hats and headbands with the Addi Knitting Machine?
This caused my Addi Knitting Machine to sit in my closet collecting dust. A few months went by and I hadn't even taken it out of the box. I felt guilty every time I walked by it knowing how expensive it was and that my parents had given it to me.
The only thing I knew to make on it were tubes for hats and headbands. I figured if I didn't need to make any hats or headbands to sell or give away then what could I even use it for?
Then one day I decided I was going to at least take it out of the box and try it! After looking through the pattern book that came along with it I realized there were a lot more things you can do with this machine than just make tubes for hats and headbands. Who knew!
When I posted a tutorial for my Rainbow Cowl Knitting Machine Pattern on Instagram I received multiple comments from others who had knitting machines that were also collecting dust. I decided that I would try and learn everything I could about this knitting machine and create my own patterns to share with those that may have a dusty machine in their closet! After reading tutorials and watching how-to videos I've created a pattern series to share with you!
Here is the first pattern in my Knitting Machine Pattern Series.
Maci Beanie – A Double Brim Hat Knitting Machine Pattern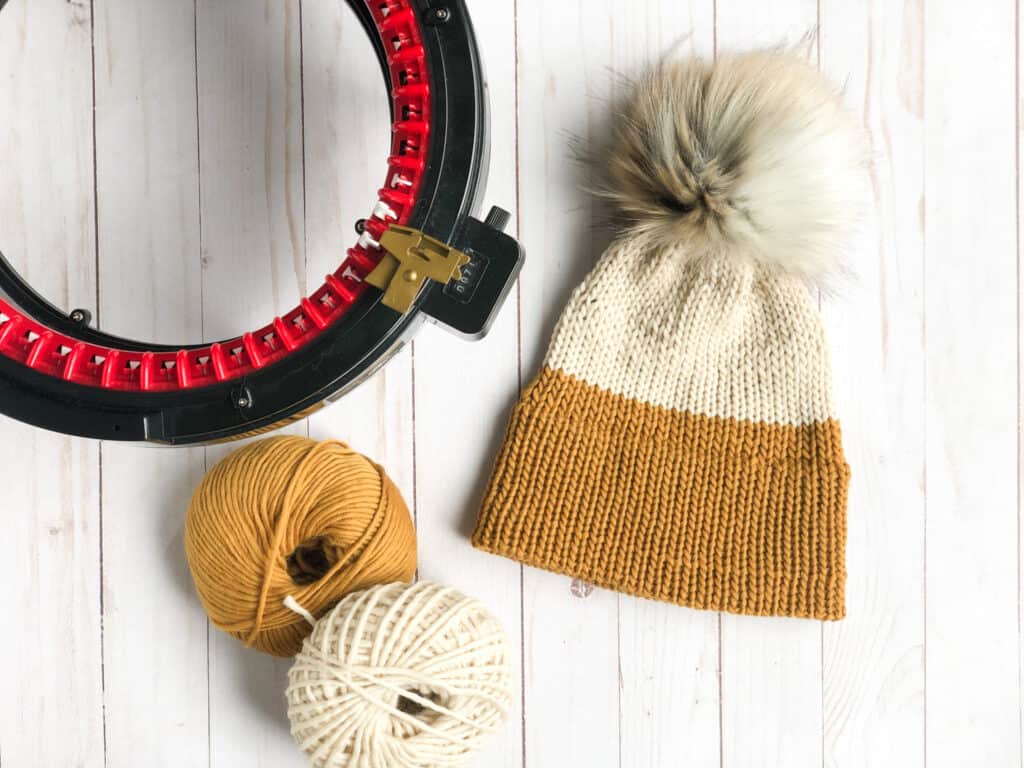 Supplies Needed:
Addi Express King Size Knitting Machine (This is the one I have from Amazon.)
Yarn: 2 colors of Worsted Weight Yarn (1/2 ball each or 1 ball for a solid hat)
Suggested Yarn: We Are Knitters, The Petite Wool (Use my WAK Friends code MGMTU5LO5 at check-out to receive $12 off your first order!) This yarn is more of an Aran/Heavy Worsted Weight Yarn and I like how it makes the hat a little thicker.
Yardage: 76 yards of each color or 153 yards of one color.
Waste Yarn: Waste yarn in a contrasting color to your hat.
Notions: Red Needle that comes with your Addi Machine (or bent darning needle), Pick/Hook that comes with your Addi or a bent paperclip. scissors, faux fur pom (Optional).
Get updates on new Free Patterns and Coupon Codes by signing up for my newsletter!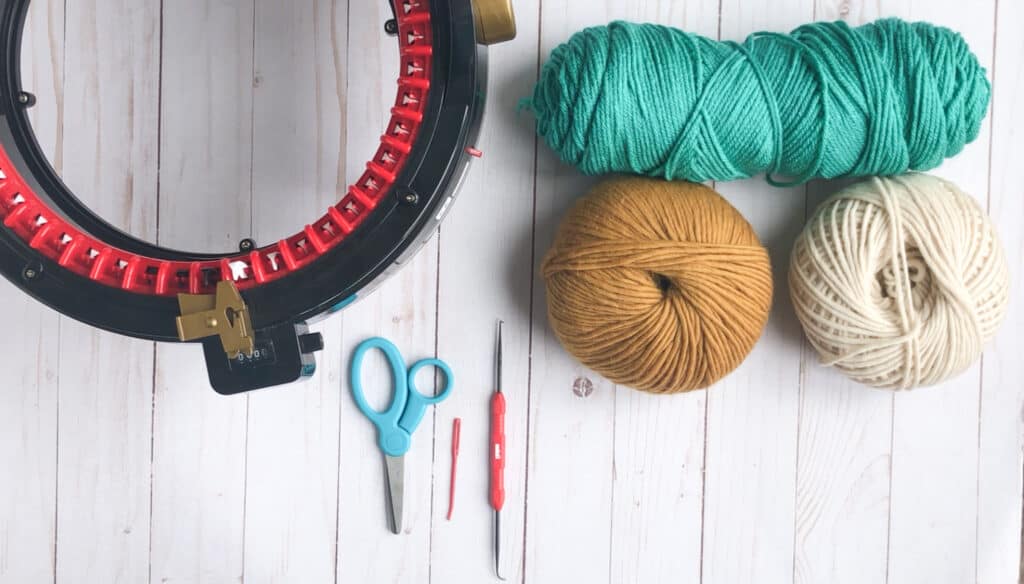 Gauge:
12sts x 22rounds
Finished Measurements:
8″ wide x 11″ tall
Fit:
Fitted for adults. Loose fit for teens/child.
See the full video tutorial below for tips and tricks to knit this hat.
Pattern:
Cast On: Using your waste yarn cast on all 46 stitches and set your machine to knitting in the round.
Waste Yarn: Knit 5 rounds using your waste yarn.
Brim: Switch to your brim color and reset your counter to zero. Knit 40 total rounds using your brim color.
Create Double Brim: Using your hook/pick, starting with the first brim color loop to the left of the tail next to the waste yarn. Pick up each loop and place it up on the needle. Slowly turn the handle keeping light tension on the working yarn so not to drop any stitches. Work around picking up every first stitch of the brim color and bringing it up to the needle. (see my full video tutorial for help.)
Continue Brim: Still using the brim color, knit 5 more rounds.
Top Color: Switch to the top color and knit until your counter reads 70 TOTAL rounds.
Cut Waste Yarn: Cut your waste yarn off in sections and remove it from the brim. Making sure to cut only the waste yarn and not your brim color.
Cast Off: Cast off all stitches while they are still on the machine. To do so, cut your working yarn approximately 2 feet long. Thread your working yarn onto the red needle that came with your Addi or a bent darning needle. Turning your machine slowly, place your needle under each stitch as you come to them and thread the needle through each stitch. (See my video tutorial for help with this.) Thread the yarn through all of the stitches and pull tight to close. Sew the remaining yarn through the top of your hat a few times to close.
Finishing: Weave in ends, block and attach a pom if you like!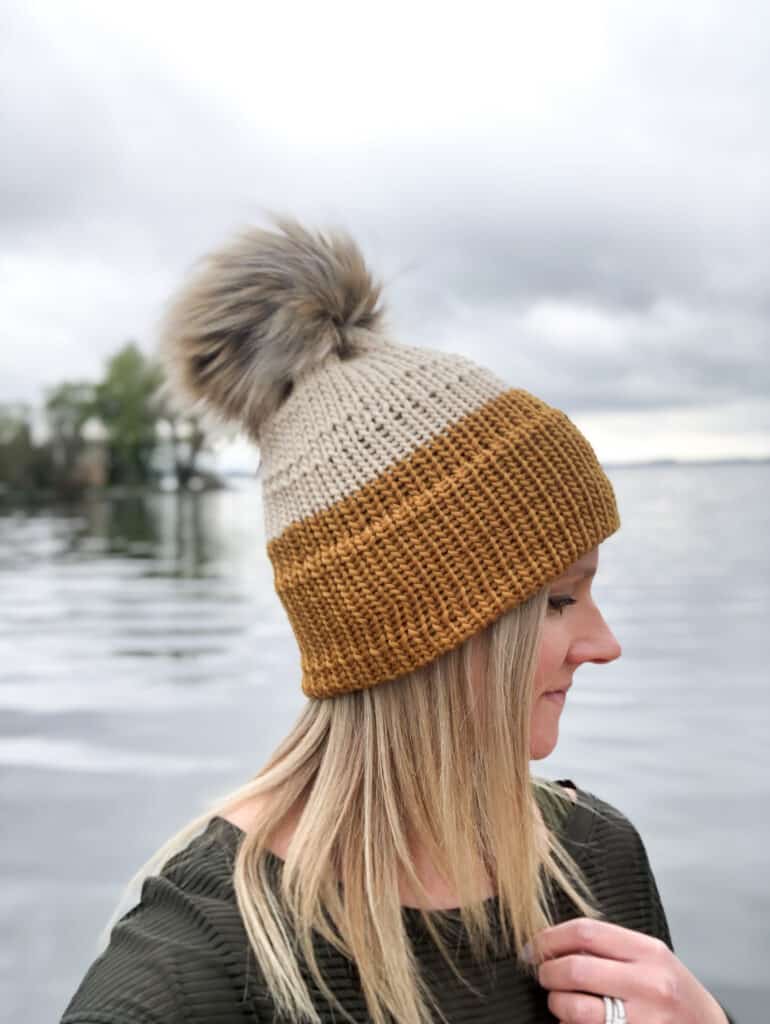 Addi Knitting Machine Series:
I've created a series of Addi Knitting Machine patterns and tutorials for those looking to stock their Etsy shop, create quick gifts or simply use their machine! Check back each week for a new tutorial and pattern!