These home decor knitting patterns are sure to add a lot of cozy and style to your home. You will also feel a sense of pride when someone comes over and asks "where did you get that?" and you can say "oh I made it" don't you just love being able to say that?!
If you're anything like me, you feel a little sense of pride every time you see one of your handmade items in your home. I love to decorate, especially when it's with something I made. I would say my decor style is a mix of classic with a little bit of vintage and modern whimsy sprinkled in.
Most of these patters are made with chunky yarn and can be knit in a weekends time so get out your fat needles, grab some super bulky yarn and get knitting!
This post may contain affiliate links. In the event of a sale, I get rewarded a small commission, at no extra cost for you. These funds help me keep my blog up and running to provide you with great content and free patterns so thank you!
1. Farmhouse Spa Cloth by Steffer Knits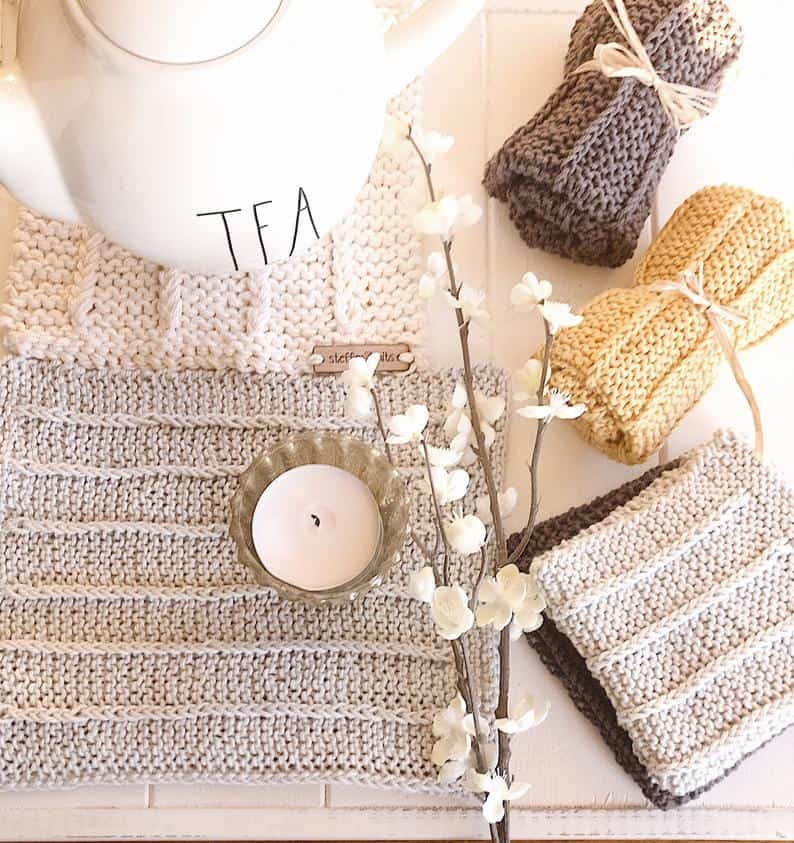 When I first saw this Farmhouse Spa Cloth pattern by Steffer Knits on Instagram I decided that my dislike for crochet and knit dishcloths could be changed. I've never been a huge fan of crochet or knit dishcloths in the kitchen but that could be due to many of them having a very old lady look. (Just being honest!). These, on the other hand, have such a simple and beautiful style that I can totally see them hanging out in my kitchen. You can find this pattern here.
2. The Linzer Throw Pillow by Katimaaria Knits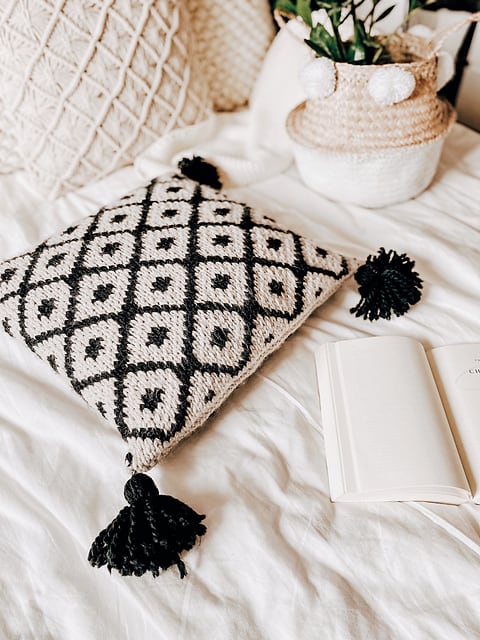 If you are not already following Katimaariaknits on Instagram you need to pop on over there now and click follow! Not only is her feed totally flat lay goals but she has the most gorgeous colors and knitting patterns. If that's not enough to send you over to her then how about she lives in a beautiful city in France that she posts stunning photos of in her stories? This Linzer throw pillow is just one of her stunning patterns and you can find it for FREE here.
3. Knit Dish Towel and Washcloth set by of knitting.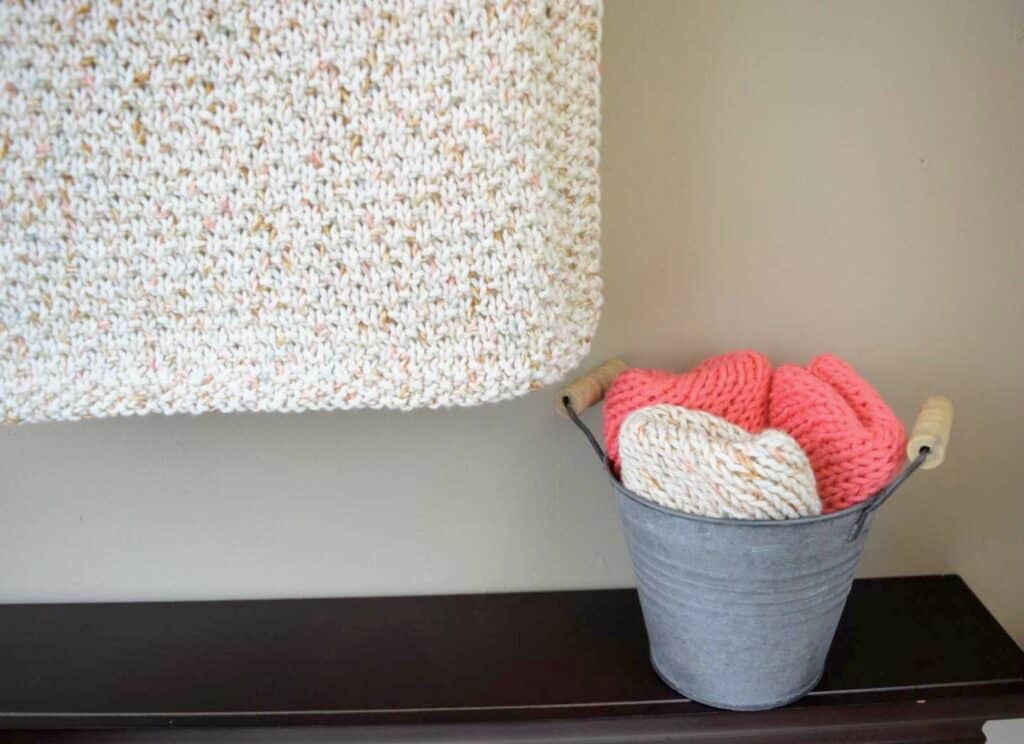 Another dish towel and washcloth set, who am I? When I came across Jessica from Of Knitting's dish towel and washcloth set on Pinterest I again started dreaming of outfitting my kitchen with some super cute knit items. This pattern adds a simple handmade look to your space and you can find it for FREE here.
4. Pasadena Pillow by Peony Knits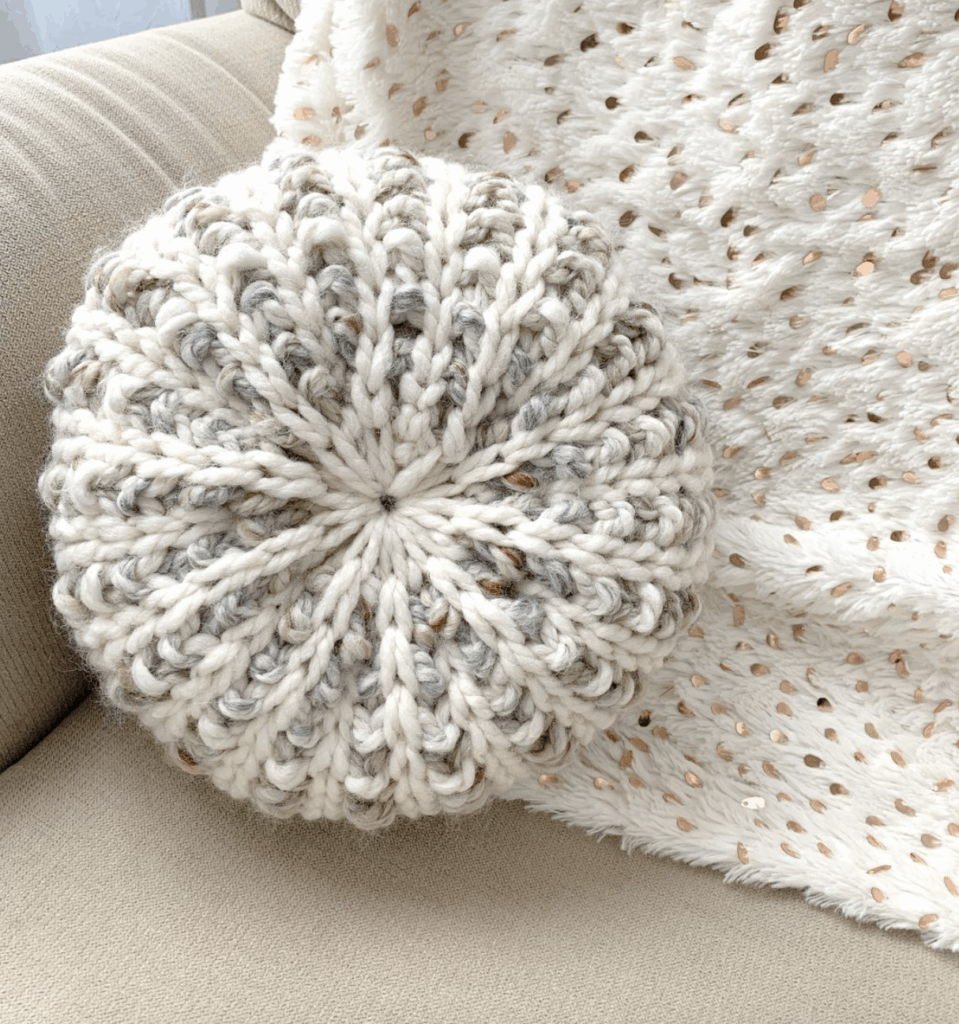 I love me some throw pillows. They can really finish off the look of your room and add great texture and style. This Pasadena pillow by Peony Knits looks like the perfect nursery chair pillow. It would be a great gift for a new mom or for your own baby nursery. It's for sure one of those pillows that your friends are going to be asking you about when they see it. You can find this pattern here.
5. Bobble Knit Throw by Knifty Knittings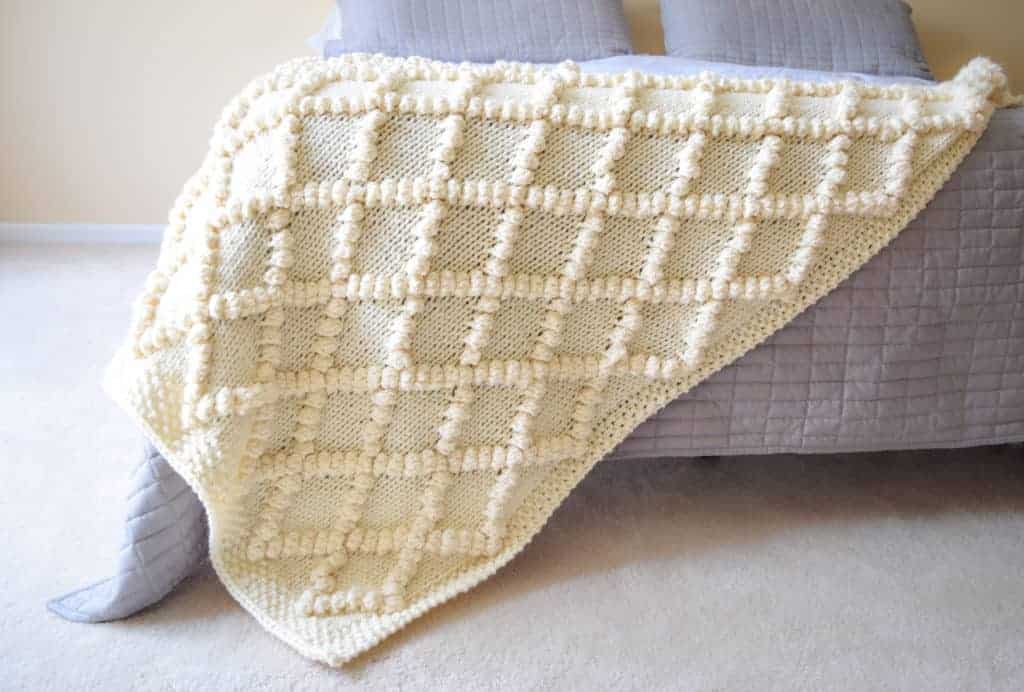 Destiny with Knifty Knittings has many great home decor patterns but her Bobble Knit Throw has to be my favorite. The texture on this is unreal! Not only does it look super cozy but it also adds some high style to your space. You can find this FREE pattern here.
6. Chunky Bobble Pillow by Whimsy North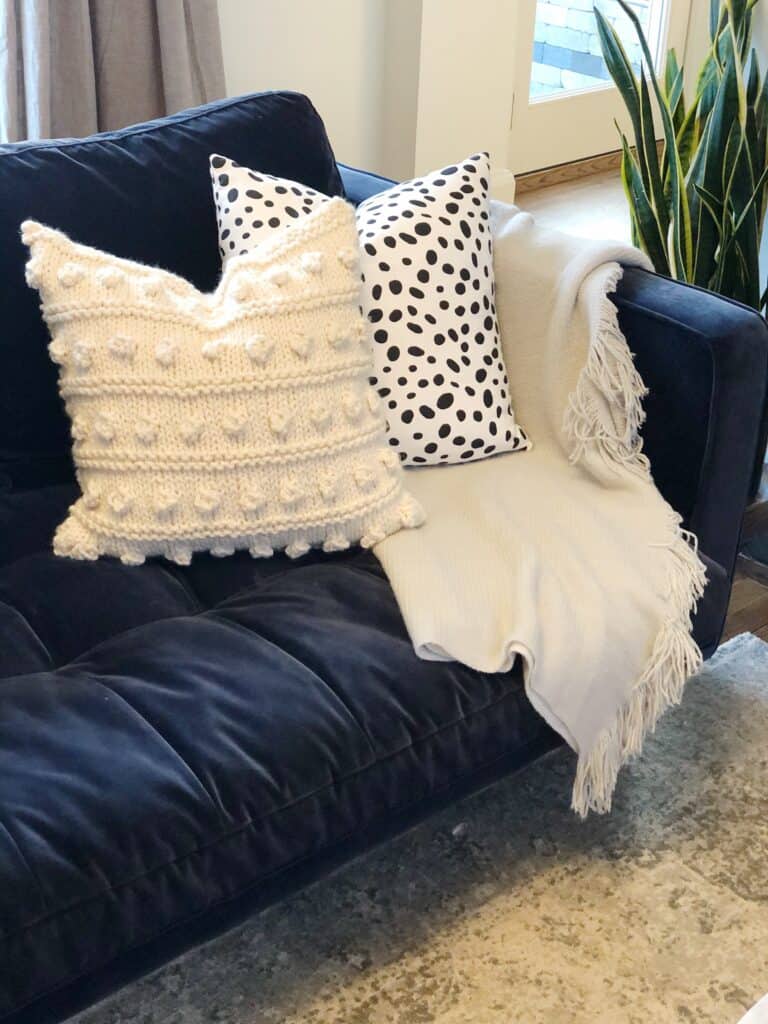 When I designed this pillow pattern I had a pillow from Anthropologie in mind. It's a little boho mixed with modern whimsy, just the look I like for my home. It knits up quick using 3 balls of Lion Brand Wool-Ease Thick and Quick yarn and includes a video tutorial for the bobble stitch so even beginners can tackle this project! You can find this FREE pattern on my blog here.
7. Mexican Blanket by Two of Wands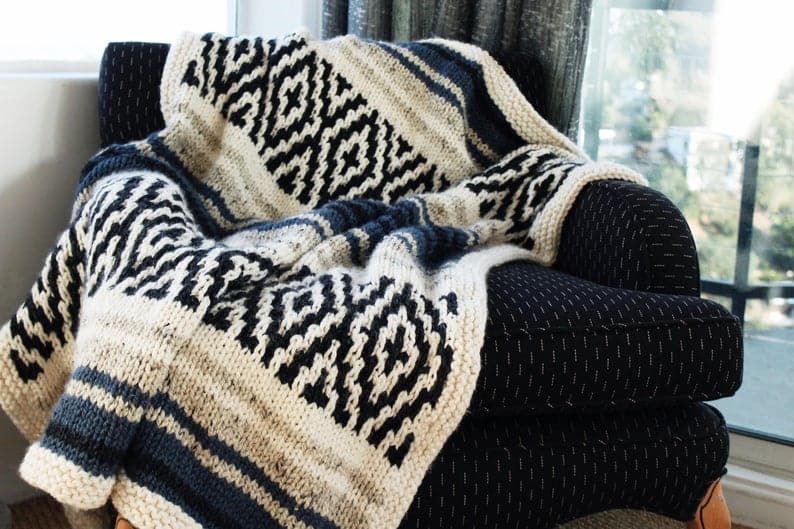 The second I saw this pattern on Pinterest a few years back I was stopped in my tracks. This handmade blanket looks very high end. I almost didn't believe it was a knitting pattern. Another great feature is that it uses mosaic color work knitting so you don't have to worry about holding multiple strands of yarn at the same time in order to do the colorwork. You can find this pattern here.
8. Herringbone Plant Pot Cozy by Brome Fields.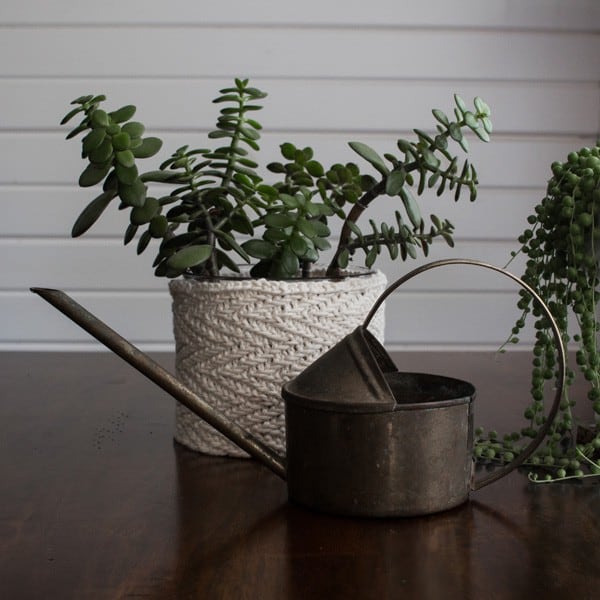 I love the herringbone knit stitch. It has a great modern look to it. This plant cozy adds great texture and style to an otherwise plane black plastic pot. You can find this FREE pattern here.
9. Tea Cosy by Handy Little Me.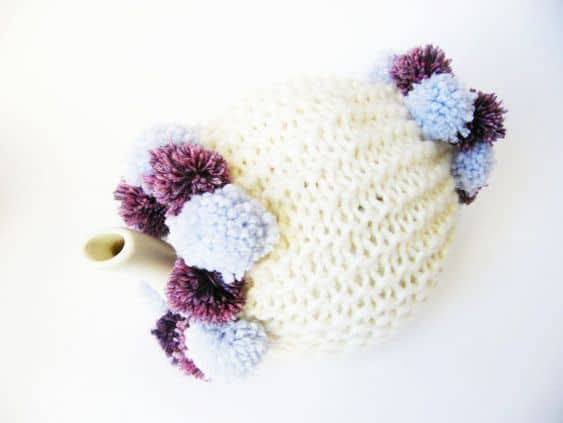 When I saw this tea cosy pattern by Handy Little Me I began to have dreams of sitting and drinking tea in the afternoon with friends. The pom poms add such a fun look to an otherwise classic tea pot. You can find this FREE pattern here.
So what project are you going to cast on today?
Find more pattern round-ups here.
Check out my Free knitting patterns here.
Want to up your knitting game? Check out my tips and tutorials here.