This year I made almost $3,000 in side income while creating a craft business I loved!
March 3rd marks my one year anniversary since I started my side income business, Whimsy North. Since I also have a day job, some people may call it a side hustle. Looking back I have learned so much over this past year and my business has actually changed a lot. I'm a big believer in learning from others so I decided to put it all out there the good, the bad, the frustrations and the numbers!
Many times in business people keep all of their trade secrets to themselves and that's great for them but I've always been a little bit of an open book and one thing I love about running this company is helping others so here you go! All of my trade secrets in one post!
This post is a little long but a lot happened in one year. If you are curious to see how much I actually made last year you can scroll down to the bottom.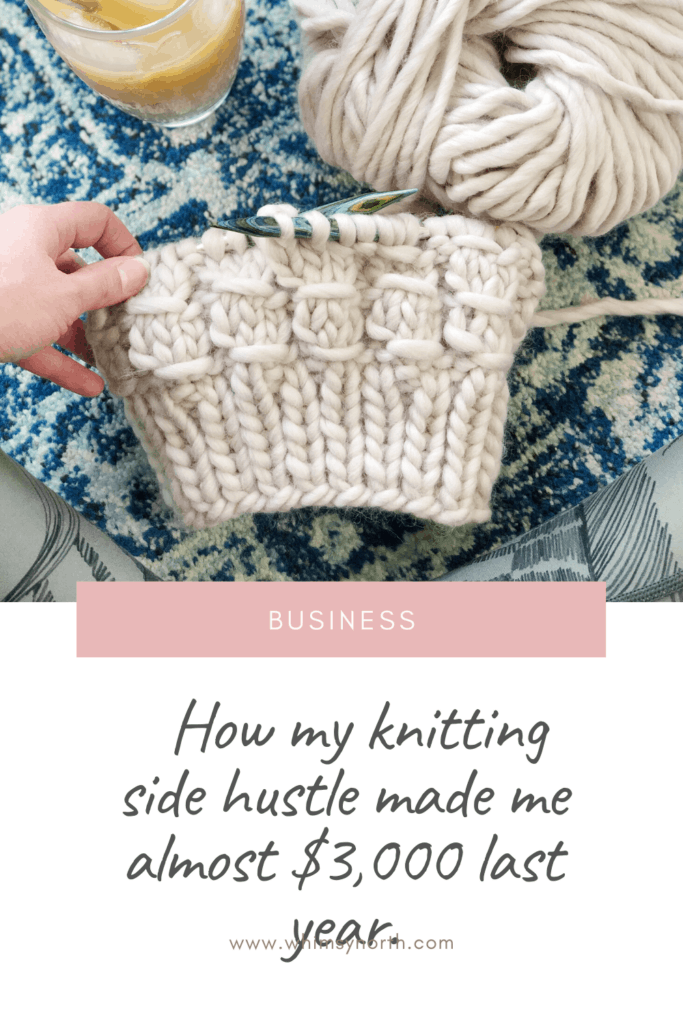 The Beginning
For many years now I dreamed of designing knitwear. I would sketch ideas onto post-it-notes at work or draw in a notebook. I thought about someday selling my own patterns but never took the initiative to do it. I think this stemmed from not knowing where to even begin. Then a friend urged me to just start and I decided that it was time to stop dreaming and give it a try.
Before I launched my business I researched a lot of things. Looked at other websites, Instagram pages and took webinars. I decided that Etsy would be the easiest way to begin since it was user-friendly and easy to get set-up.
I took a webinar on how to make your first 100 Etsy sales and learned from that webinar that I should have a set signature product line to sell. It also said that I should have a minimum of 10 listings when I opened my shop.
After researching and brainstorming I decided my signature product line would include knit hats and pom pom garlands. I wanted to sell something that didn't take too long to make and was cost-effective. Everything would be made to order and custom so once an order came in I would then make it. This would help keep down on the stock and allow me to keep on hand only what people were going to buy. I don't have a lot of extra space in my home and also wasn't prepared to invest hundreds of dollars into supplies.
I created a few designs, took pictures, wrote out the captions and up they went onto Etsy. I was so excited to finally have my own Etsy shop! (Check out my shop here) A dream I have had for over 10 years had come true!!!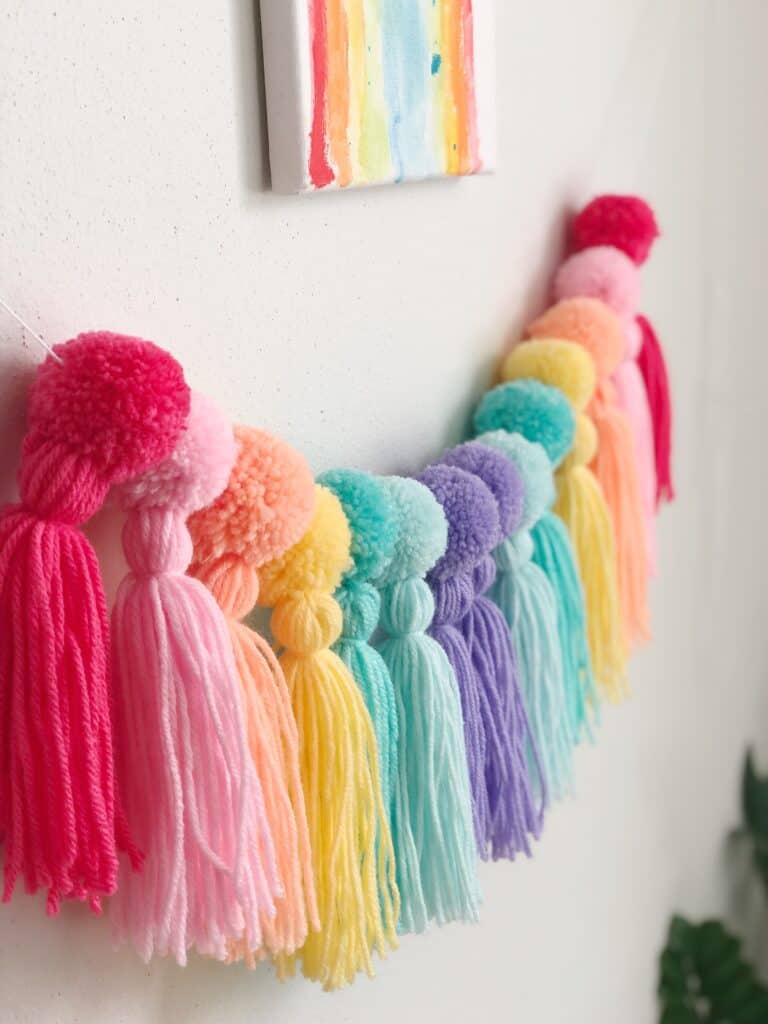 When the Sales Started Coming In.
My sales were very slow in the beginning. While I waited for sales to come in I worked on building my Instagram presence and tweaking my designs and photos. Then one night I received multiple hat orders on the same day! Whoo-hoo! For someone who was trying to have an online business, this should have been an exciting day but for me, it was an instant feeling of dread. I had promised my customers that I would ship within 3-5 days. I had my regular job, my daughter's gymnastics class that night, dinner to prepare and eat with my family and somehow I also had to knit 3 hats!
While staying up half the night filling those orders I really thought about my business model. I created Whimsy North to be a creative outlet. A place where my Enneagram 3 self (The Achiever) could grow a side business all while enjoying time with my family. I started to have flashbacks to when I attempted to sell products through an MLM company and worked so hard to make it work, only to be leaving my family almost every night to host spa parties and attend business meetings.
I already had a day job and family obligations, I wasn't interested in feeling stressed over looming orders. So immediately the next day I took down my custom order listings and posted only Ready to Ship items that were already made. I may not get as many sales that way but at least it will be done on my own time and that was important to me.
A knitwear company that made pom poms.
So another area of my business that changed over the past year is that I no longer sell pom pom garlands.
Pom pom garlands were easy for me to make and required very little supplies and so seemed like a good filler item for my shop. Then one night I spent almost 2 hours making 2 pom pom garlands and again had the realization that trimming yarn pom poms wasn't exactly "filling my creative bucket" as you may say. I really just yearned to pick up my needles and knit.
The very next day I again took down any custom garland listings in my Etsy shop and started to focus only on knit hats. Again, another quick decision to pivote my business based on what I felt was the right direction to go. That's one thing I have loved about being a solo-entrepreneur this year.
In comes designing, freedom and actual revenue.
After a year of working on a shawl knitting pattern, I finally got up the nerve to write up the pattern and publish it in my Etsy shop and on Ravelry. I priced it at $5.00 and really didn't know if it would sell at all. That first weekend I had a few sales, some of them were Instagram friends whom I'm sure were just helping me out. (Thank you to those friends).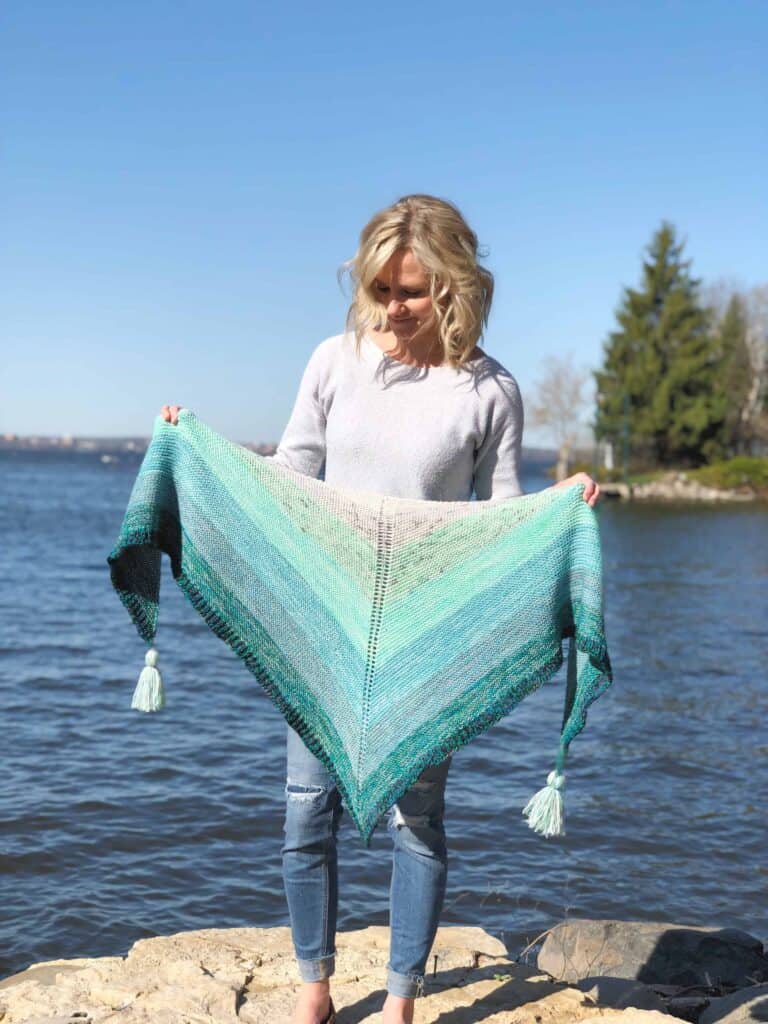 I had finally jumped into the designing world and couldn't wait to do it again! My second design was something I had thought about over a year prior but honestly, I figured it was too simple of a design for people to even like it. I decided to design it anyway and see what happened.
That's when the Char Char Hat was created and to date, it's still my best selling pattern! Honestly, I would never have thought that when I first started working on it! In the first weekend the Char Char Hat pattern went live I made $260 in sales! Compared to my previous pattern sales of $25 this blew me out of the water.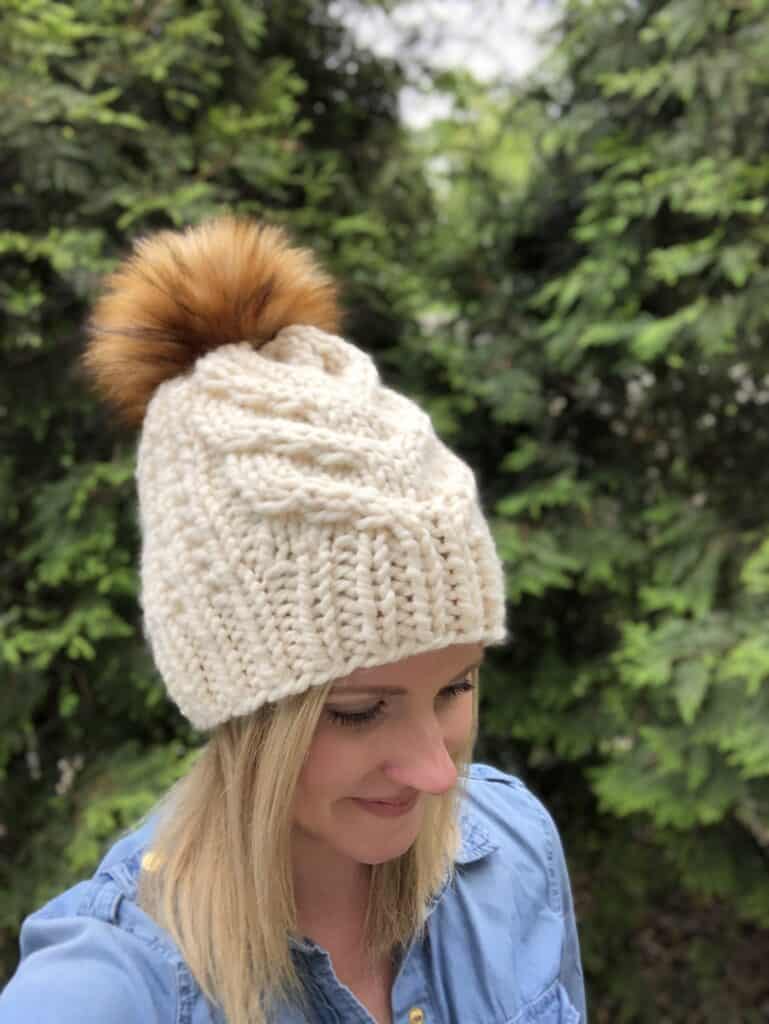 I remember taking my daughter for a walk on release day and every 5 minutes I would hear a ding in my earbud that signaled another sale had been made on Etsy. Imagine enjoying a beautiful walk outside and hearing the ding of revenue coming into your business and knowing you don't have to run home and create anything or ship anything, it's already done!
Now that was the joy and excitement I was looking for when I started this business. The freedom to create what I want, when I want and I knew at that moment I was hooked on creating passive income streams.
The blog, did I start with too much?
The thrill of making money while I took my daughter on a walk made me realize that an online business with passive income is exactly what I was looking for. I wanted to be able to work on Whimsy North when I had the availability in my life or when I was inspired to do so and not be held to strict deadlines. I also wanted to be able to grow my revenue without me having to be the one creating all the time.
With that idea in mind, in April of last year, I started my blog. I wanted a way to share more about knitting than what I could do on Instagram and also add additional passive income avenues other than pattern design.
I taught myself how to use WordPress, where to host my blog and how to design everything. It was truly a labor of love and I had no idea what I was doing! I'm still learning!
Again I listened to a lot of podcasts, read a ton of articles and took some webinars to figure out what I wanted my blog to be and how I wanted it to help my business. My current challenge with my blog is time. It takes a few hours for me to conduct keyword research, write up a post, upload the images, add in the affiliate links, add in advertising, create the Pinterest graphic in Canva, and upload it to Pinterest and Tailwind. If it's a free pattern post then I also have to write up the PDF pattern in Canva, post it to Etsy, post it to Ravelry and link everything together. (whew!)
It takes a lot more time to create a free pattern post on the blog than to make a single pom pom garland, however, once the pom pom garland is sold there is no more way to create revenue off of that one garland. The time I put into creating a post on the blog has residual and passive income opportunities since it stays online forever.
This leads me to where I see Whimsy North going in the future.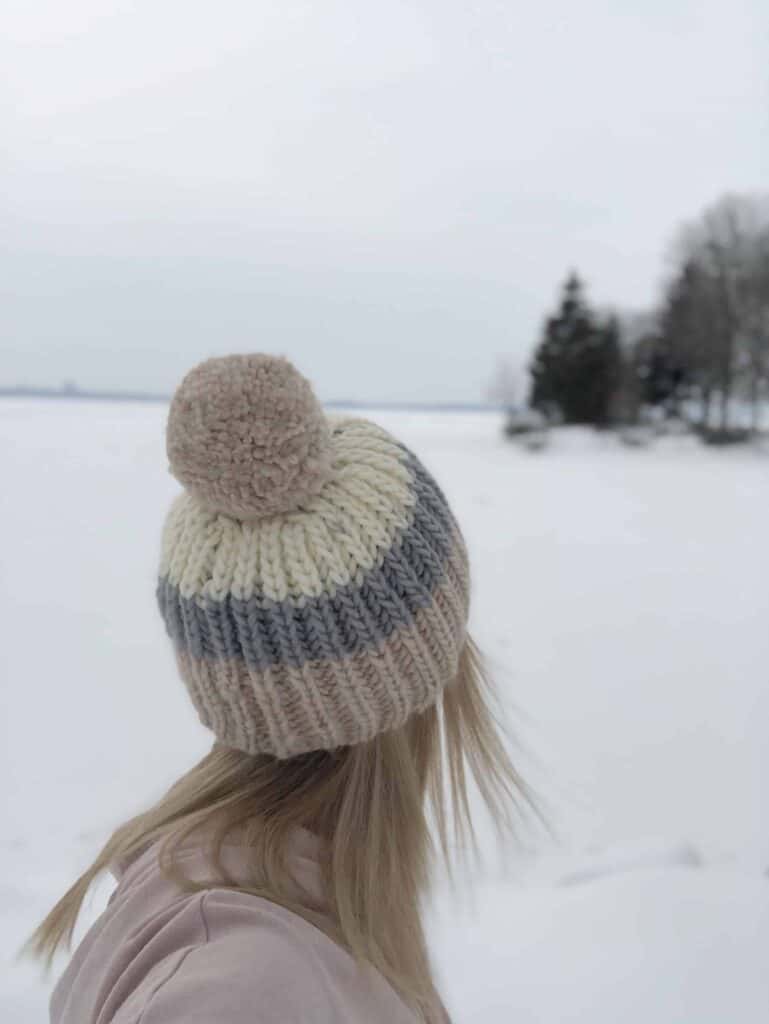 The Future of Whimsy North
As you can see, I'm totally cool with change. Over the past year, I've found some things that have worked and some things that haven't. I took some time at the beginning of this year to decide what I wanted to spend most of my time on and in the end creating an online business with passive income streams is my number one goal.
What does that mean exactly? Well, it means, posting more free knitting patterns that feature ads and affiliate links. It means posting reviews of products and how-tos on my YouTube Channel. It means I won't be selling handmade items as much anymore. (I'm actually thinking of just doing a twice a year sample sale for any of my knit items instead.)
Goals for 2020:
Reach 10,000 Instagram Followers:
My goal to reach 10,000 Instagram followers is simply so I can reach more people and build more community.
I would love to post to Instagram every day but I just can't keep up with it sometimes. I put 10,000 as a goal because I think it's attainable and once you reach that number Instagram gives you more features like swipe-up links.
To get there I plan to post and engage with others every single day. I'm currently making this a priority.
Check out my Instagram here!
Get to 25,000 monthly sessions on my blog:
This one is a huge goal that I may not reach but am going to try.
Why 25,000? Once I hit 25,000 monthly sessions I can apply for a better ad network that will give me more return for my ad posts. To give you an idea of what that means, I'm currently at around 2,300 monthly sessions.
If I had more time to create great content I know I could get this number up there. Again with the time!
Why ads you may ask? Well they allow me to offer free patterns and still make a little bit of money to cover my time and materials so it's almost like the ads are paying for the patterns!
Create an Online Course:
Teaching others has always been a passion of mine. Over the past year, I kept coming back to how can I share my knowledge best with others? Some ideas were ebooks, printables or an online course.
I kept coming back to creating an online course. While I think an ebook or printable could still fit in here and there an online course would really give me the platform to teach in detail.
I know this will be a big undertaking so it may not happen until next year but it's on my list!
I'll let you know next year how I do with my goals so you can see if my strategies are working! Where are my goals for knitwear design you may ask? Well in order to grow my Instagram and Blog sessions I obviously have to be designing and creating content. The reason I didn't put an exact number or goal behind this is that I'm not exactly sure what I'm capable of.
Last year I created 10 total patterns. While I think this number can increase this year, I'm also working on some larger designs that take more time like a crescent-shaped, fingering weight shawl and a DK weight knit T for the summer. These designs will take longer to create than a hat.
If I keep my 2 goals of reaching more people with my content and simply keep creating I think I'll get there.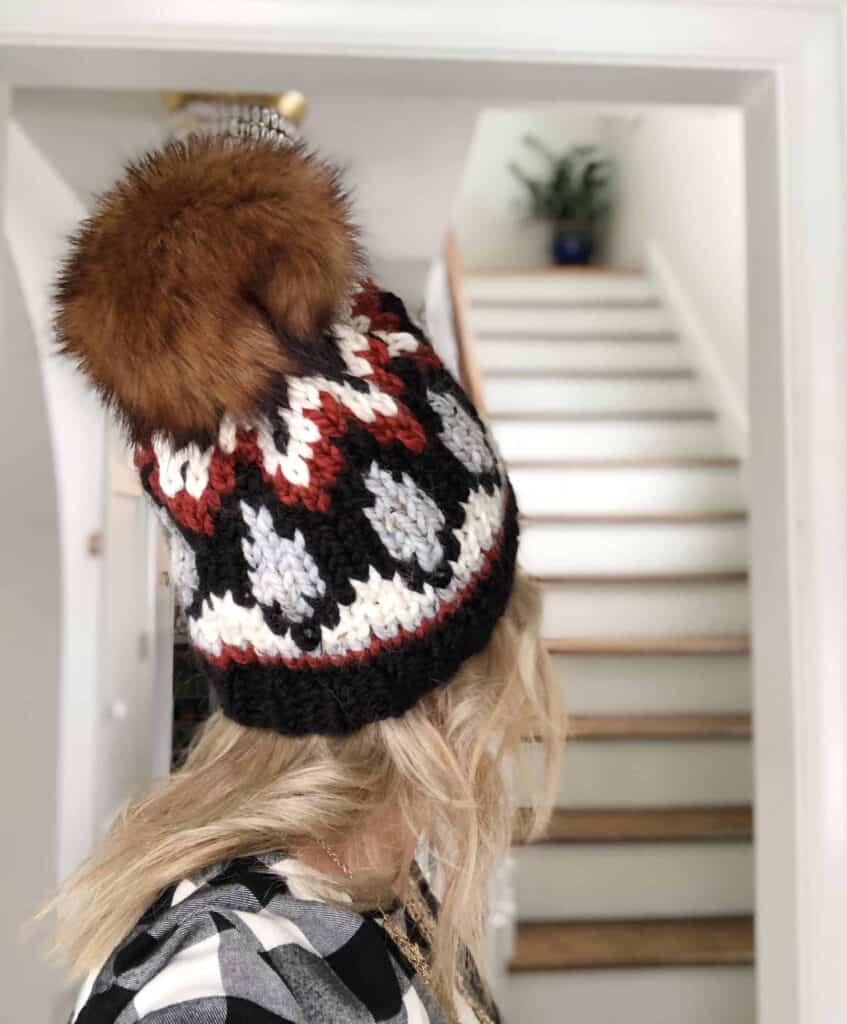 Recap: What Worked the best.
Designing knitwear patterns and selling them on Etsy and Ravelry. This gave me the time and creative freedom to do exactly what I wanted and when in my business. It also brought in the most sales for my business last year.
Posting Free patterns on the blog. Free patterns have brought the most traffic to my blog and therefore the most ad revenue. It's not a large amount but before I started posting free patterns my blog traffic was very low.
Selling actual knit items. I have to say that I made a fair amount of revenue selling actual handmade items. There is a higher cost involved in creating the actual knitted item though so the net is lower and I didn't like knitting the same thing over and over again along with having strict deadlines so even though this worked I'm moving on from doing it.
What didn't work.
Selling pom pom garlands. I think we already discussed why this wasn't the best fit for me.
Selling custom items. As I drill down my values and what I want my business to be time freedom is very important to me and this just did not fit with that value.
Affiliate marketing. I debated as to whether I should put this one down here or not. I really thought I would do better with affiliate marketing on my blog than I did. I now realize that I don't have a lot of authority yet when it comes to the companies I am an affiliate for. I also don't have a very good strategy around this yet. I do think it could turn into a win at some point and therefore am not going to write it off completely, I just need to take a little more time to really figure out how I want to go about it.
The numbers. What you came here for!
I broke my revenue down into 5 categories that I tracked this year. The numbers below are total revenue in those categories. It does not account for what I spent on supplies, my website, training… etc. I think if I would have had a better focus for last year I could have done better but I didn't exactly know what I wanted to be doing so I feel proud that I learned now for this year what I want to spend my time doing.
Year 1 Revenue
Etsy (Patterns + Actual Made Items): $1,660.76
Ravelry: $801.58
Website Ads: $42.05
Affiliate Marketing: $2.48
In-person Sales: $420
Total: $2,926.87
Conclusion:
In the end, I can't believe it's already been a year. I've learned so much over this past year and cannot wait to see what year 2 brings! I've heard other entrepreneurs say that they really didn't hit their stride with their business until year 3 so this may be another great year of learning but I'm so ready for it!
XOXO, Margaret