Are you looking to knit a project using velvet yarn? Read about why I almost threw all of my velvet yarn away! Here I share with you my trials and the lessons I learned to help set you up for success before you cast-on so that you don't experience the same challenges as I did.
This post may contain affiliate links. In the event of a sale, I get rewarded a small commission, at no extra cost for you. These funds help me keep my blog up and running to provide you with great content, so thank you!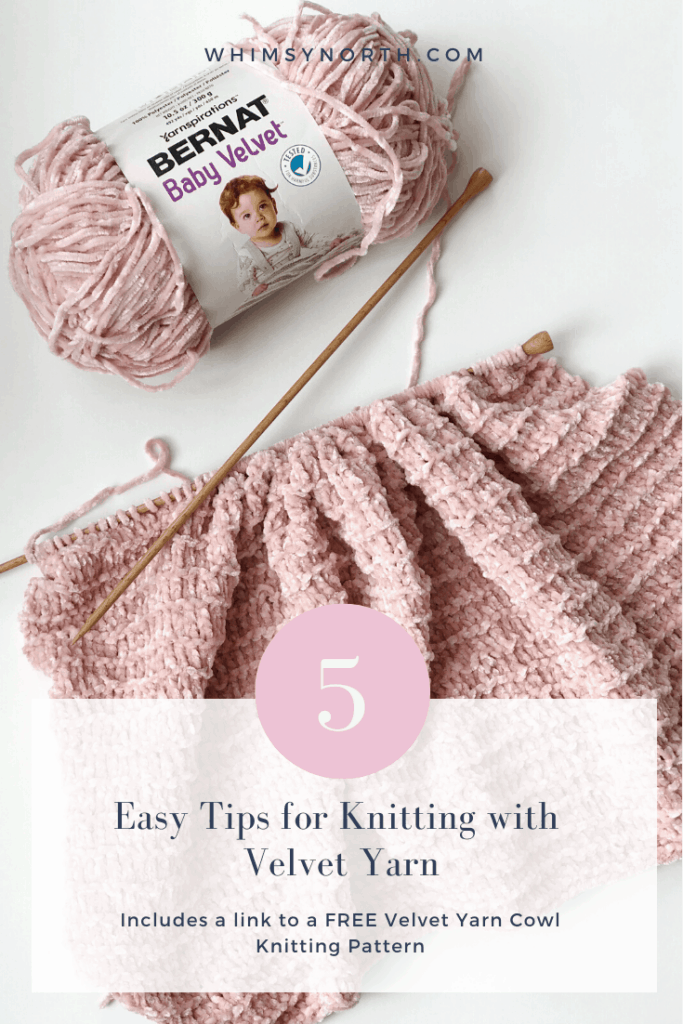 90s Fashion!
The 90s are back! I'm talking mom jeans, neon colors and plaid flannel shirts. I'm not a huge fan of mom jeans and crop tops on anyone over the age of 22, however, one 90s trend I can get on board with is the return of velvet. Especially when it comes to accessories and home décor. Velvet scarves, dresses, and those adorable velvet pumpkins, yes, please!
Velvet Yarn.
One day I was meandering through Michael's, as any good crafter does when I spotted an entire center aisle display of Bernat's Velvet yarn. There was baby velvet and crushed velvet galore! Obviously, I walked right over to it and started petting away. It's seriously THE SOFTEST! After cuddling with a few skeins, I walked away to pick up the yarn that I had actually gone there to buy. As I tried to leave, I was pulled back over to squish the velvet one more time. That's when 4 balls just happened to jump into my cart. I didn't have a clue what I was going to make with it, but I knew it had to come home with me. Does that ever happen to you?!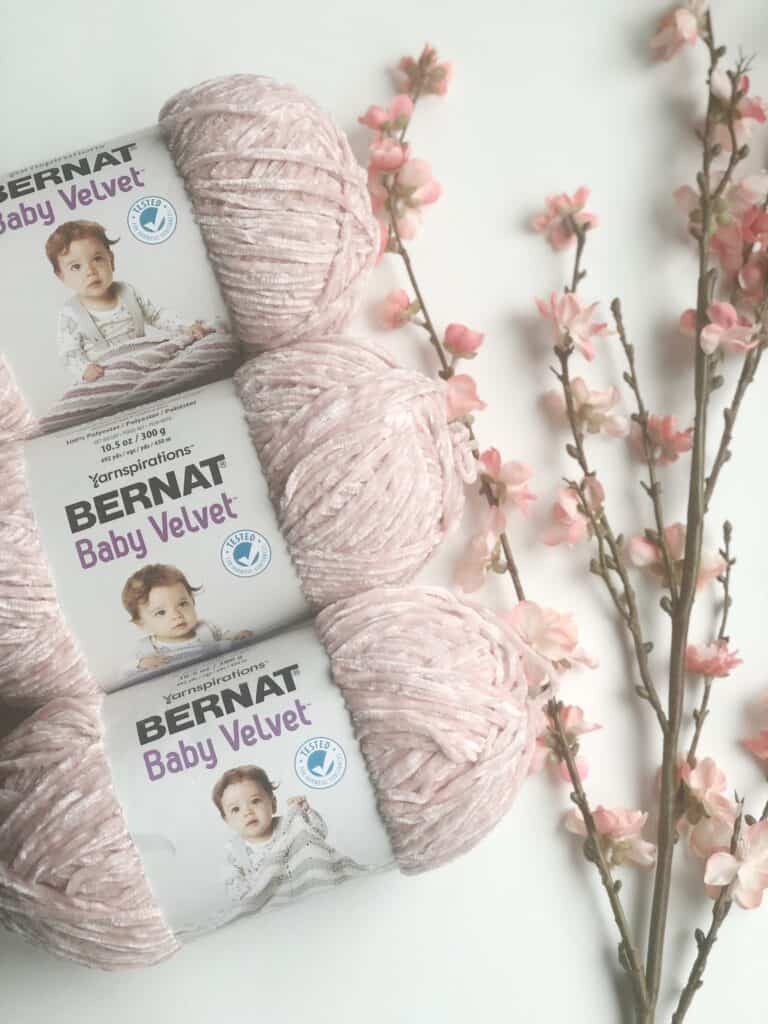 Once home I proceeded to google and search Pinterest for knitting patterns that I could use my velvet yarn with. Not much came up. There were plenty of patterns for crocheting with velvet yarn but less than a handful of knitting patterns. After searching for a while, I felt like I clearly needed to just create my own knit pattern.
Velvet Baby Blanket Design.
I settled on a knit baby blanket with tassels and began to swatch with different sized needles and a variety of stitches. Many swatch attempts later I discovered that this yarn was a little more challenging to work with than what I expected.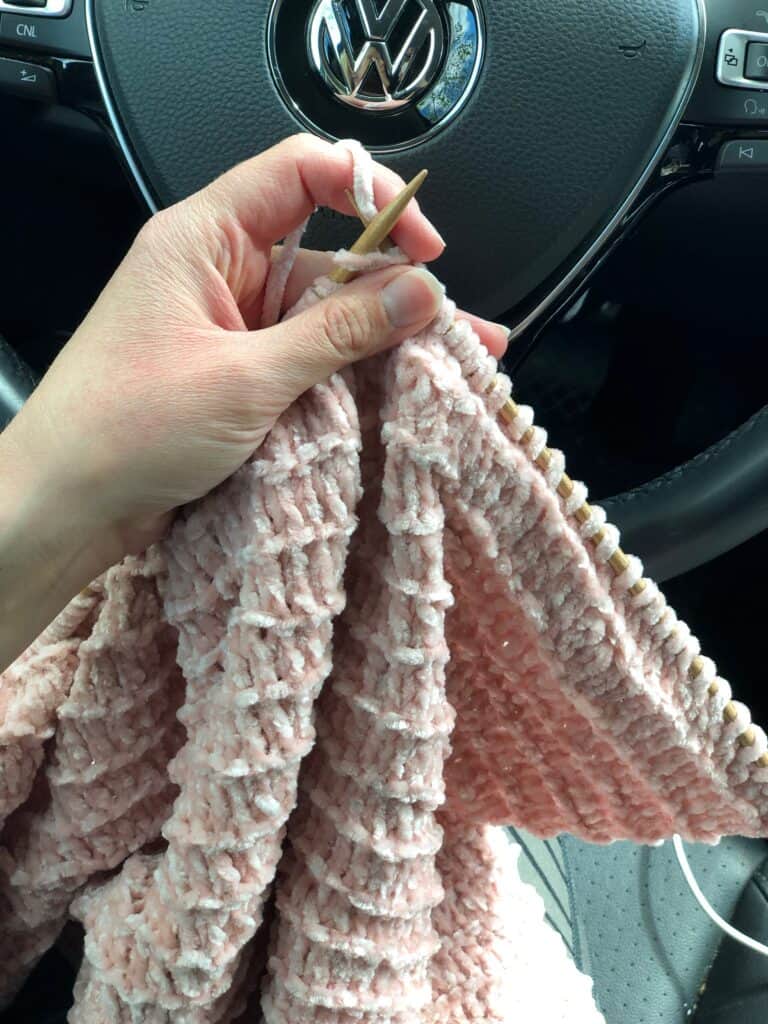 Why is this velvet yarn so hard to work with?
After coming across this article regarding the author's Love/Hate relationship with velvet yarn I understood a possible reason why. She was 100% correct in her findings that velvet yarn tends to "worm" when knit. This explains why I could find only crochet patterns as crochet creates a tighter fabric and therefore doesn't have the same problems as knitting. You can see from the photo of my baby blanket that the stitches do not look very uniform and some of them stick out and curve a bit. That is what they call "worming." This yarn certainly looks better in crochet than knit but I was determined to find a way to make it work.
So after working on my baby blanket for about a month on and off, I set it aside. I wasn't sure that I even wanted to continue based on the way it was looking. UPDATE: I finally finished the velvet blanket and you can find the free pattern here on the blog! Woolflower Velvet Knit Blanket.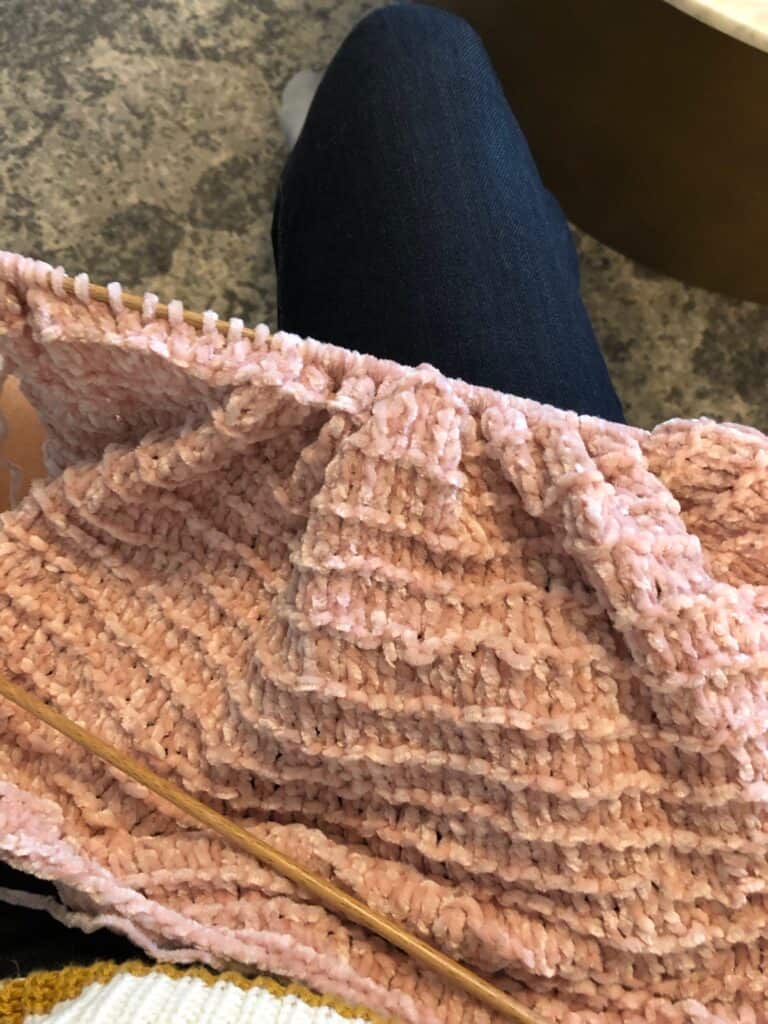 A second chance.
Flash forward 5 months and again I came across the velvet yarn sitting in my stash just waiting to be made into something super cozy. I decided to give it another go. This time my plan was to double up and use two strands at once. My goal was to make the project a faster knit, as well as, try to decrease the worming look of the yarn. This double stranding helped significantly in making the appearance of my knitting look cleaner and more uniform.
The big frusteration and why I almost threw all my velvet yarn away!
Now here comes one big lesson I learned where I almost threw away all of my velvet yarn in a fit of frustration. After doing my swatch test holding two strands of velvet yarn together, I decided that I was going to knit a cozy velvet cowl scarf. That night my mother-in-law was coming over to watch our littlest child so that I could take our middle child to swim team practice alone. This meant I would have one full hour of knitting time while my daughter swam. Thank you to my mother-in-law!
My plan was to cast on the velvet cowl and get as much knitting done in that hour as I could. To prepare, I pulled out my ball winder so that I could split my one large ball of velvet yarn into two separate balls. I wound up one cake and then the other. There was a little time before swim practice, so I decided to quickly cast on and get started while at home to make it easier to get more knitting done at the pool.
I began to use the center pull balls to cast on and knit around and that's when the first problem happened. One of the center-pulled strands of yarn got completely stuck. Like pulling as hard as I could, nothing moving. I assumed that a knot must have formed while I was winding it (I was a little distracted with helping my kids with homework and giving the baby a snack). So I quickly went to re-wind it and start over. There wasn't much time left before we had to leave for swimming, and THIS was the project I wanted to bring with, so I felt a little frazzled.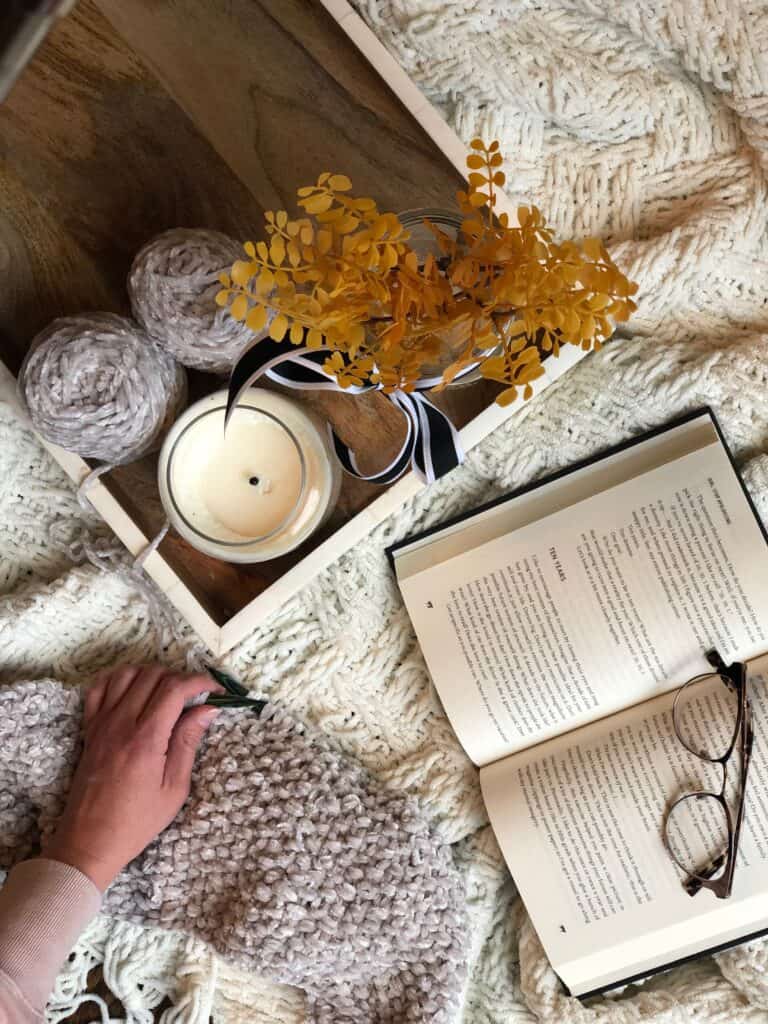 When we made it to the pool, I sat down with the other moms to begin working on my new velvet cowl. I casted on and began knitting with both strands coming out of the center of each cake. Not more than a row or two into the project the yarn got stuck AGAIN! Ugh! I was trying to have a relaxing hour knitting alone with no kids while watching my daughter swim and this velvet yarn was ruining it! I slammed the entire project back into my bag and decided to instead just talk with the other moms.
When I got home that night, I was so annoyed that I almost considered throwing this yarn away and moving on. What good was yarn that got stuck every time you tried to use it and made strange sloppy stitches?! After getting ready for bed and calming down a bit I decided to try one last time. This time, I was going to use the outside strand of the yarn cake instead of the center pull in hopes that the sticky nature of the yarn was the reason it kept getting stuck.
The solution.
As my 7-year-old daughter would say "bam what!" it worked! I finally found the trick to using velvet yarn and the result is just as squishy as I thought it would be. Now my cozy, squishy velvet cowl is done and I'm actually considered revisiting the baby blanket. Now that I know the challenges of velvet yarn I'm going to switch things up a little.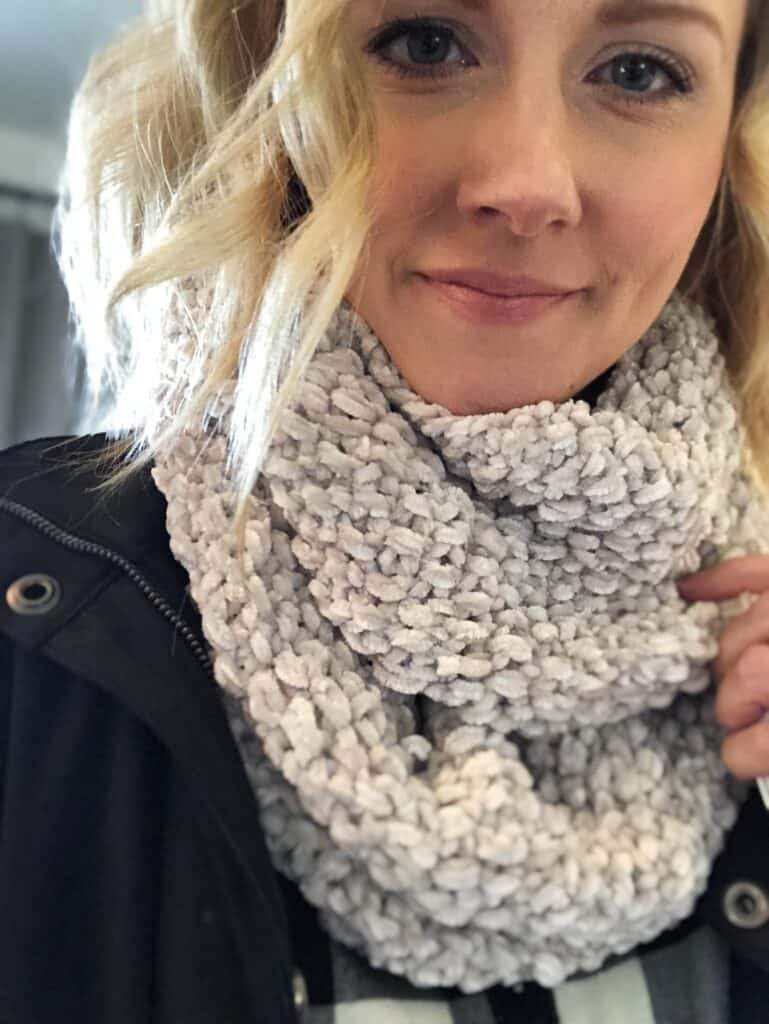 To sum it up, here are my
5 Tips to Knitting with Velvet Yarn.
Double up – Knit with two strands together to help hide the worming effect of the yarn. This will give you an extra cozy fabric too.
Needle down – Using a larger needle will cause your stitches to be looser which will magnify the worming tendency of the yarn. Instead go with a needle size one or two sizes smaller than what you typically would use.
Don't use center-pull balls/cakes. I recommend either using the yarn straight from the skein/ball as is or winding it into a ball but using the outside strand to knit from. The nature of this yarn is that it sticks together easily and can become tangled.
Don't use detailed stitch patterns. – Velvet yarn doesn't have great stitch definition and a stitch you see created with wool yarn will look completely different in velvet. Therefore, test out your stitches in a swatch first to see if you like the look of it.
Handle with care. – I saw a recent post on Facebook where a woman spent hours creating a beautiful blanket using velvet yarn. After washing the blanket, she found huge holes in the center of it where the velvet yarn had broken and started to unravel. In using this yarn I can see how this could happen. It's basically a thread with fuzzy fibers attached. I know the tag says machine washable but I would caution you to only handwash your finished item unless you want to run the risk of holes.
I hope sharing my fails knitting with velvet yarn helps you to feel confident in using it for your next knit project! To get you started I created a FREE pattern for my Velvet Seed Stitch Cowl. You can find it here on the blog!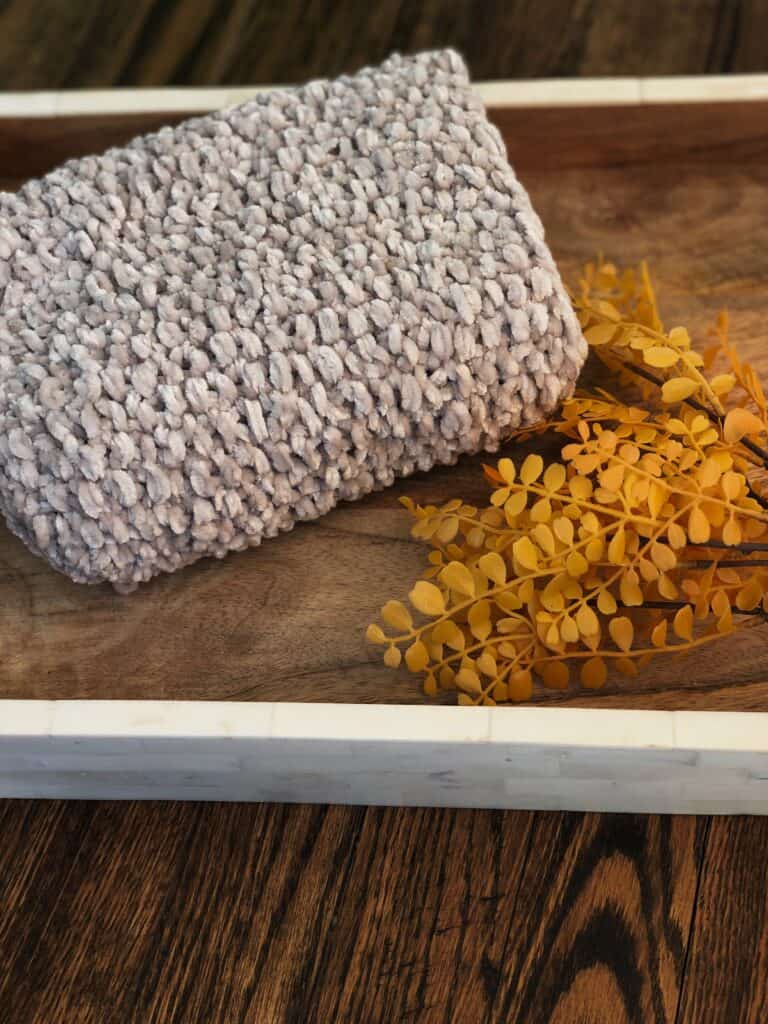 XOXO, Margaret