A traditional nordic snowflake design mixed with fun color changes creates the Betty Cowl, a cozy and fun free snowflake cowl knitting pattern that will brighten up any wardrobe! Scroll down for the full free knitting pattern or purchase the ad-free PDF here.
This post may contain affiliate links. In the event of a sale, I get rewarded a small commission, at no extra cost for you. These funds help me keep my blog up and running to provide you with great content and free patterns so thank you!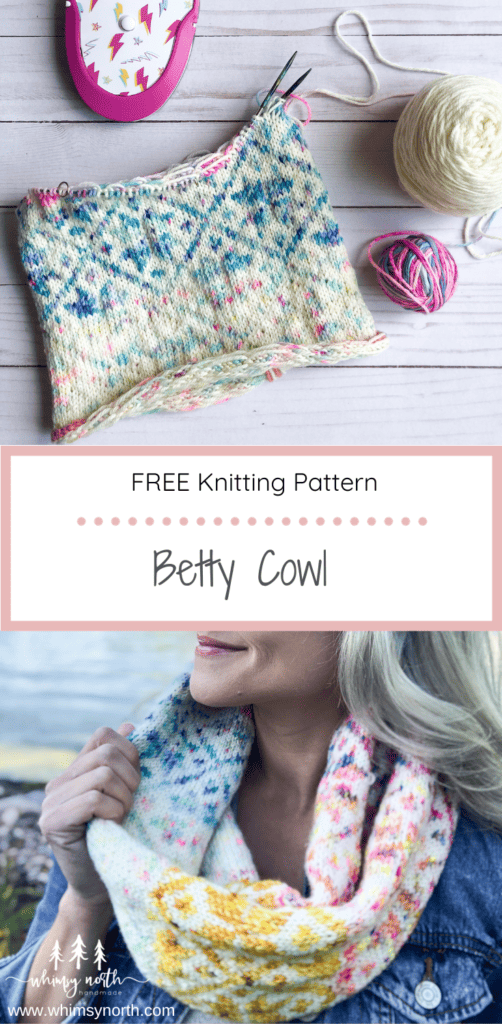 How to knit an infinity cowl
Just like the Kindra Headband and Kindra Cowl, this cowl is knit in the round as a seamless tube. No purling required! A provisional cast-on is used so that once finished it can be grafted together without a visible seam. If you've never tried a provisional cast-on before I have a helpful video on my YouTube channel.
VIDEO: How to do a Provisional Cast-on
After the cast-on is the colorwork section. The entire cowl uses just one colorwork chart with a different contrasting color for each repeat. This gives the cowl a colorful look. You can choose to simply use one contrasting color throughout for a two color cowl.
The final step is to add a twist and graft (seam) the two ends together to make one continuous loop. If you've never tried grafting I have a video for that as well on my YouTube channel.
VIDEO: How to do the Kitchener Stitch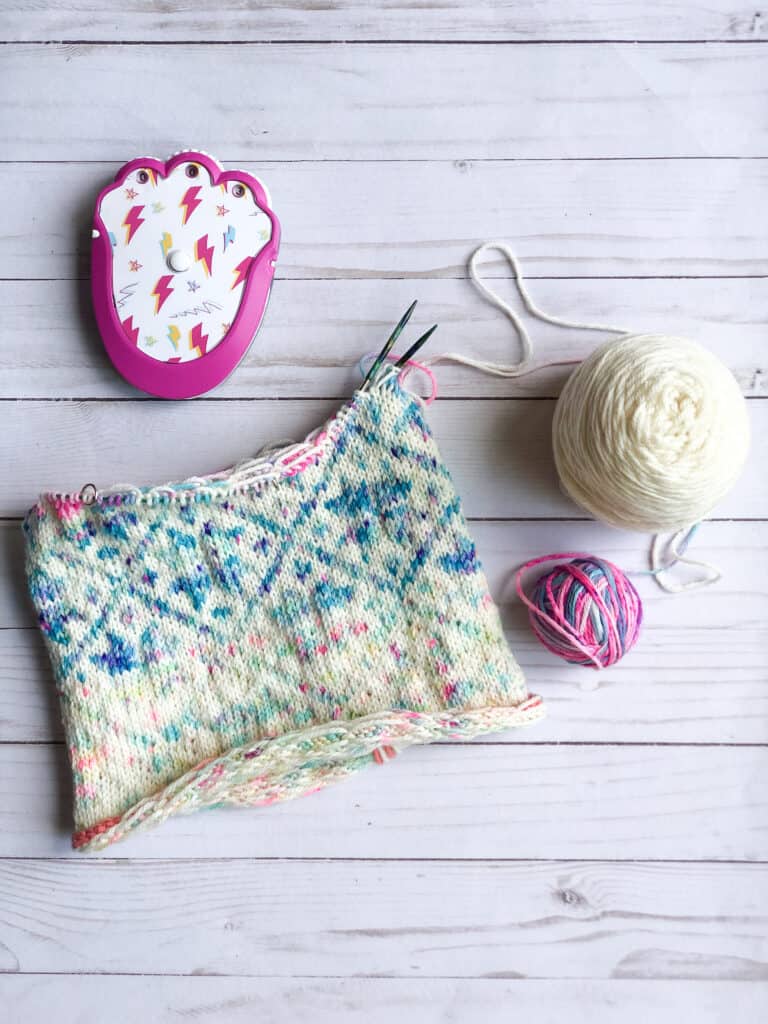 Find a printer-friendly PDF version of the Betty Cowl here in my Etsy shop. The PDF version includes the full ad-free pattern great for printing and putting in your project bag.
Keep scrolling for the FREE version of the Betty Cowl Knitting Pattern.
Special Yarn Collaboration and Mini Skeins
When Katie from Summer Camp Fibers reached out asking if I could design something special for her advent mini skeins I immediately thought of a fun and colorful cowl. If you look at the Summer Camp Fibers website you will see that Katie is all about color and having fun. Her yarn really compliments my design style!
She was going with an 80s ski vibe for this advent so I thought what better than a snowflake cowl! Combining a traditional 80s ski attire pattern with fun pops of colorful mini skeins and the Betty Cowl was born.
Summer Camp Fibers offers exclusive kits for this cowl on their website and you can save 10% on your order of $25 or more on the entire site by using my special link here!
Below is the original Betty Cowl and Headband advent kit. The white is the background color and each mini skein is a new chart section. The yarn is Summer Camp Fibers Marshmallow DK.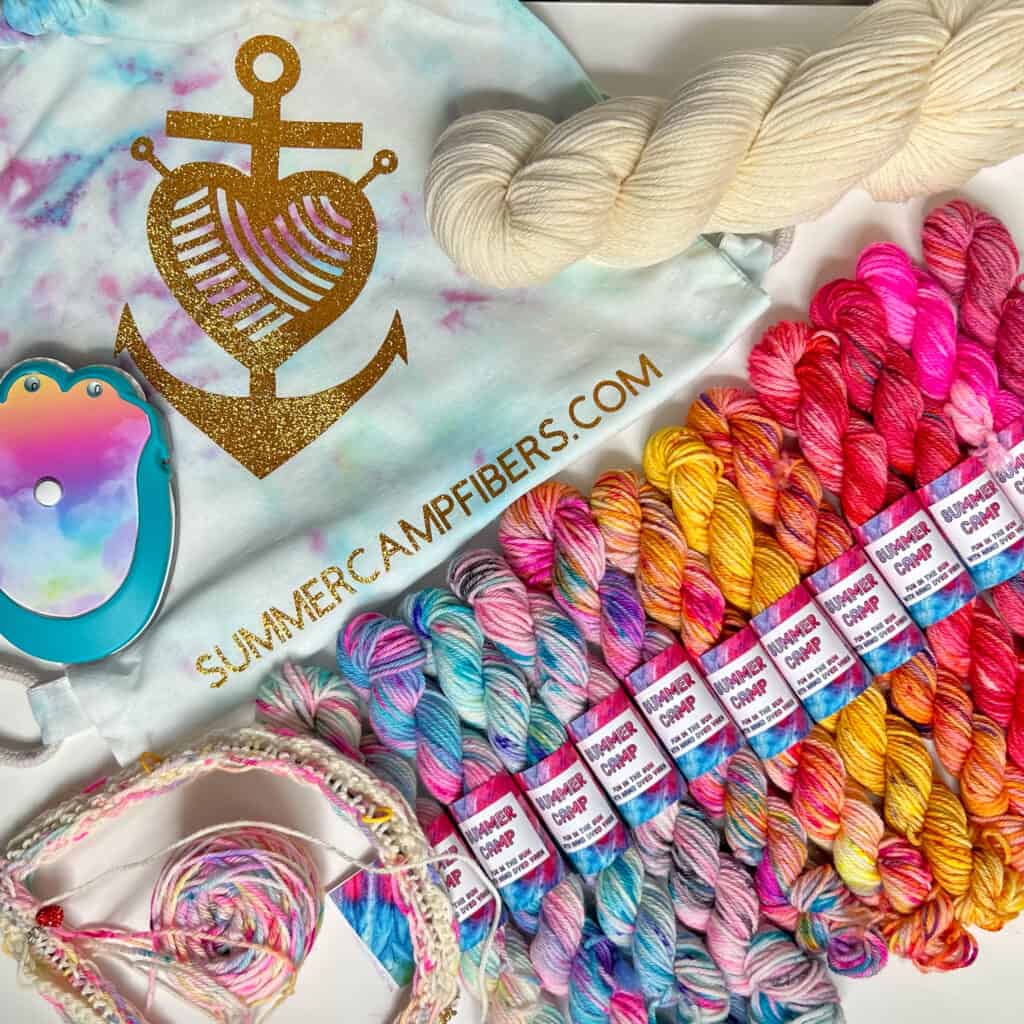 Budget friendly DK yarns for cowls
If hand dyed yarn is not currently in your budget or you are struggling to find some available. Below are some of my favorite budget friendly DK weight 3 yarns to use in this free snowflake cowl knitting pattern.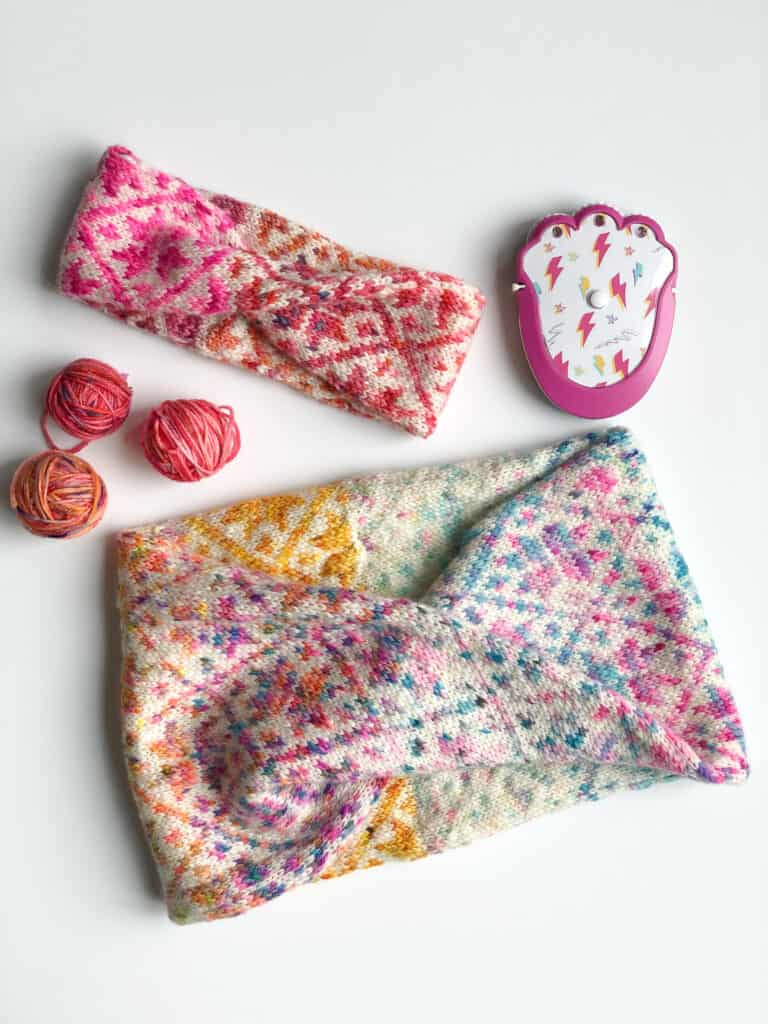 ---
Betty Pattern Series
Along with the Betty Cowl I also designed a matching headband. The Betty headband uses the same techniques to create a cozy and easy to wear knit headband.
The headband pattern will be coming soon to the blog. Sign up for my newsletter here to be notified once it's up!
Betty Cowl – FREE Snowflake Cowl Knitting Pattern
Description:
The Betty Cowl is inspired by 80s ski attire, and was created as a way to have fun with mini skeins. It features pops of bright colors mixed with a traditional nordic design. This cowl is knit in the round as a seamless tube that starts with a provisional cast on. A fun twist is added before the ends are grafted together. The colorwork is charted.
Helpful videos for knitting this cowl
Notes: Mini Skeins
Minis are all the rage! This cowl was knit using one solid color for the main color and 7 different mini skeins for each chart repeat. The pattern can be knit with only two colors and yardage for both options is below.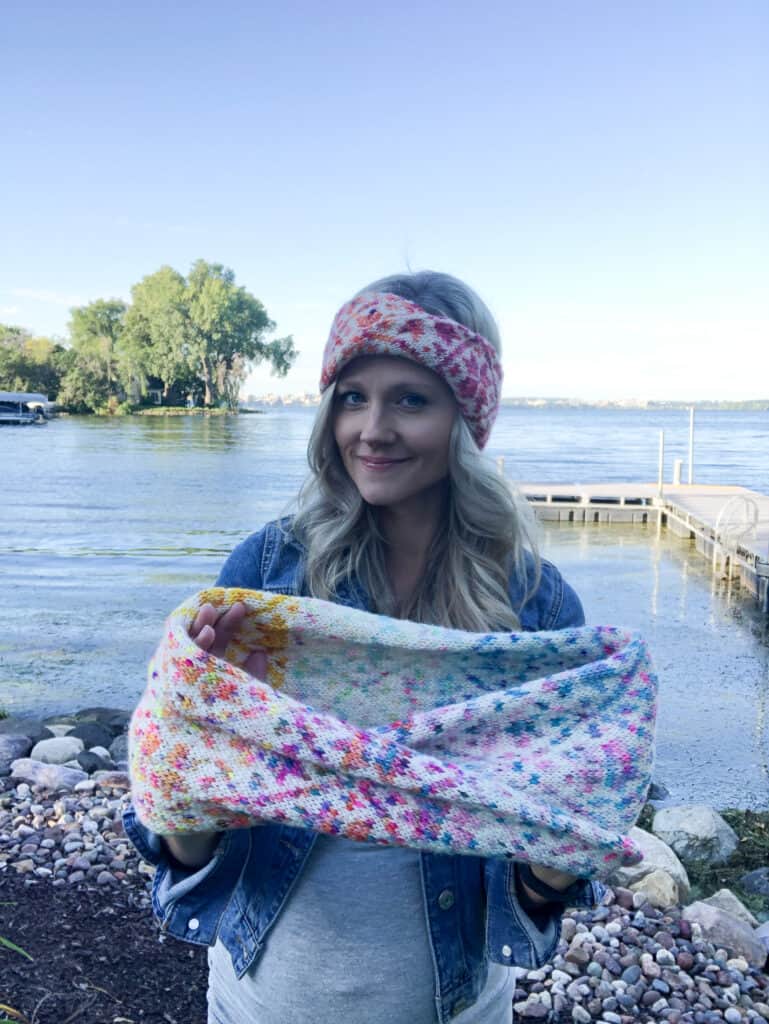 Materials:
DK weight 3 yarn in the following yardages
OPTION 1 – MINIS
MC: 260 yds / 237.75 m
Each Mini / Chart Repeat: 41.5 yds / 38 m
OPTION 2 – Single Contrasting Color
MC: 260 yds / 237.5 m
CC: 290 yds / 265 m
SUGGESTED YARN
OTHER TOOLS NEEDED
Finished Measurements:
Approx. 10" / 25.5 cm wide x 28" / 71 cm circumference.
Gauge:
24 sts and 24 rnds = 4″ / 10 cm in colorwork chart, blocked.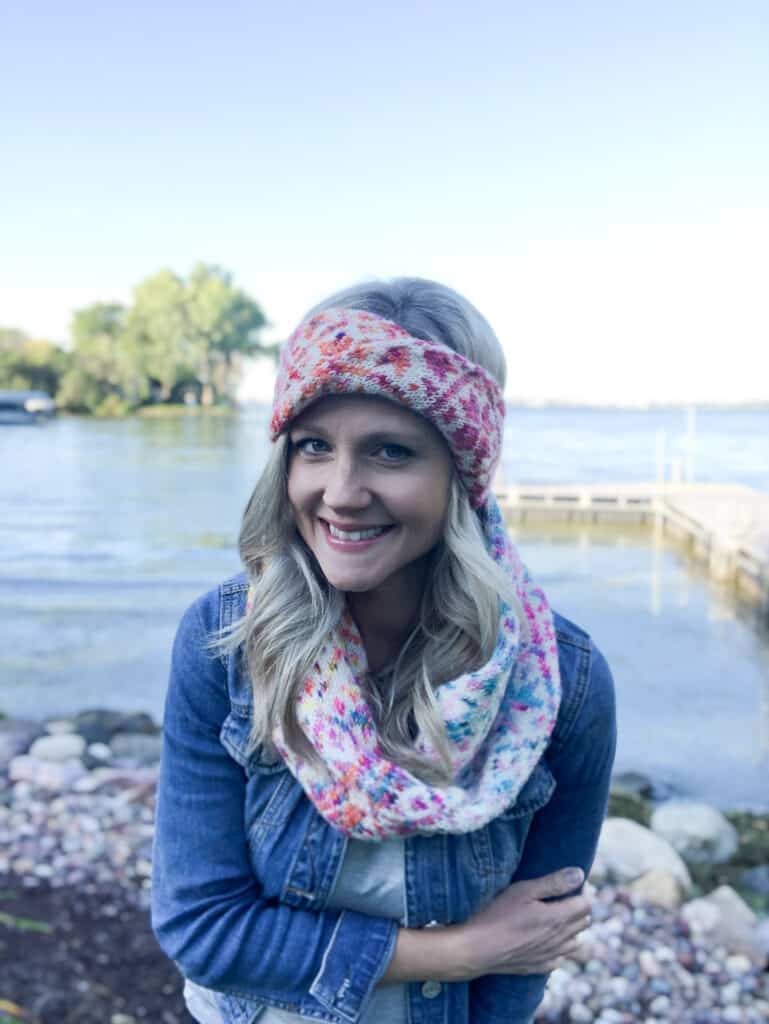 Glossary
BOR – Beginning of Round
CC – Contrasting Color
CO – Cast On
k – Knit
MC – Main Color
PM– Place Marker
Rep – Repeat
rnd – Round
st/s – Stitch/es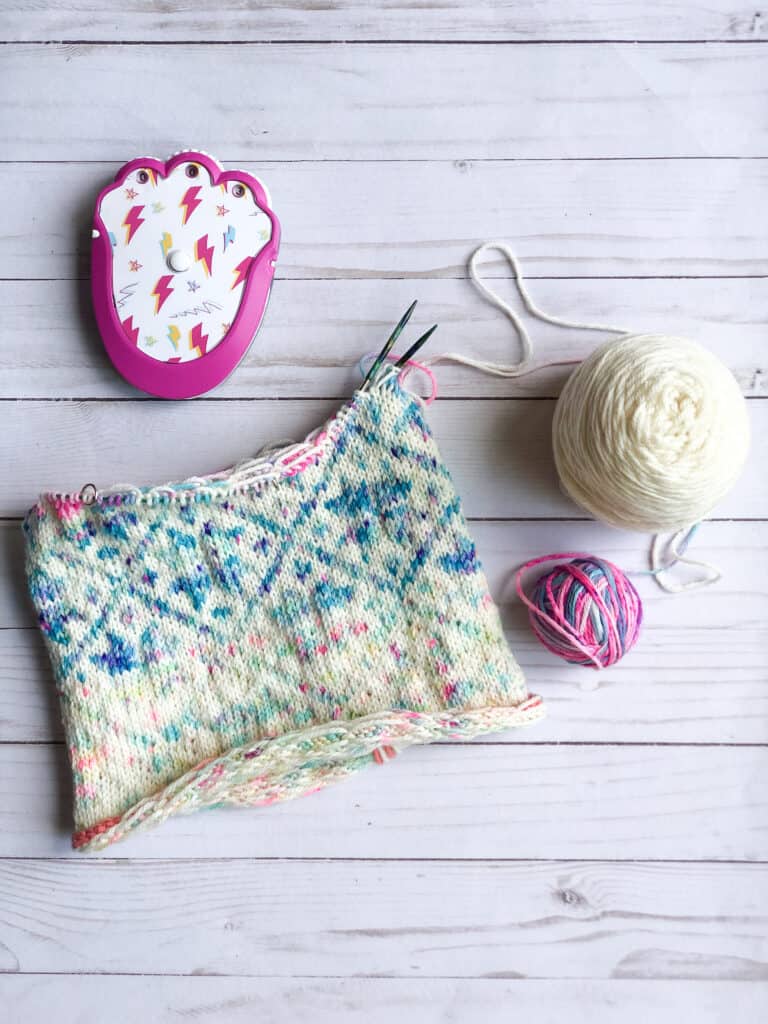 Betty Cowl Knitting Pattern Directions
COWL
Using waste yarn and a crochet hook, provisionally CO 120 sts. (See video) Next join Color A and K one rnd. PM for BOR and join to work in the rnd, being careful not to twist sts.
COLORWORK CHART
Begin working colorwork chart.
Option 1 – Minis: K rnds 1 – 26 using a different color mini skein for each full repeat. Rep rnds 1 – 26 six more times (7 total rep / color changes).
Break CC
Option 2 – Single CC: K rnds 1-26. Rep rnds 1 – 26 six more times (7 total rep). Break CC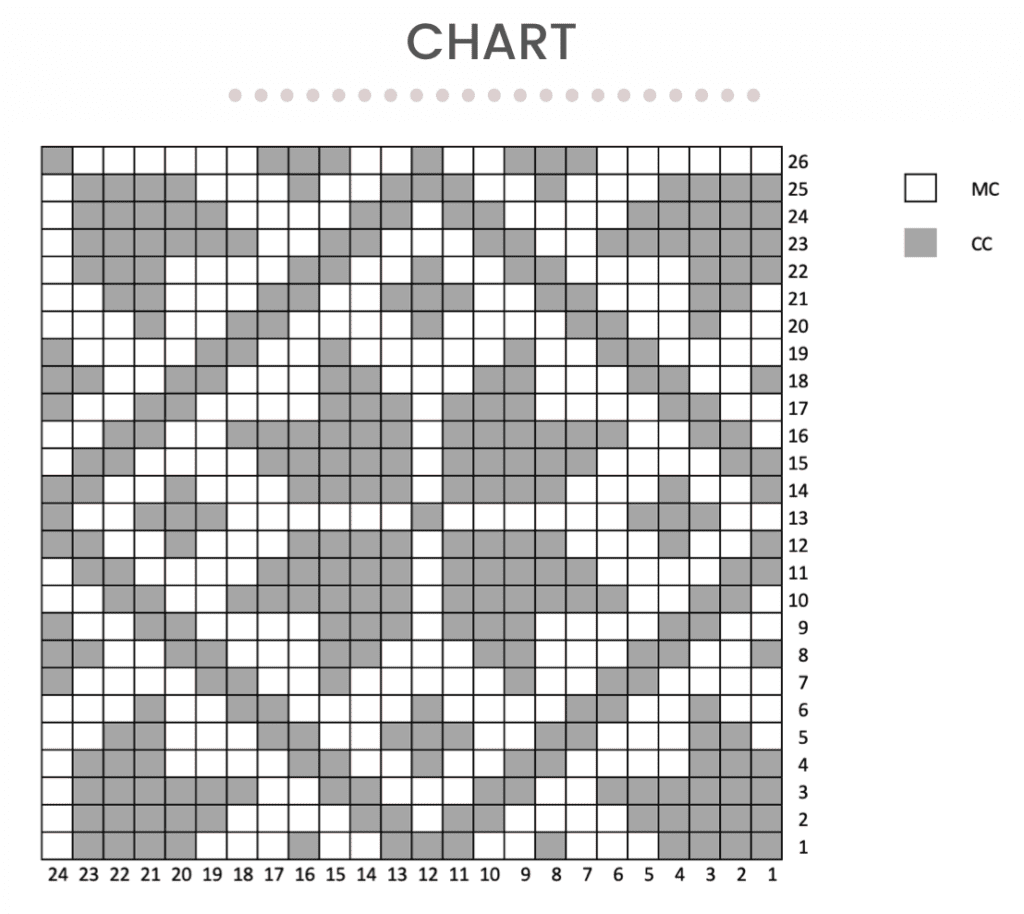 FINISHING
Cut MC leaving approximately 3 ft of tail. This will be used to stitch ends together. Place live sts onto waste yarn. Block cowl flat with luke warm water and your favorite wool wash.
COWL TWIST
Once dry, remove provisional cast-on and cast off waste yarns, placing live sts onto separate circular needles for seaming. With cowl laying flat from left to right, take the right side and twist it 180 degrees. Use the Kitchener stitch to join the ends together for a seamless finish. Refer to notes for a video tutorial on the Kitchener stitch. Enjoy your new cowl!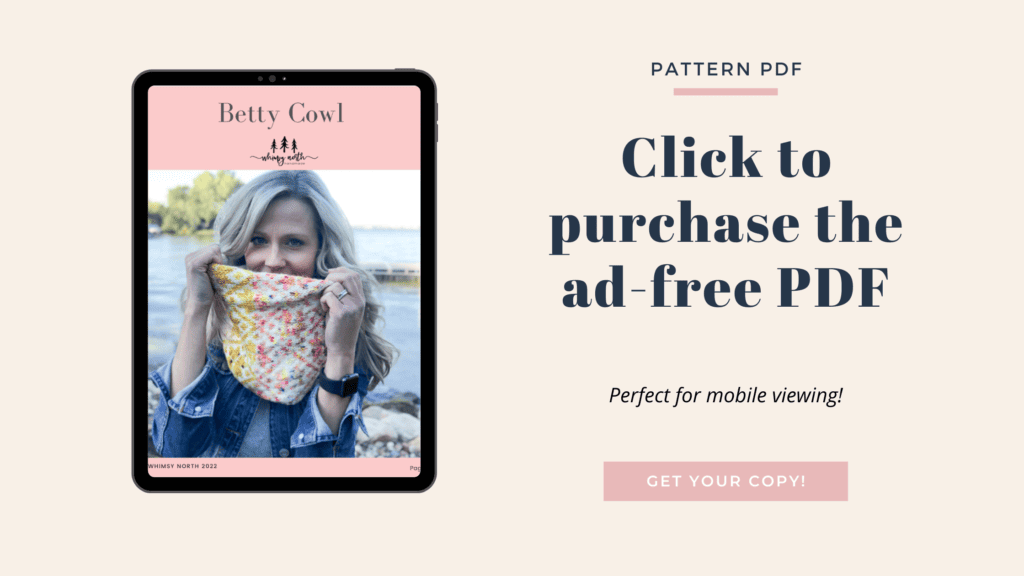 Now you have a warm and colorful cowl! Check out more of my FREE knitting patterns on the blog HERE.
---
I would love it if you took a moment to upload your projects to Ravelry or Pin this pattern to Pinterest so you can share it with friends! Also, don't forget to share your knit cowl on Instagram so I can see what you make! Us the hashtag #bettycowl and tag @whimsynorth