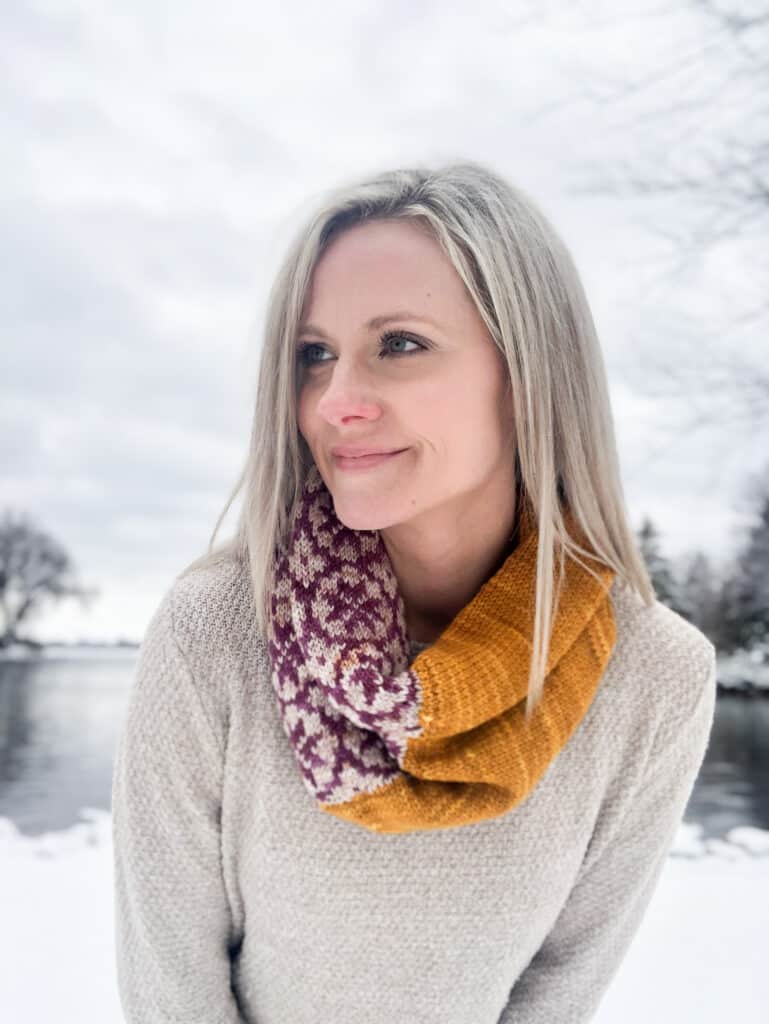 Engaging colorwork and relaxing stockinette come together in the Kindra Cowl, a wardrobe staple free cowl knitting pattern that is easy to wear! Scroll down for the full free knitting pattern or purchase the ad-free PDF here.
This post may contain affiliate links. In the event of a sale, I get rewarded a small commission, at no extra cost for you. These funds help me keep my blog up and running to provide you with great content and free patterns so thank you!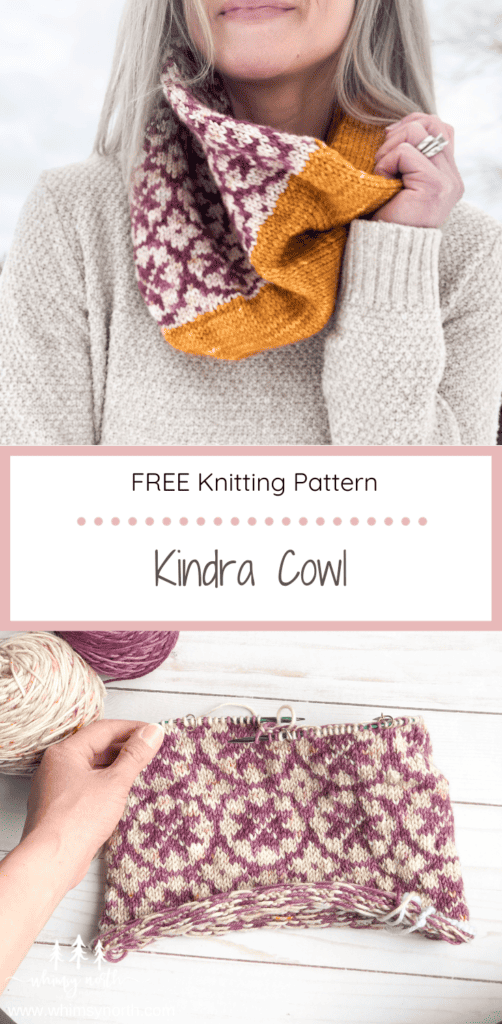 How to knit a cowl
Just like the Kindra Headband, this cowl is knit in the round as a seamless tube. No purling required! It starts with a provisional cast-on so that once finished it can be grafted together without a visible seam. If you've never tried a provisional cast-on before I have a helpful video on my YouTube channel.
VIDEO: How to do a Provisional Cast-on
After the cast-on is the colorwork section. This section features an easy to follow chart that is fun and engaging to knit. Once you finish the chart repeats it's smooth sailing with stockinette stitch.
The final step is to add a twist and graft (seam) the two ends together to make one continuous loop. If you've never tried grafting I have a video for that as well on my YouTube channel.
VIDEO: How to do the Kitchener Stitch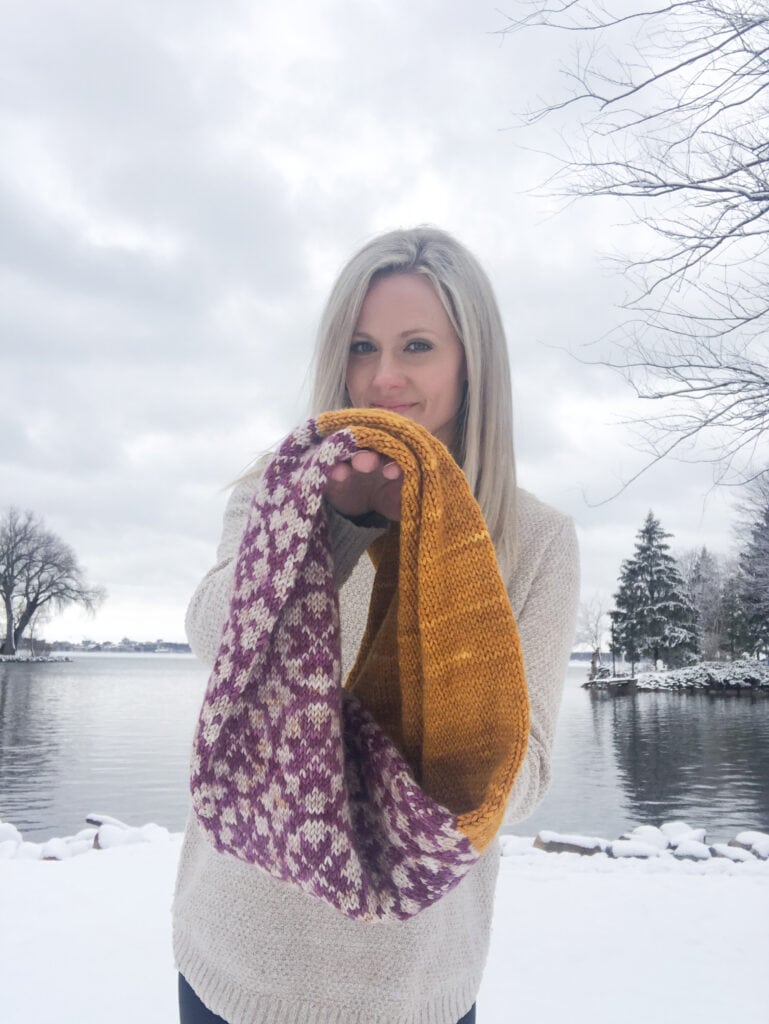 Find a printer-friendly PDF version of the Kindra Cowl here in my Etsy shop. The PDF version includes the full ad-free pattern with added instructions on how to knit this cowl with just colorwork and no solid section.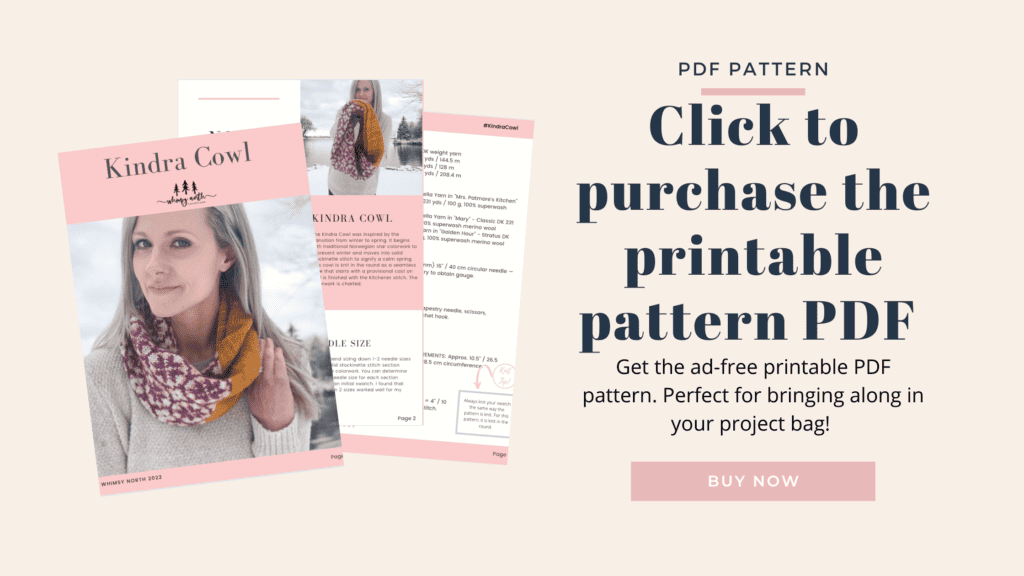 Keep scrolling for the FREE version of the Kindra Cowl Knitting Pattern.
Best yarn for cowl knitting
I chose DK weight 3 yarn for this cowl because it is lightweight while also cozy and warm. DK is my favorite weight to knit with as you will see from my other patterns here! I also chose wool fibers as I find it's the best for colorwork. This wool is superwash so it doesn't "bloom" as much as natural wool would but it still gives a beautiful end result.
My sample cowl features Sewrella Yarn for the colorwork section and Kenyarn for the stockinette. Both are beautiful hand dyed yarns. Sewrella Yarn typically has monthly collections that sometimes sell-out and Kenyarn has since stopped dying yarn.
With these two things in mind I pulled together some of my favorite DK yarns that would work beautifully for this cowl as an alternative.
Budget friendly DK yarns for cowls
If hand dyed yarn is not currently in your budget or you are struggling to find some available. Below are some of my favorite budget friendly DK weight 3 yarns to use in this cowl knitting pattern.
Splurge worthy DK yarns for cowls
If you want something a little more unique and special here are some of my favorite splurge worthy DK yarns.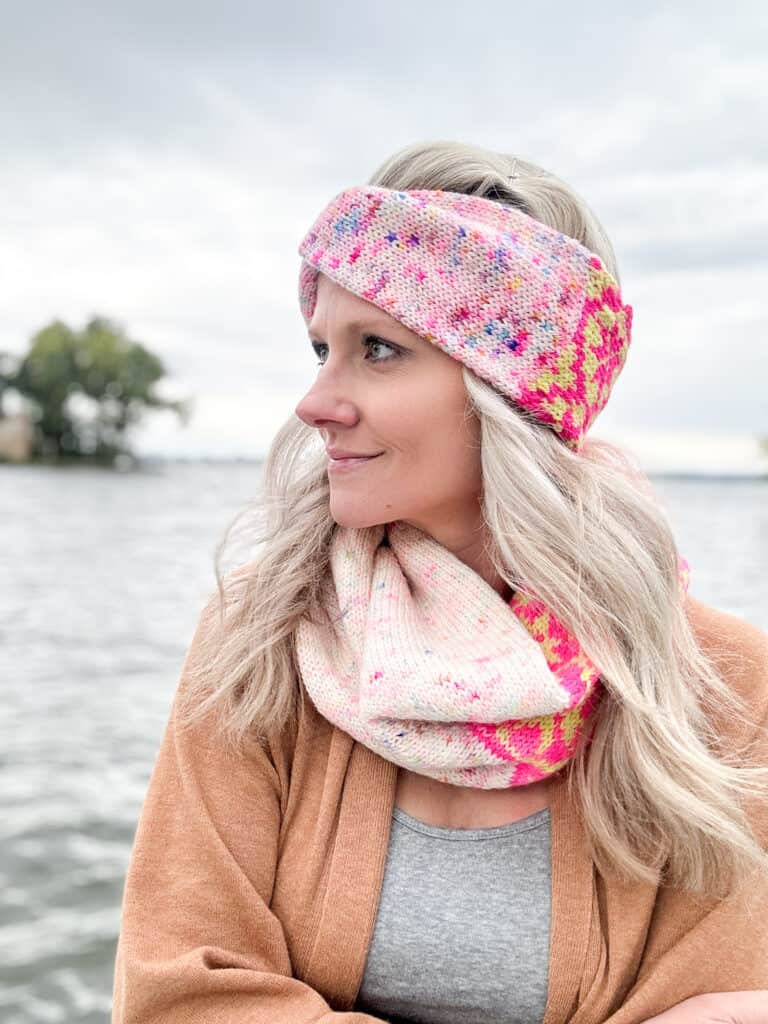 ---
Kindra Pattern Series
The Kindra Cowl is the second of the Kindra Pattern series to hit the blog. This pattern series also features a Hat, Headband, and Mittens! The Kindra Headband is already up and the rest of the patterns will be added to the blog over the next few weeks.
Want to be notified when new Kindra Patterns hit the blog? Sign up for my newsletter to get an email notification sent directly to your inbox!
Coming Soon to the Blog!
Kindra Cowl – FREE Cowl Knitting Pattern
Description:
The Kindra Cowl was inspired by the transition from winter to spring. It begins with traditional Norwegian star colorwork to represent winter and moves into solid stockinette stitch to signify a calm spring.
This cowl is knit in the round as a seamless tube that starts with a provisional cast on. A fun twist is added before the ends are grafted together. The colorwork is charted.
Helpful videos for knitting this cowl
Materials:
DK weight 3 yarn in the following yardages
Color A: 158 yds / 144.5 m
Color B: 140 yds / 128 m
Color C: 228 yds / 208.4 m
SUGGESTED YARN
OTHER TOOLS NEEDED
Finished Measurements:
Approx. 10.5" / 26.5 cm wide x 27" / 28.5 cm circumference.
Gauge:
24 sts and 24 rnds = 4″ / 10 cm in stockinette stitch.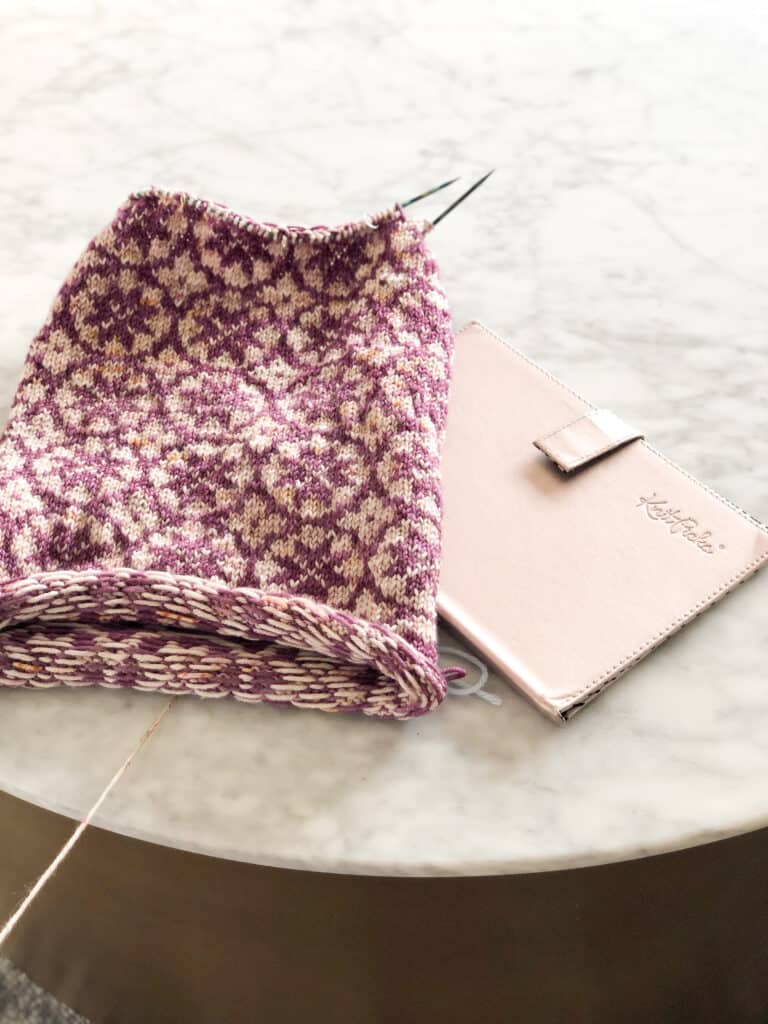 Glossary:
BOR – Beginning of Round
CC – Contrasting Color
CO – Cast On
k – Knit
MC – Main Color
PM– Place Marker
Rep – Repeat
rnd – Round
st/s – Stitch/es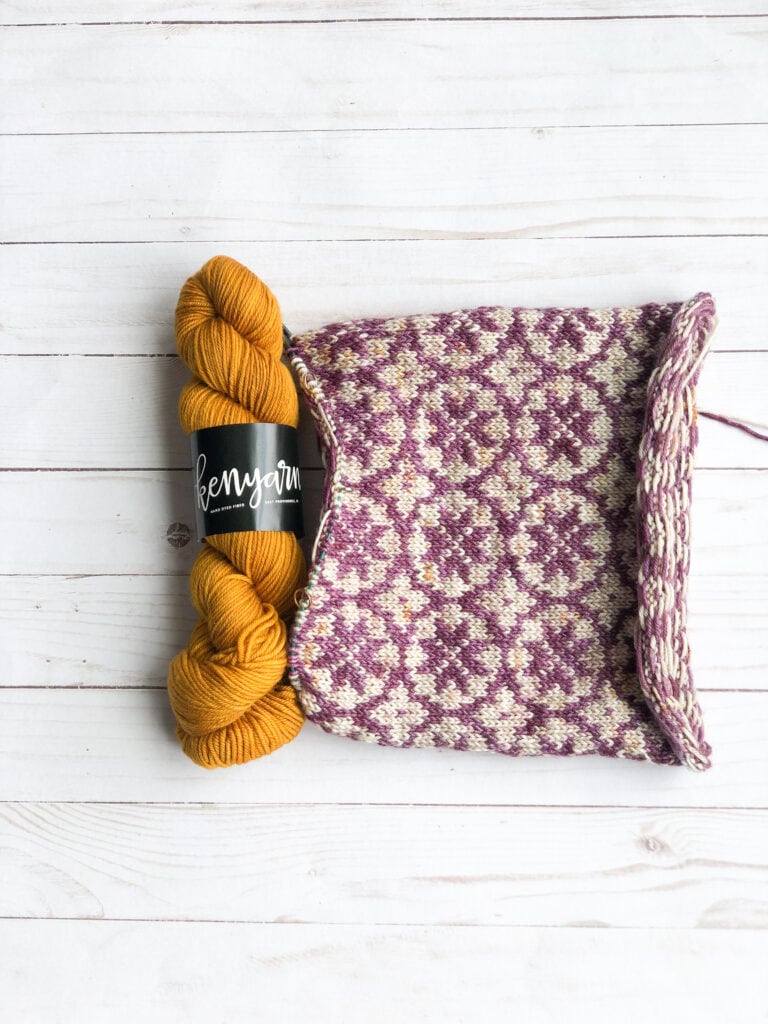 Kindra Cowl Knitting Pattern Directions
COWL
Using waste yarn and a crochet hook, provisionally CO 128 sts. (See video) Next join Color A and K one rnd. PM for BOR and join to work in the rnd, being careful not to twist sts.
Next Rnd: K
COLORWORK CHART
Begin colorwork chart. K rnds 1 – 16 switching colors according to the chart. Rep rnds 1 – 16 five more times (6 total rep). Break colors A & B and weave in ends.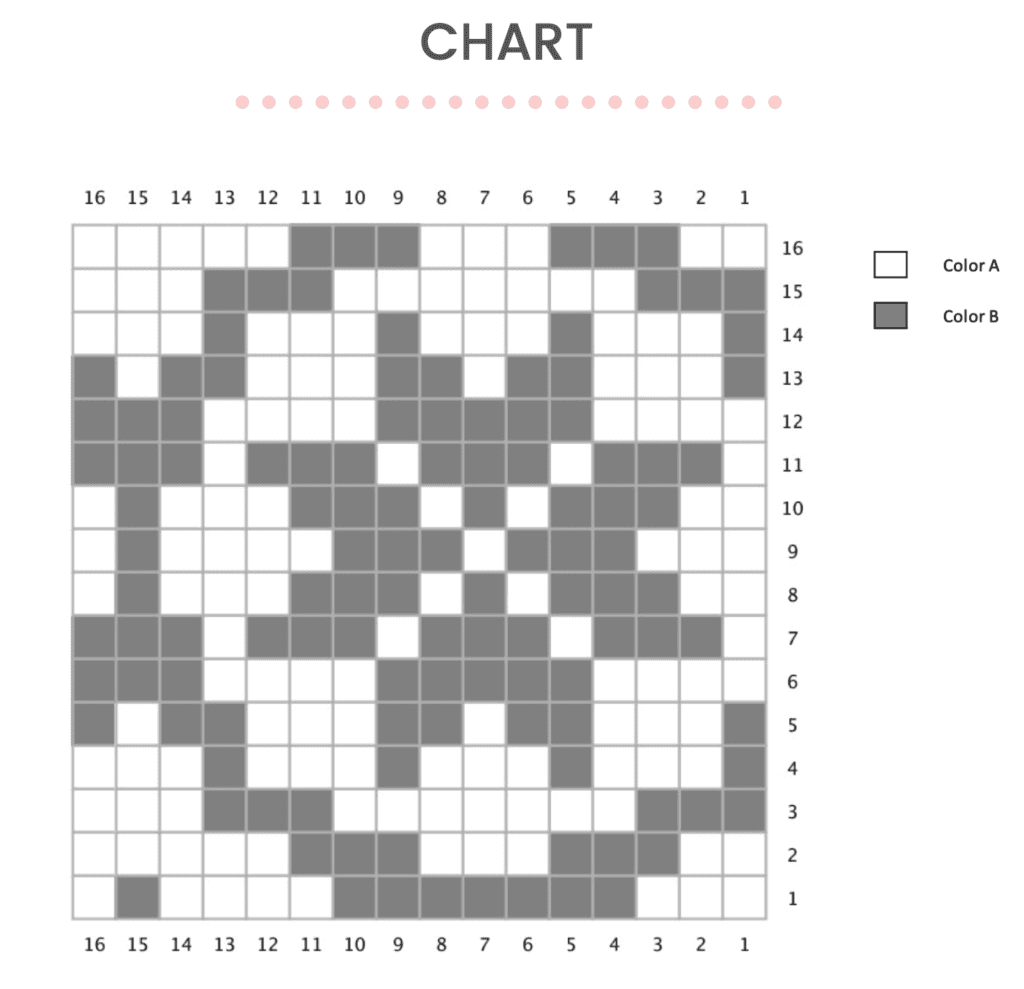 SOLID SECTION
Using Color C, k until solid section measures 11″ from beginning of solid to end.
NOTE: If you tend to knit colorwork at a tighter gauge than stockinette (like me), switch to a smaller needle size for the next section in order to keep gauge.
FINISHING
Cut color C leaving approximately 3 ft of tail. This will be used to graft ends together. Place live sts onto waste yarn. Block cowl flat with luke warm water and your favorite wool wash.
COWL TWIST
Once dry, remove provisional cast-on and cast off waste yarns, placing live sts onto separate circular needles for seaming. With cowl laying flat from left to right, take the right side and twist it 180 degrees. Graft the ends together for a seamless finish. Refer to notes above for a video tutorial on the Kitchener stitch. Enjoy your new cowl!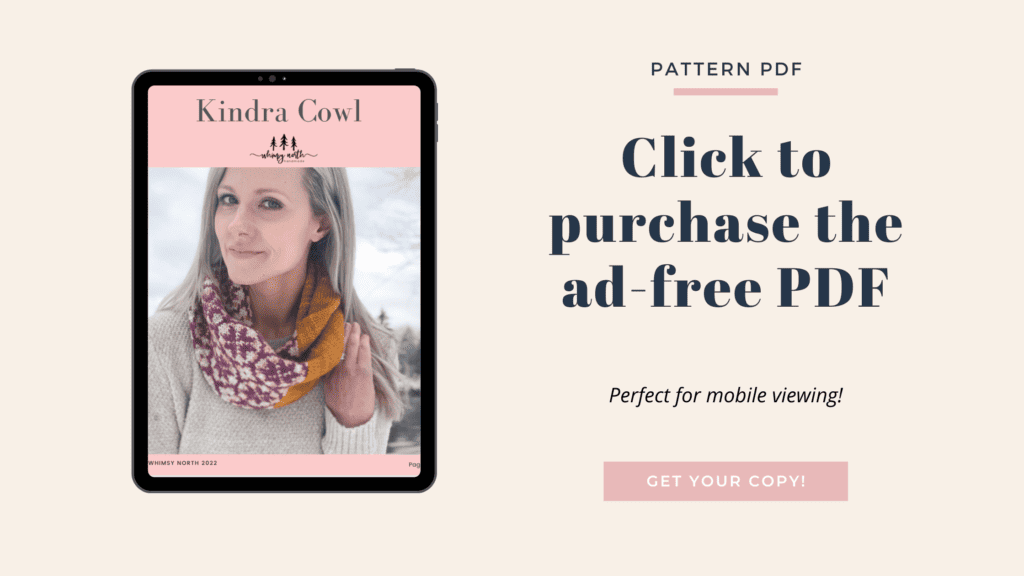 Now you have a cozy and stylish cowl! Check out more of my FREE knitting patterns on the blog HERE.
---
I would love it if you took a moment to upload your projects to Ravelry or Pin this pattern to Pinterest so you can share it with friends! Also, don't forget to share your knit cowl on Instagram so I can see what you make! Us the hashtag #kindracowl and tag @whimsynorth