My Glimmer Beanie pattern is out on Ravelry and Etsy! I'm calling it a fair isle pattern for the whole family but I have a secret to tell you… it's not technically fair isle. Gasp!
This post may contain affiliate links. In the event of a sale, I get rewarded a small commission, at no extra cost for you. These funds help me keep my blog up and running to provide you with great content and free patterns so thank you!
When I posted this confession to Instagram I received many replies from knitting friends who were surprised to learn this little fact. So what is fair isle knitting and why is my Glimmer Beanie pattern not technically fair isle? Let me take you on a brief history lesson on colorwork knitting.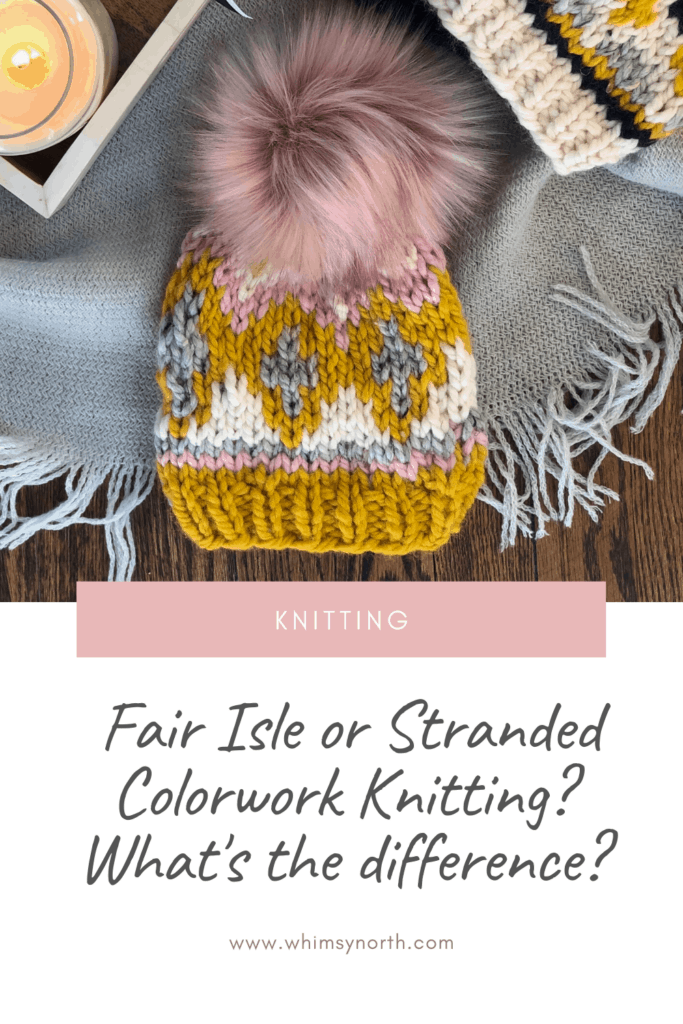 What is Colorwork in Knitting?
Any time you use more than one color in a knit item you are doing colorwork! Tada! Easy, right. There are many ways to achieve colorwork in knitting including stranded, fair isle, mosaic, and intarsia. My Glimmer Beanie pattern is created using a stranded colorwork process so that is what we will be looking at today. If you are interested in seeing what a mosaic knitting pattern looks like, check out my Basalt Stone Cowl pattern or my FREE Basalt Stone Cowl 2 Pattern here on the blog!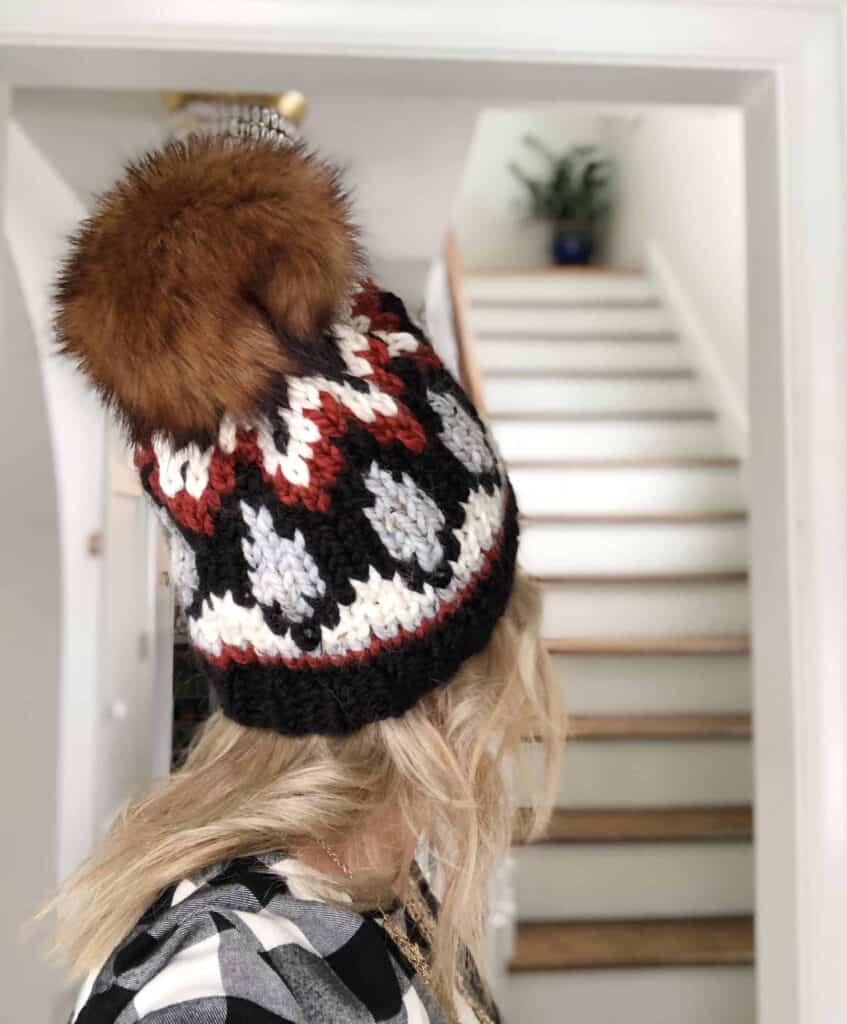 Stranded Colorwork
"Stranded" refers to the process of stranding or carrying your yarns behind the work until they are used again in the pattern.
Fair Isle
Fair Isle knitting originated hundreds of years ago on the Scottish island of Fair Isle located in the North Sea. Traditional Fair Isle knitting is done in the round on double-pointed needles, known locally as "wires," while using a padded knitting belt. (What is a padded knitting belt you may ask? Here is an example of one!) This true form of fair isle knitting only includes two colors per row with an average of 4 colors used throughout the garment.
In the knitting world, the term "Fair Isle" has started to become interchangeable with stranded colorwork knitting. I did a quick search on Ravelry and found over 227 page of Fair Isle knitting patterns. (find that search here) Most of these patterns not only are not from the island of Fair Isle but include way more than 2 colors per row and I have yet to see anyone knitting them while using a knitting belt!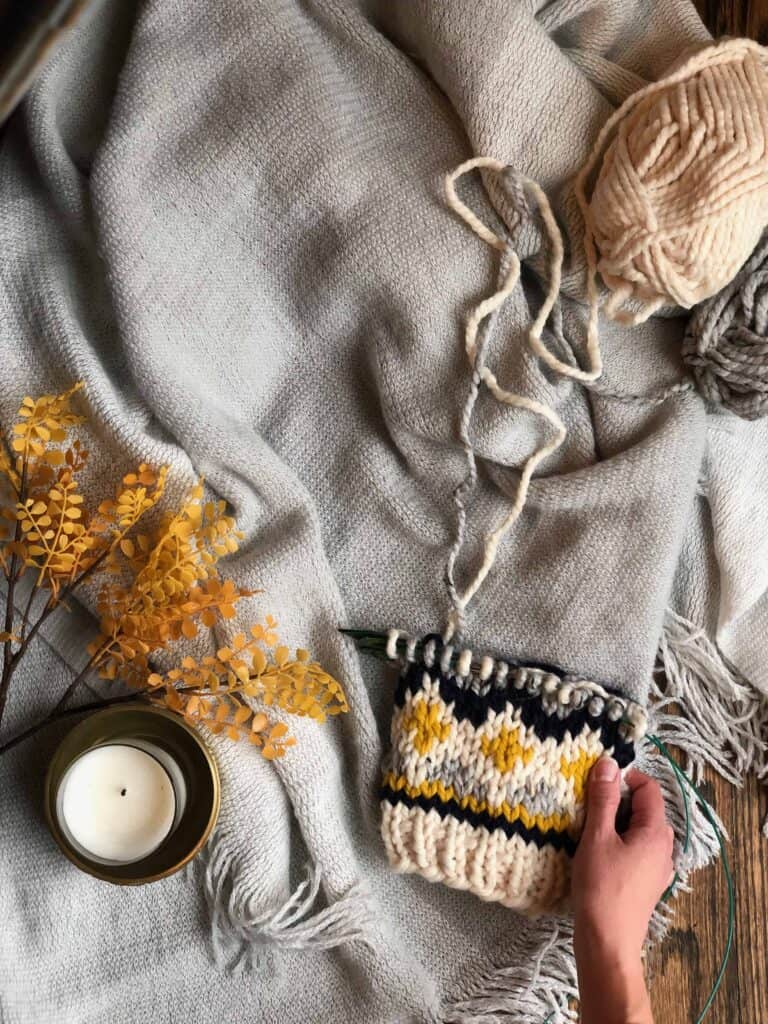 Why then call my Glimmer Beanie Pattern Fair Isle?
The Glimmer Beanie pattern calls for 4 different colors of yarn and for the most part you only use a maximum of 2 colors per row with some sizes featuring 3 colors in a few rows. With the popularity of fair isle knitting patterns on the rise (If you are looking for some beautiful fair isle patterns check out Caitlin Hunter's Ravelry designs!) I decided that categorizing my pattern as a fair isle pattern would allow more people to easily find it and know what to expect.
So now you know my little secret.
Frustrated with twisting yarns while trying to knit Fair Isle or stranded colorwork?
You know the drill, you're knitting along switching colors as you go and suddenly you have a tangled mess! Ugh, the worst! You then have to stop your knitting to untangle your yarn. Well, I was sick of tangled yarn so I came up with a way of catching floats that keeps your two yarns separate the whole time! Want to take a look? Check out my video below.
Let's talk YARN!
If you've been following along with my blog and patterns you know that I have a love for Lion Brand Yarn's Wool-Ease Thick and Quick. Every time Michael's or JoAnns has a sale I stock up on all my favorite colors! You can also find this yarn on Lion Brand's website here. Michael's and JoAnns each carry a limited number of colors in their stores so if you are searching for a specific colorway I recommend purchasing online! They have over 60 different colorways available so your color selections are endless!
One other thing I love about this yarn is the price point. While I love a good hand-dyed yarn skein they can run in price between $24-$32 dollars each. This hat requires 4 colors of yarn so that could cost you almost $100 just for yarn! Now, you won't use up all the yarn in every skein but it's still a large investment up front.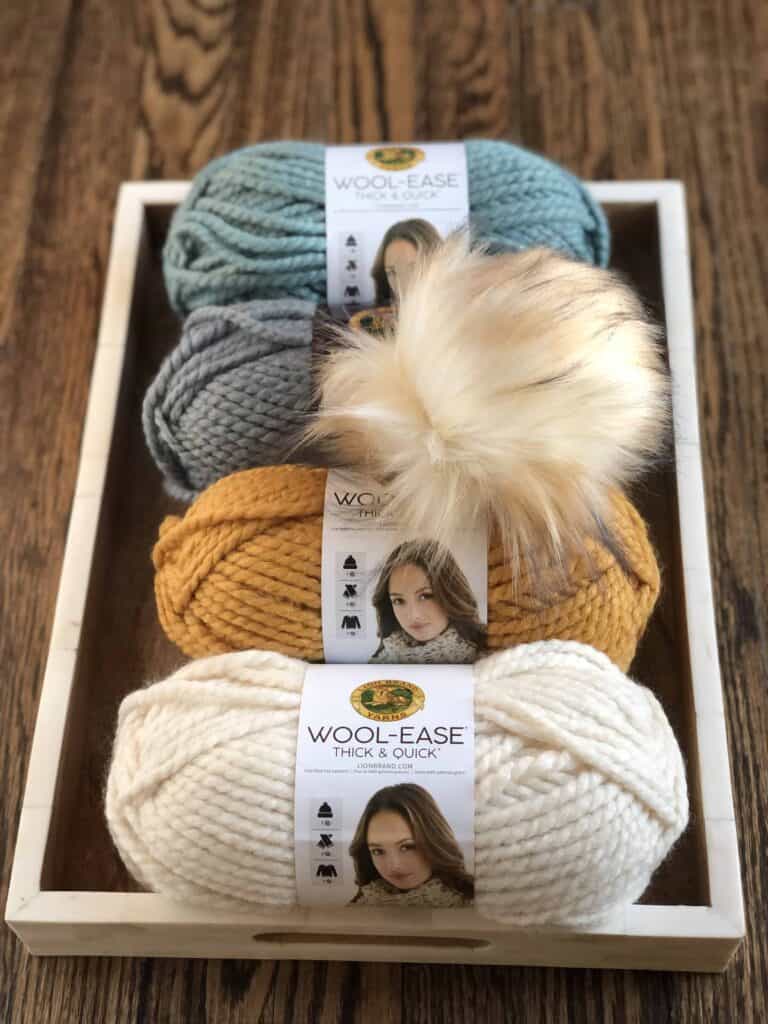 Lion Brand's Wool-Ease Thick & Quick is currently $9.49 per skein and typically you can get it for less at Micheal's or JoAnns when they are either running a sale or you have a coupon. Now you are only paying $38 for your yarn and with those four skeins of yarn, you can knit multiple coordinating hats.
Ok, I'm almost done with my love letter to Wool-Ease Thick & Quick I just need to mention one more thing. It's machine washable!!!!! If you have kids like I do this is so important. My 7-year-old daughter always comes home from school with dirt and leaves in her hat. I swear she rolls around in the leaves every day! I just remove the faux fur pom from the top and throw it in the washing machine and it's back to looking good again.
So, where can I get the pattern?
You can find my Glimmer Beanie pattern on Etsy here or Ravelry here. It includes a colorwork chart for each size and is written for sizes Newborn, Baby, Toddler, Child, Adult Small/Medium and Adult Medium/Large. You can take 4 balls of Lion Brand's WET&Q and make multiple coordinating beanies for the whole family! I see matching sibling hats or mommy and me hats in your future!
Let's keep in touch…
I like to hang out on Instagram and Facebook so hop on over there and follow @whimsynorth Make sure to post your finished photos of your Glimmer Beanie's using #GlimmerBeanie so I can share it in my stories!
I like to create at least one new FREE knitting pattern each month so if you like Free stuff and you like to knit sign up for my newsletter below to be the first to know when new patterns are up on the blog. Oh, and if you do sign up you will receive a 10% discount code to use on anything in my Etsy and Ravelry shops!
Pinterest
Pinterest is my jam! I try to pin the best knitting content, tips and tutorials every day for you so follow Whimsy North Knitting for all the knitting pins!
Read on for a Free Gift…
Ok so after finishing this blog post I got the feeling like it was missing something. Then I realized that one of my favorite things about running Whimsy North is the ability to inspire others to knit and give back to the knitting community so… I typed up the baby size Glimmer Beanie Pattern and posted it over HERE for you for FREE!!!!! The entire pattern, including the color chart, is there!!! Eeeekkk! So hope on over, grab your Lion Brand Wool-Ease Thick and Quick yarn and get knitting! Oh, and don't forget to share!
XOXO, Margaret