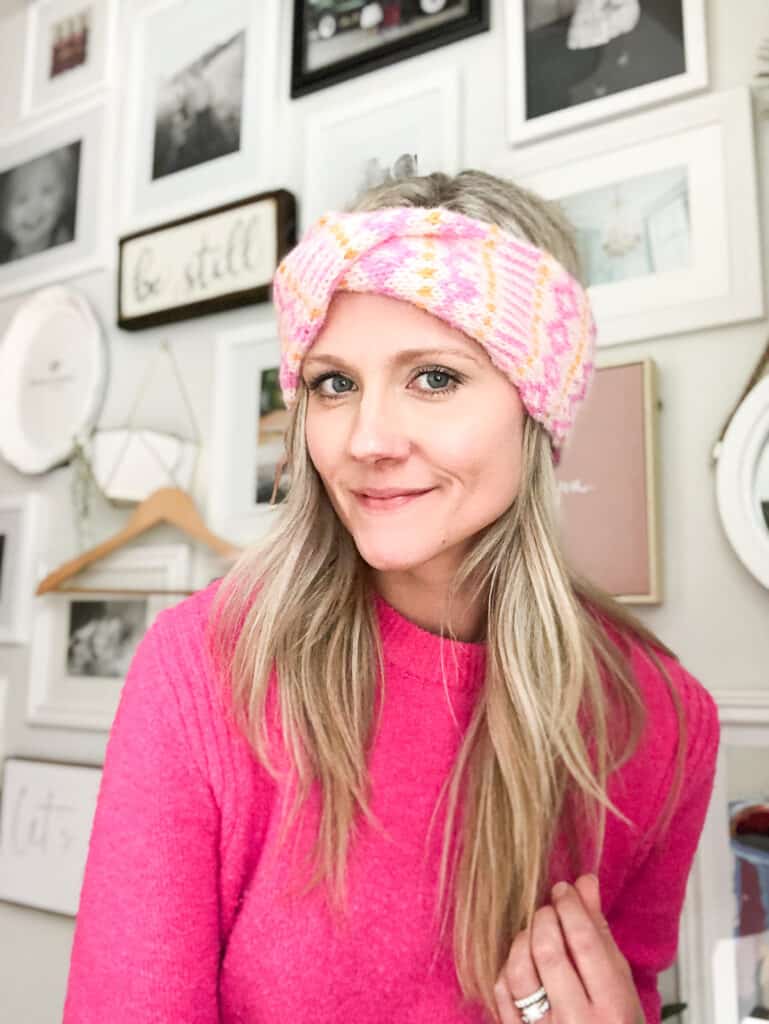 Looking for a quick beginner-friendly stranded colorwork knitting pattern? The Marsali Headband, a free headband knitting pattern features traditional Scandinavian colorwork with a fun modern twist. Read about my inspiration for this Nordic / fair isle inspired headband and how to choose the best yarn for your project. Or scroll down for the entire free pattern!
This post may contain affiliate links. In the event of a sale, I get rewarded a small commission, at no extra cost for you. These funds help me keep my blog up and running and allow me to provide you with free patterns, so thank you!
The Inspiration – Traditional Norwegian Colorwork Knitting
I love researching my ancestry and thinking about what my ancestors did that helped to make me who I am today. Last fall, my mom and I were discussing some lineage on her side of the family that immigrated to the United States from Tennevoll, Norway. If you look at Tennevoll on a map you will see it's WAY up there. It's remote and a 20-hour drive north of Norway's capital, Olso. After this discussion, I started researching traditional Norweigian knitwear. Knitwear that my ancestors made in order to survive the cold northern climate.
During my research, I came across some beautiful vintage hand-knit socks with intricate stranded colorwork designs. These socks were my inspiration for the Marsali Headband.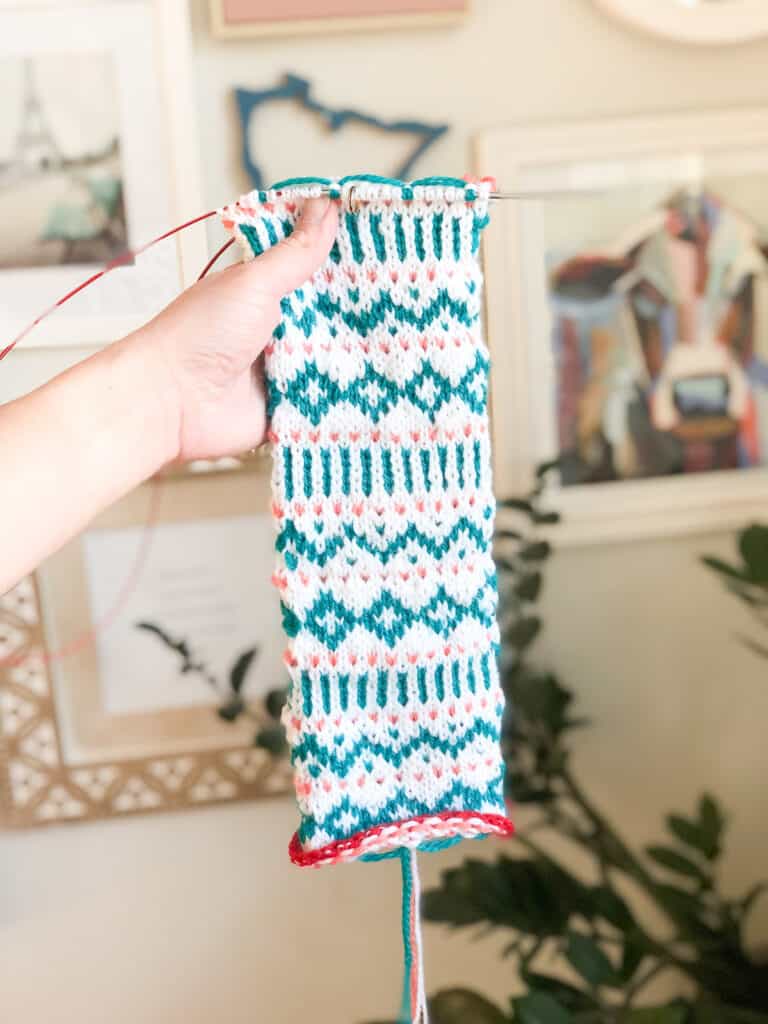 Beginner-friendly Stranded Colorwork Knitting
I designed The Marsali headband to be an easy first stranded colorwork knitting project. The pattern uses 3 different colors of yarn, however, only 2 colors are worked at the same time. After I designed my Glimmer Crop which had some rows of 3 colors in the row I made the decision to try and design patterns that only used 2 colors in a row. I find that having only 2 colors makes for a faster knit with less opportunity for tangled yarn.
Another feature that makes the Marsali Headband beginner-friendly is the pattern repeat. Each round has a repeat of 12 stitches, however, you will find that most rounds are just a repeat of 3-4 stitches. This makes the pattern easy to memorize and simply knit your way around.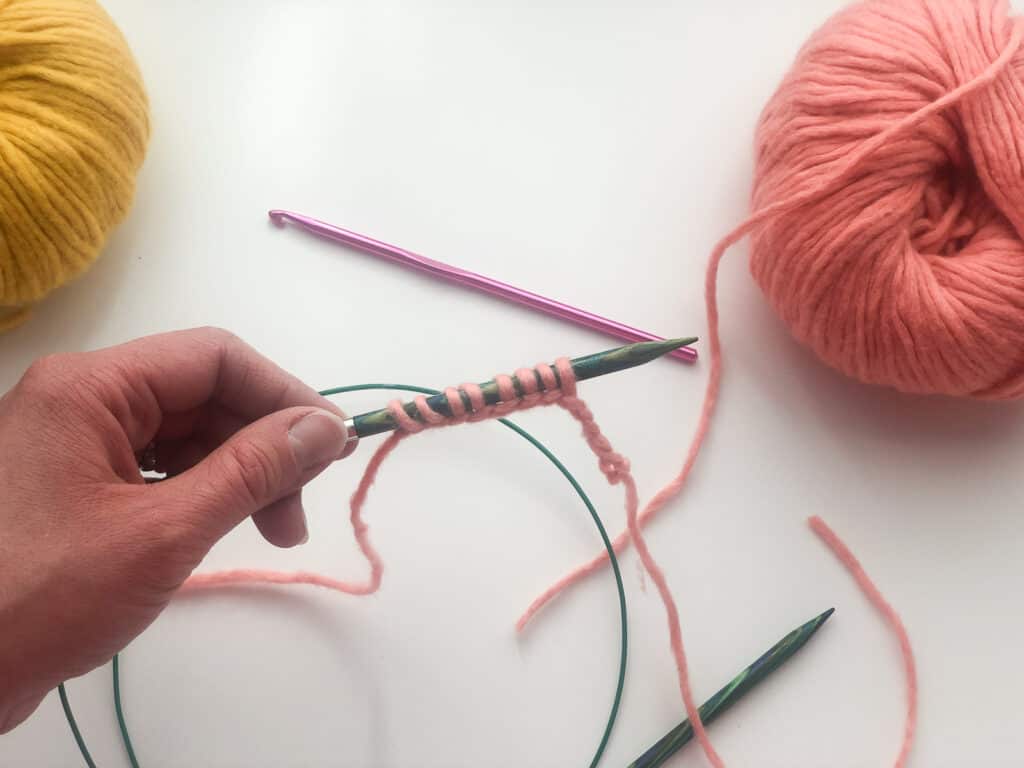 ---
pin it now, make it later!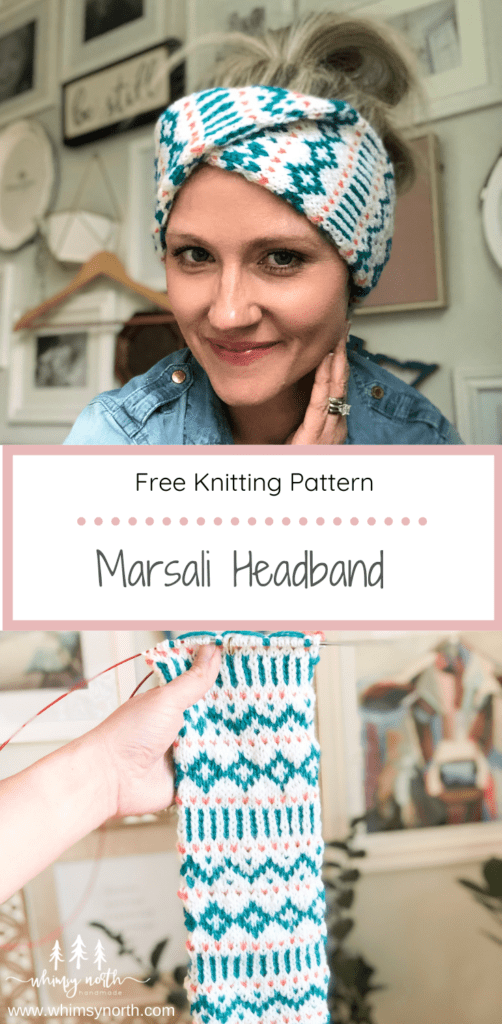 Find a printer-friendly PDF version of the Marsali Headband here in my shop. The PDF version includes the full ad-free pattern with easy to print colorwork chart.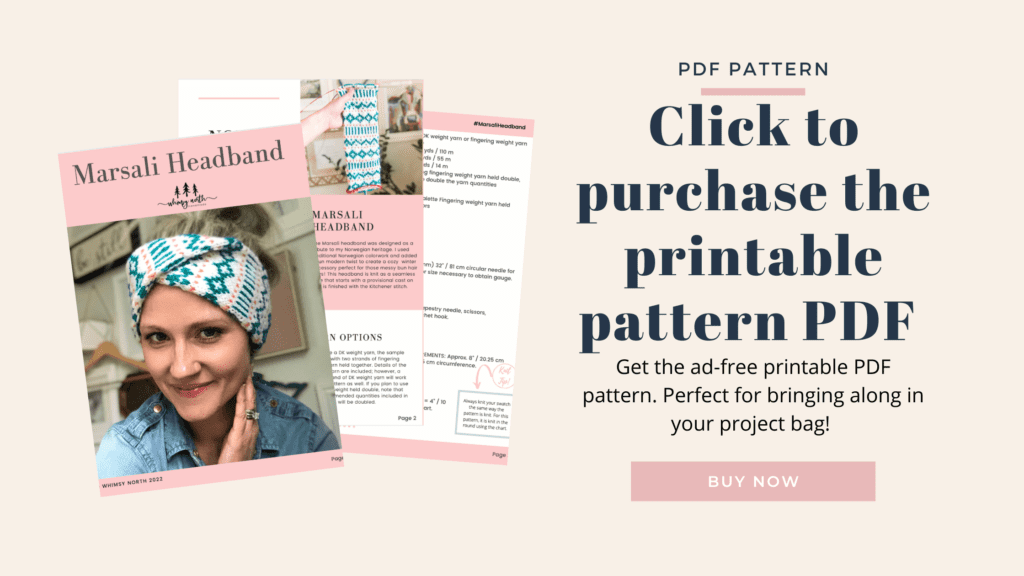 Keep scrolling for the FREE version of the Marsali Headband
---
Knit Picks Palette Yarn
Palette from Knit Picks is my new favorite colorwork yarn! Not only can you find any color imaginable but it's 100% wool and has a beautiful stitch definition. After blocking it's so soft but also has great structure. It is fingering weight though and lately, I've been wanting to knit with more of a DK or sport weight. I solve this by holding it double. This way I can get all the colors of the rainbow with a little bit of a thicker knit.
I have a few other designs coming out using Palette that I'm very excited about. The Mila Sweater and a fun colorwork cowl. Maybe this year will be the year of Palette!
Even though I used a fingering weight yarn for my first headband sample, I wrote the pattern for DK weight yarn. If you are looking for a DK weight yarn for your Marsali Headband, here are some recommendations:
Browse all DK weight yarns from Knit Picks
Ready to knit the Marsali Headband? Scroll down for the free version of my colorwork headband knitting pattern. Or, find a printable version of the Marsali Headband on Etsy and Ravelry.
Click here to get the Marsali Headband PDF pattern!
Click here to explore more FREE knitting patterns from Whimsy North!
FREE mosaic knitting patterns on the blog!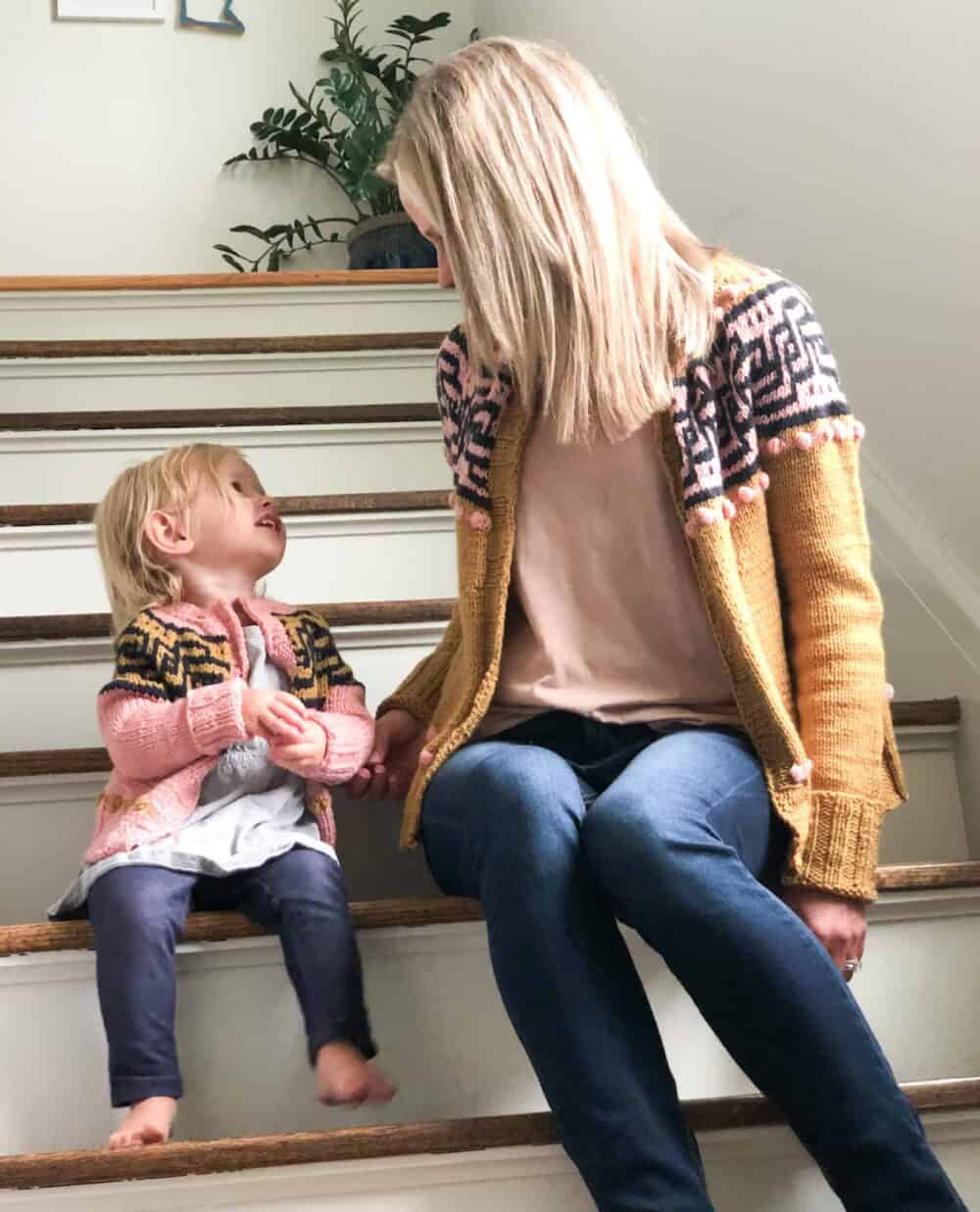 ---
Colorwork knitting tips
For my first headband sample, I held my Main Color (Color A) in my left hand throughout. If you look at the white headband with coral and blue you will see the coral dots seem to get a little lost in the white background. For my second sample (the pink one) I held the main color in my right hand and the contrast color in my left. This made the dots and colorwork pop against the light pink background. Keep this in my when knitting. The color you want to stand out should be held in your left hand and come from the bottom when knitting.
Another tip is to use a Chart Keeper. I always use one when doing colorwork knitting. It is a great way to keep track of where you are. I use this one from Knit Picks and absolutely love it! I also like to make a little dot next to each row as I finish it just in case my magnet moves and I can't remember where I left off.
Marsali headband knitting pattern details
Description:
The Marsali headband knitting pattern was designed as a tribute to my Norwegian heritage. I used traditional Norwegian color work and added a fun modern twist to create a cozy winter accessory perfect for those messy bun hair days! This headband is knit as a seamless tube that starts with a provisional cast on and is finished with the Kitchener stitch.
Materials:
Finished Measurements:
SIZE: Adult
Approx. 8" / 20.25 cm wide x 20" / 50.75 cm circumference.
Gauge
24 sts and 20 rnds = 4″ / 10 cm in colorwork chart.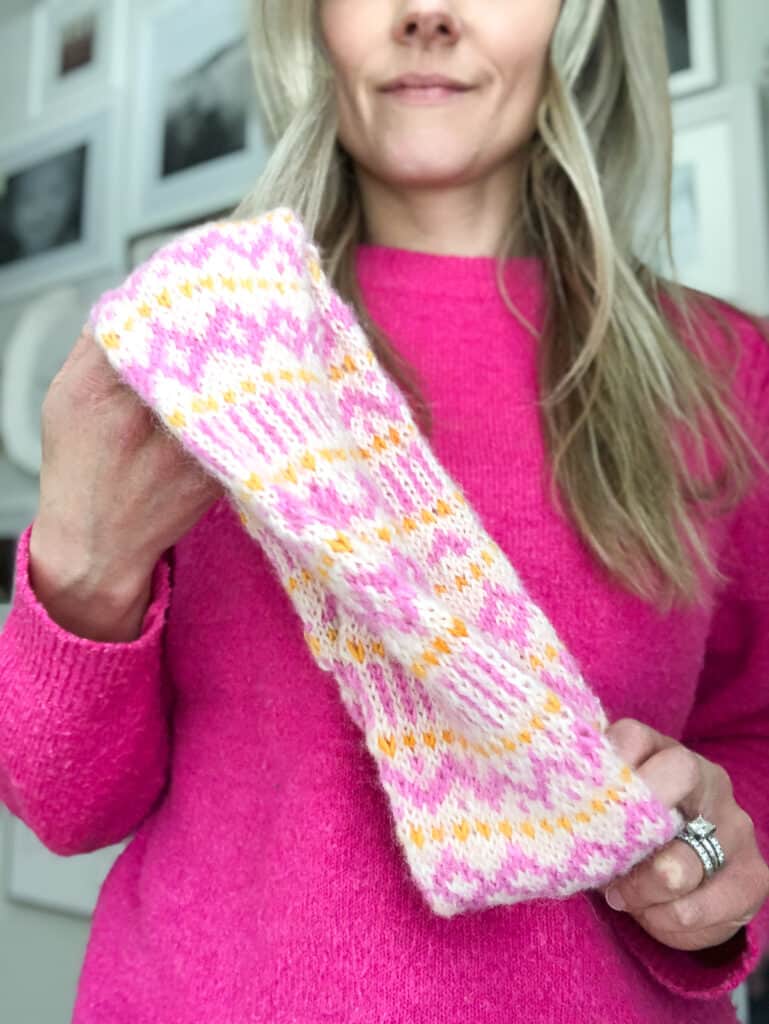 ---
Glossary
BOR – Beginning of Round
CO – Cast On
k – Knit
PM– Place Marker
Rep – Repeat
rnd – Round
st/s – Stitch/es
Helpful Videos on the Whimsy North YouTube Channel
Subscribe to my YouTube Channel for more video tutorials!
---
Marsali Headband Knitting Pattern Directions
HEADBAND
Using color A, provisionally CO 48 sts. PM for BOR and join to work in the rnd, being careful not to twist sts.
COLORWORK CHART
Begin colorwork chart. K rnds 1 – 26 switching colors according to the chart. Rep rnds 1 – 26 until your headband measures 22″ / 56 cm stretched from cast-on to end.
FINISHING
Cut and weave in colors B and C. Cut color A leaving approximately 2 ft of tail. This will be used to stitch ends together.
HEADBAND TWIST
With the headband laying flat from left to right, take the right side and twist it 180 degrees. Use the Kitchener stitch to join the ends together for a seamless finish. Refer to notes for a video tutorial on the Kitchener stitch. Block as desired. Enjoy your new headband!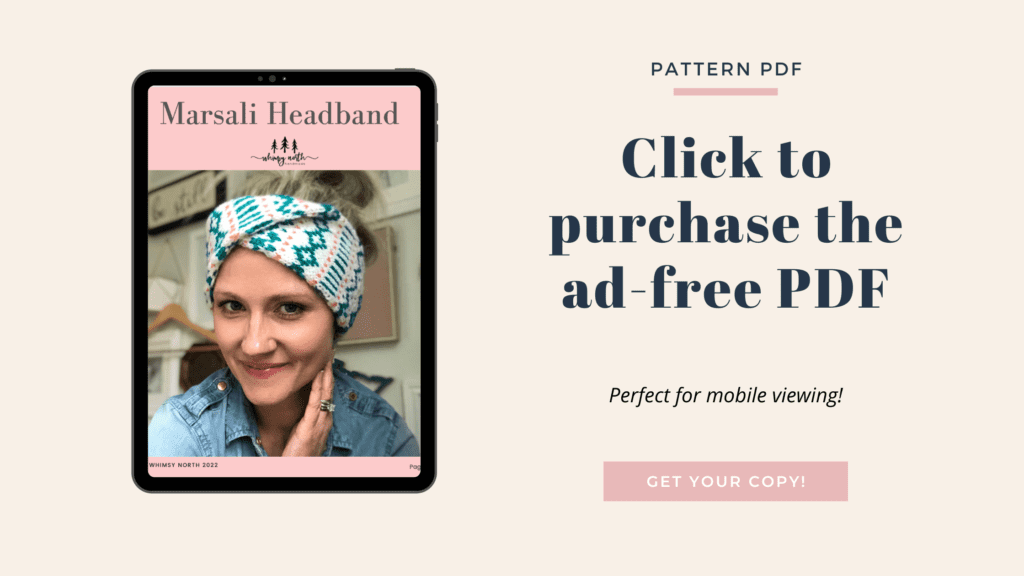 Colorwork Chart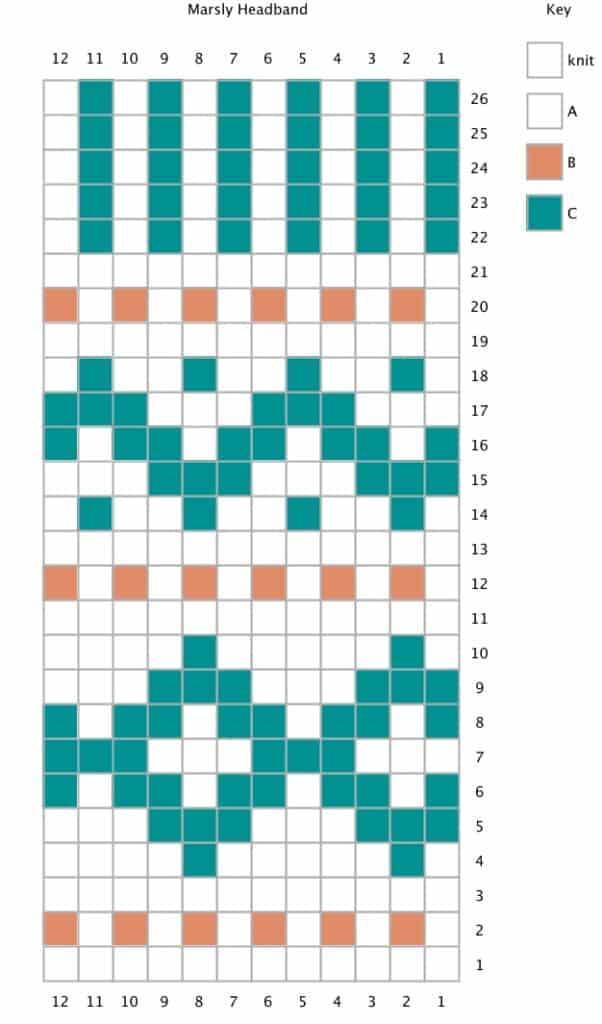 Now you have a fun and cozy headband to keep you warm this winter! I had so much fun designing the Marsali Headband and I hope you have just as much fun making one (or many!). Check out more of my FREE knitting patterns on the blog HERE.
---
I would love it if you took a moment to upload your projects to Ravelry or Pin this pattern to Pinterest so you can share it with friends! Also, don't forget to share on Instagram so I can see what you make! Use the hashtag #marsaliheadband and tag @whimsynorth