I think it's safe to say that spring is finally here and it's got me in the mood to knit some lace! I'm so excited to be a part of the 2021 Knit for Me Lace Bundle! This knitting pattern bundle features 33 lace focussed patterns by 19 different designers, including me!
You get all 33 patterns featured in this bundle for only $17. That's less than 57 cents per pattern! But the offer is only available through April 21, 2021, 11:59 PM Eastern, and it absolutely will not be extended nor repeated.
I designed a brand new shawl pattern for this pattern bundle and it's currently only available exclusively through the bundle. You can purchase the bundle through my special link: Knit For Me Bundle 2021 or by clicking on the buy now below. Read more to see what special discounts and even an added BONUS you get for using my personal link!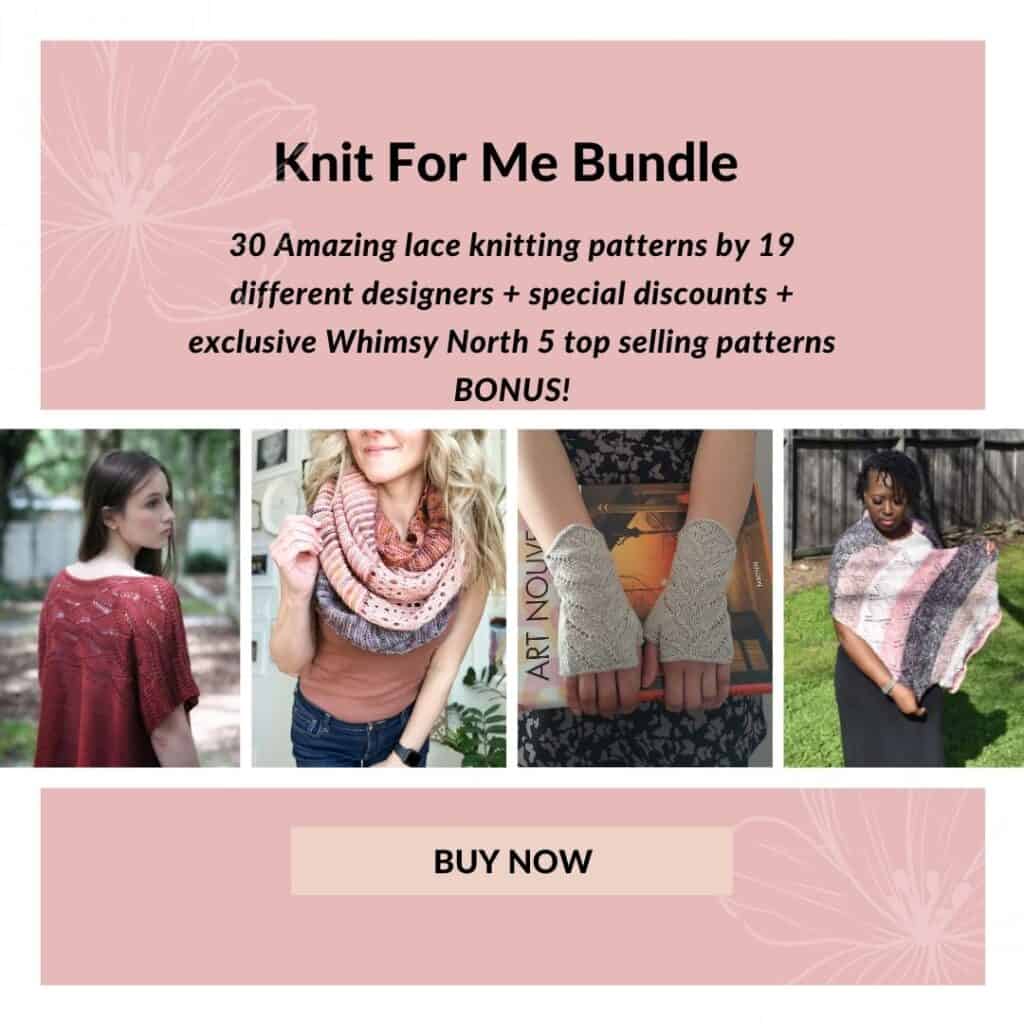 Want to see what else is included? Let me give you the details!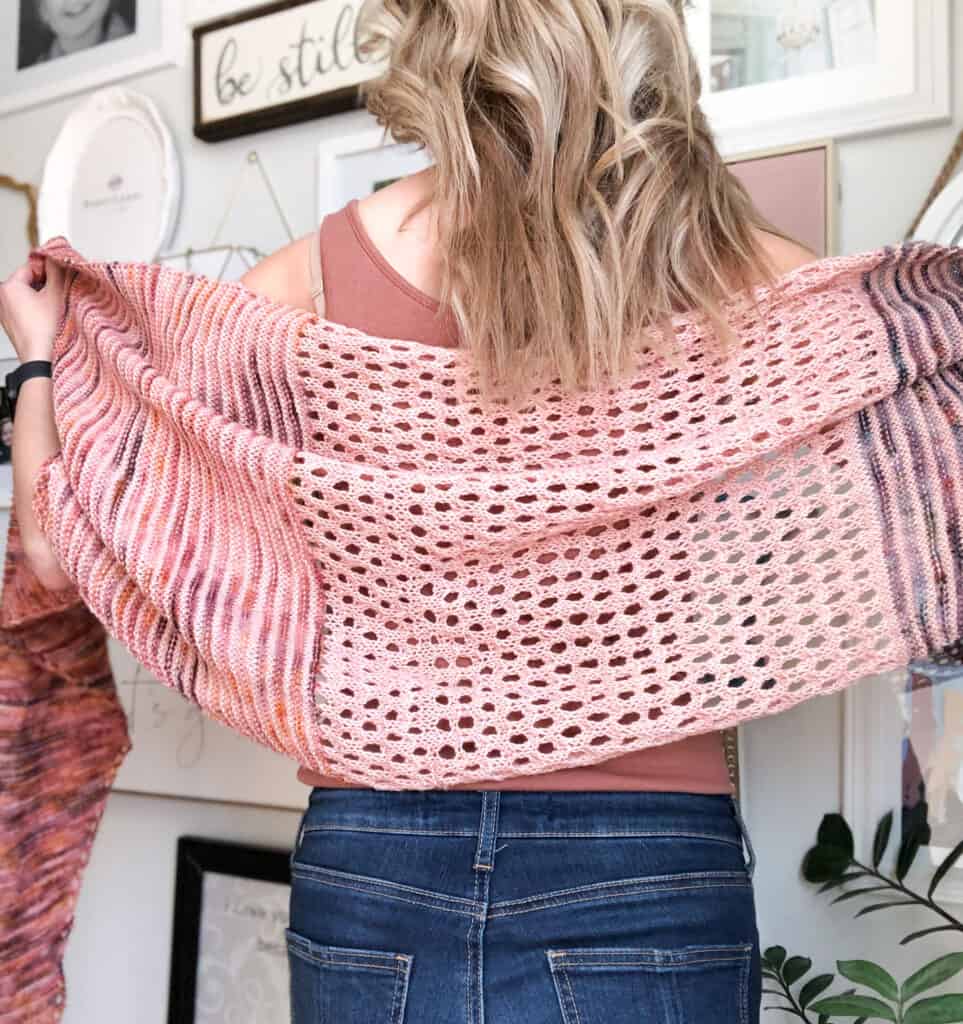 This post may contain affiliate links. In the event of a sale, I get rewarded a small commission, at no extra cost for you. These funds help me keep my blog up and running and allow me to provide you with free patterns, so thank you!
30 Lace Focussed Knitting Patterns
Calling all lace knitters! All sorts of patterns are here, including lightweight tops, shawls and wraps, hats and mitts, lacy cowls, and more! See the table below to see what types of patterns are included.
If you purchased these patterns individually they would cost you well over $170. And by buying from a coalition of designers like this instead of a huge publisher, you know that your money is going where it's needed – into the pockets of your favorite designers so they can keep on creating the patterns you love to make.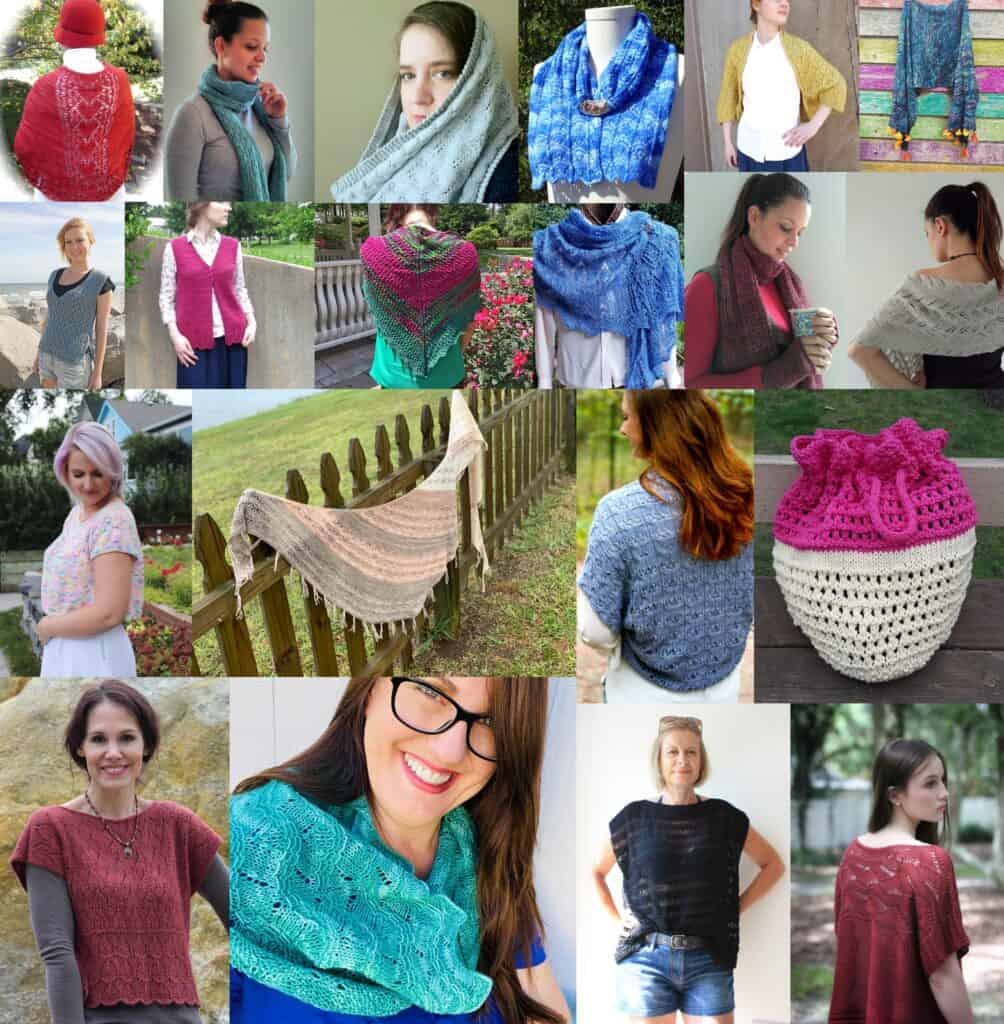 Project Type
Designer/Pattern Name
Bags
ASH Fiber Arts – Spring Awakening Market Bag
Yarnique – Blair Bag
Cowls
Designs by Diligence -Wood Nymph Cowl
Handmade by Stacy J – Light and Lacy Cascading Waves
CowletteVoth Designs – Faceted Ruby Cowl and Hood
Hats
Posh Patterns – Eyelet Lace Hat
Mitts
neish design – Junah Stole and Mitts Duo
neish design – Lydia Scarf and Mitts Duo
Stitches by Debbie – Island Crossing Mitts
Scarves
Desert Rose Fiber Arts – Mother's Love Scarf
neish design – Lydia Scarf and Mitts Duo
Stitches n Scraps – Seeded Arrows Skinny Scarf
Shawls, Shrugs, Stoles, and Wraps
Craftstar Studios – Ambrelle Shrug
Craftstar Studios – Napolitain Shawl
Emily J. Designs – Colette Shrug
Heirloomlaceknits – Love in Bloom Wrap
Heirloomlaceknits – Sacre Bleu! A Lace Shawl
Hooked for Life – Echelon Shawl
Hooked for Life – Transitions Shawl
neish design – FanTassel
neish design – Junah Stole and Mitts Duo
neish design – Lila
neish design – Polly Browne Stole
neish design – Polly's Sister
Skeinsnsticks Designs – Xiomara Wrap
Whimsy North – Desert Weather Shawl
Underground Crafter – Pretty in Pink Shawlette
Tops
Craftstar Studios – Shalane Sweater (4 sizes to fit bust 32-36"-56-60")
Desert Rose Fiber Arts – Refined Arches Tabard (7 sizes, XS-3X)
Emily J. Designs – Lillian Vest (8 sizes, XXS-3X)
Hooked for Life – Plaits and Lace Vest (5 sizes, X-2X)
King And Eye – Bon Ares Tee (4 sizes, XS/S-3XL/4XL/5XL)
Knitatude – Confetti Crop (6 sizes, X-3XL)
Additional Pattern Discounts
If all of that is not enough to convince you you need this bundle here's one more great thing. Once you gain access to the patterns you ALSO get a file with discount codes for additional products offered by some of our amazing designer friends. For example, if you purchase the bundle you receive a coupon code good for 30% off any purchase in my Ravelry store through April 30th, 2021. And there's a 15-day money-back guarantee so you have absolutely nothing to lose.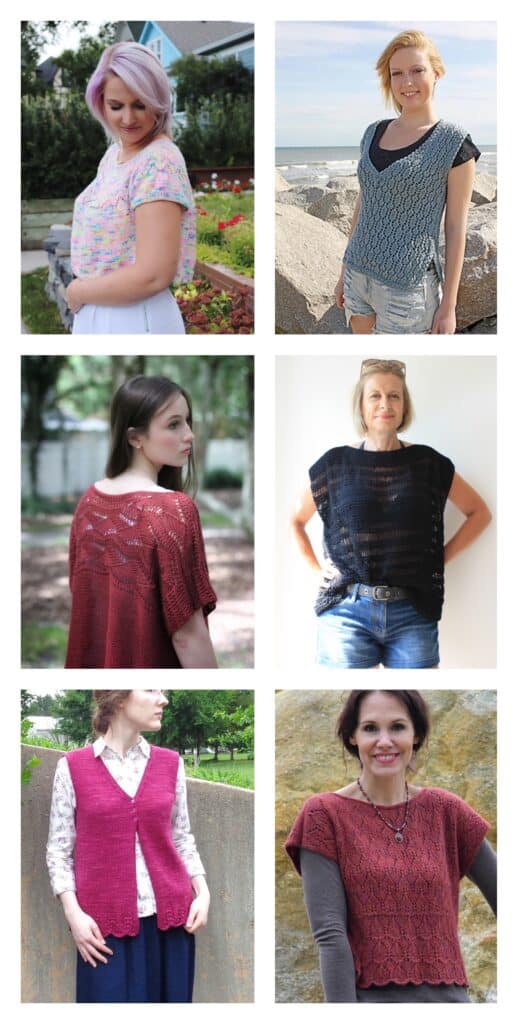 Don't forget about Crochet
For those of you who also crochet there is a crochet bundle too! The crochet bundle features 46 different patterns from 34 different designers for only $25. That's an 87% discount if you would have purchased each pattern individually. You can purchase both bundles or just one. Again the crochet bundle is focused on lace and is seriously the deal of the year!
Once you purchase the knitting bundle you will be asked if you would also like to purchase the crochet bundle. It's as easy as that.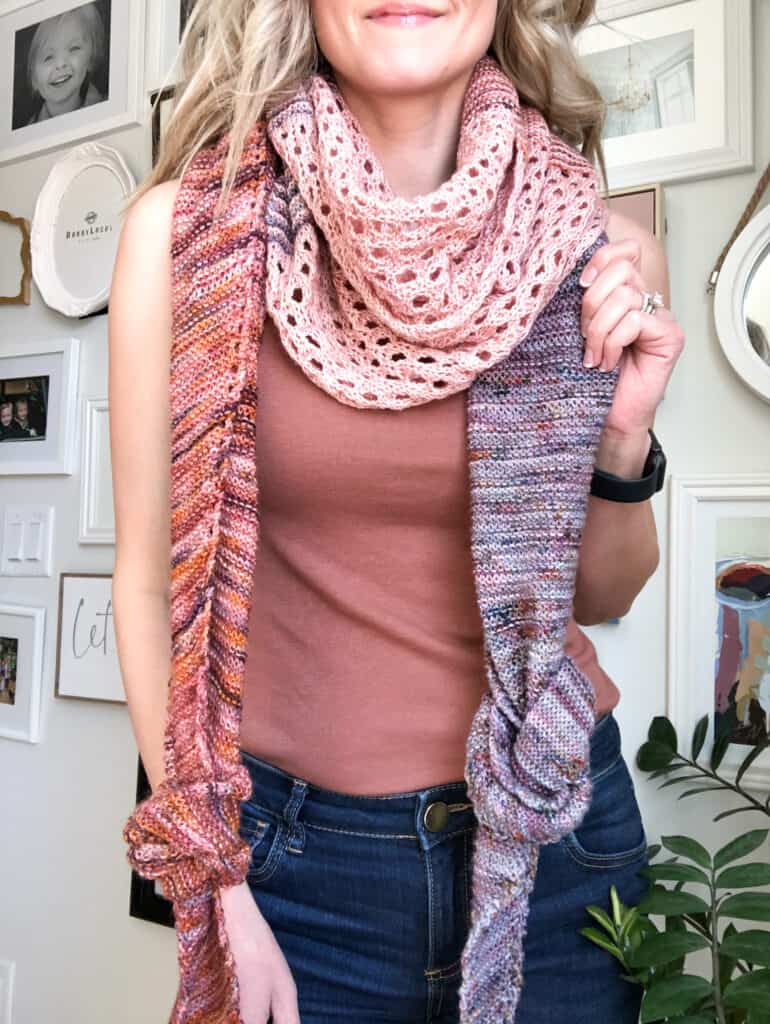 My Personal Bonus for you!
If all of that wasn't enough already I have put together a personal THANK YOU BONUS just for those who use my personal link to purchase the pattern bundle. You will receive my Top 5 Selling Ravelry Patterns for FREE!!!!! This includes my Glimmer Crop, Nordic Sunrise Shawl, Peppermint Swirl Mittens, Char Char Hat, and Snippet Beanie!
Once you purchase the pattern bundle you will see a BONUS link on your confirmation screen. Simply click the bonus link to take you to Ravelry. You will then be prompted to add the Knit For Me Bonus to your cart where the total charge will be $0. Add these patterns to your Ravelry Library and you are all set!
So support the community that you love, rejoice in the fact that you are a clever bargain hunter, then put your feet up and knit something light and lacy as you watch the flowers bloom! Enjoy all of these things – and the lovely Spring weather – while they last.
Desert Weather Shawl Knitting Pattern
Now a little more about my new shawl knitting pattern. This design was inspired by the beautiful variegated hand-dyed yarn. Have you ever picked up a skein of variegated yarn and wondered what you could do with it? That's where this shawl comes in. The name desert weather comes from the melting of the two variegated yarns together in the middle. One reminded me of the warm desert days and the other of the cool desert nights.
Select two different fingering weight skeins of variegated yarn and one solid and you are ready to knit this shawl. Desert Weather is knit from tip to tip and allows the splashes of color to shine on either end with calming garter stitch. The middle features a beginner lace motif that creates a light and airy summer shawl with a pop of detail.
The generous length allows this shawl to be worn in many ways. This shawl is truly versatile and a fun piece to knit! Grab your copy through the Knit For Me Bundle today!